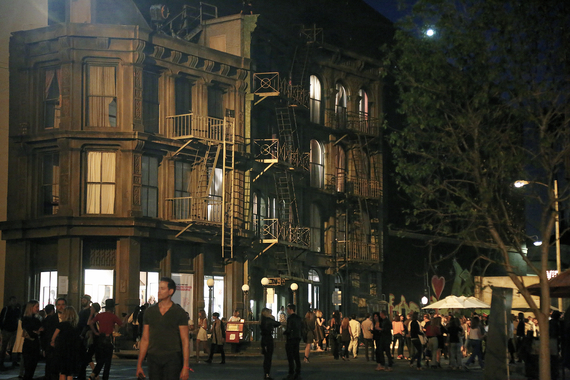 Like a scene from a movie, Paris Photo LA enters in its third year at Paramount Studios. Photo by EMS.
Paris Photo LA launched its third edition once again at Paramount Studios in Hollywood. The event was held over the weekend May 1-3 with it's VIP and press opening on Thursday April 30. Paris Photo LA is the sister fair of that held in Paris, France. The LA West Coast version included 80 galleries from 17 countries this year. Most of the fair took place within three large soundstages and among the outdoor New York City brownstone backlot. I was there photographing most of the weekend and talking to collectors and LA-based exhibiting gallerists and dealers. Luckily, I was there for the opening and stayed long enough to experience the fair at night, which became an all-together different kind of experience.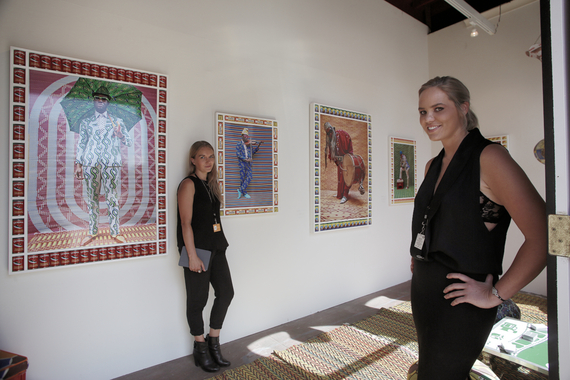 Michelle Schultz and Kelsey Lee Offield at Gusford Gallery booth. Photo by EMS.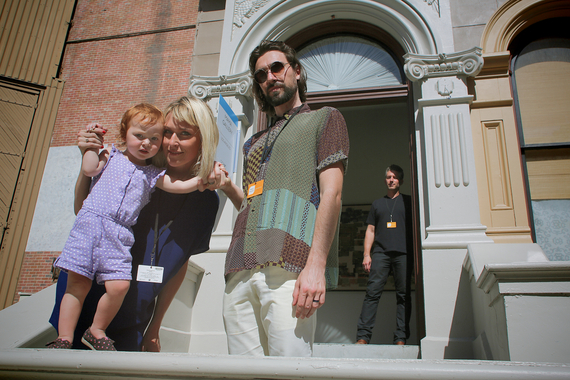 The MAMA Gallery team moments before the public opening. Photo by EMS.

First time attendee, Kelsey Lee Offield of Gusford Gallery commented, "The setting at Paris Photo Los Angeles is entirely unique - only here could we re-create the feeling of Morocco in a brownstone on the Lower East Side of New York within the city of Los Angeles at a Parisian fair." Gusford showed Moroccan-based photographer Hassan Hajjaj.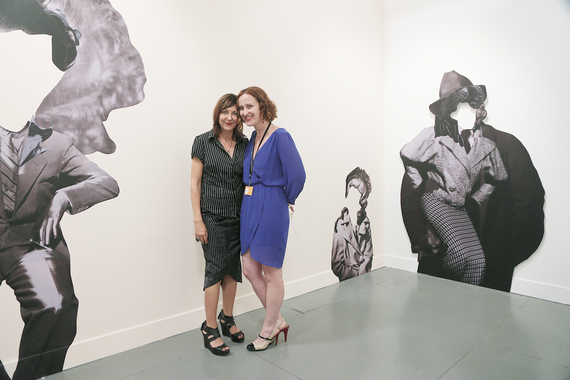 Bettina Hubby and gallerist Deb Klowden Mann. Photo by EMS.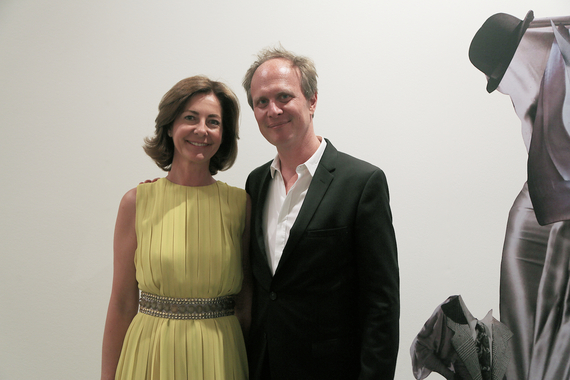 Director of Paris Photo, Florence Bourgeois, and Artistic Director, Christoph Wiesner. Photo by EMS.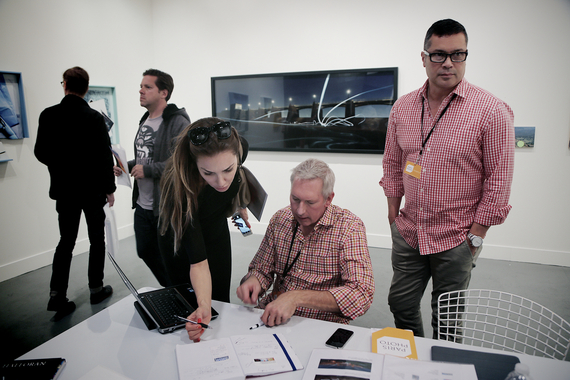 Luis De Jesus (right) at his booth. Photo by EMS.
Art dealer Deb Klowden Mann said that the fair was "good exposure for LA-based galleries because so many people look forward to attending the fair." Exhibitor Luis De Jesus chuckled as he watched the teaming crowds go by stating, "This audience is so LA, I mean hip Hollywood LA. There are guys walking around from rock bands and suits in show business. This is Hollywood flavor and LA is a photography town." He laughed when a couple walked into his booth, the husband transfixed on work by Lia Halloran with the wife saying, "Just pick one, honey."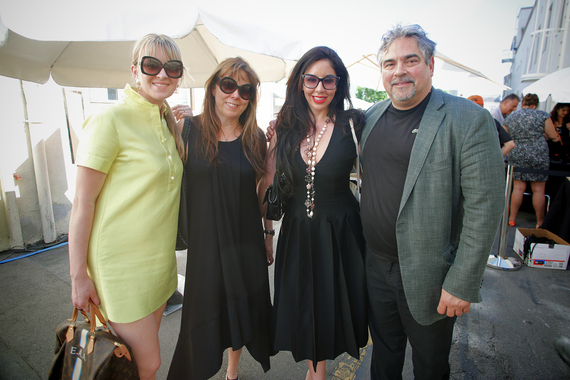 Arlene Amick, manager of The Galen Museum in Palm Desert, Collector Anne-Marie Trahan, Art advisor Veronica Fernandez, Collector Pierre Trahan. Photo by EMS.
Well-respected international art advisor Veronica Fernandez led several seasoned collectors around the fair including Peder Lund (Oslo), Jason Richmond (LA) and Pierre and Anne-Marie Trahan (Montreal). Pierre Trahan told Fernandez, "This fair is located in a fabulous site which by itself is quite an experience. It gives a chance for smaller galleries around the world to be pre-dominant. It is also affordable for small collectors to start buying without being intimidated by their surroundings. I've really enjoyed this first visit."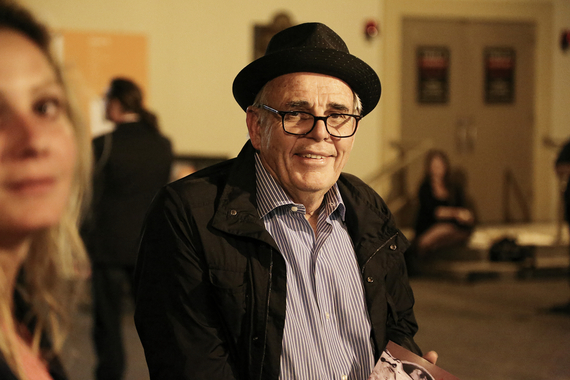 LA photographer Jim McHugh. Photo by EMS.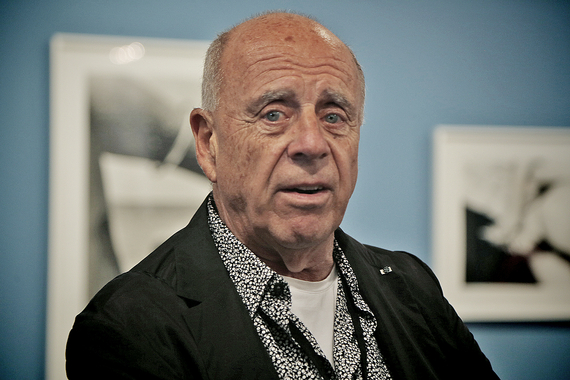 Photographer Ralph Gibson has an exhibition at the Etherton Gallery booth. Photo by EMS.
Since 2012, Montreal-based collectors Pierre and Anne-Marie Trahan have housed a portion of their private art collection in a former shipyard known as the Arsenal. The space, nearly 25,000 square feet, wasn't quite large enough so they inaugurated a second space in Toronto. Both locations are filled with mega-masterpieces by Canadian artists, namely David Altmejd and Steven Shearer, alongside multiple, massive works by established greats Anselm Kieffer, Giuseppe Pennone and Rudolf Stingel. Pierre along with his collecting partner, the well-known Francois Odermatt, are incredibly passionate about creating a solid market for Canadian based artists, though they admit to being supporters of some major LA based artists, too, namely Mark Grotjahn and Jonas Wood.

Los Angeles based collector Jason Richmond has collected photography by such artists as Wolfgang Tillmans, Jack Pierson, Paul Pfeiffer, and Uta Barth. Richmond proudly purchased a portrait of artist Maurizio Cattelan taken by Ari Marcopoulos that was shown by Damiani. Richmond noted, "Paris Photo LA is a fantastic consortium of galleries and artists from around the world. There are definitely worse ways to spend a weekend here in LA."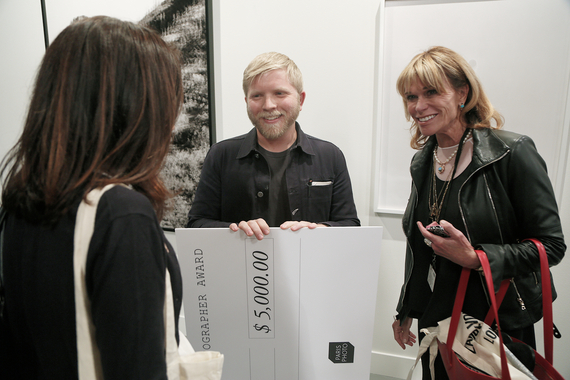 CJ Heyliger wins the Young California Photographer Award. He's pictures with Laguna Beach collector Pamela Banks. Photo by EMS.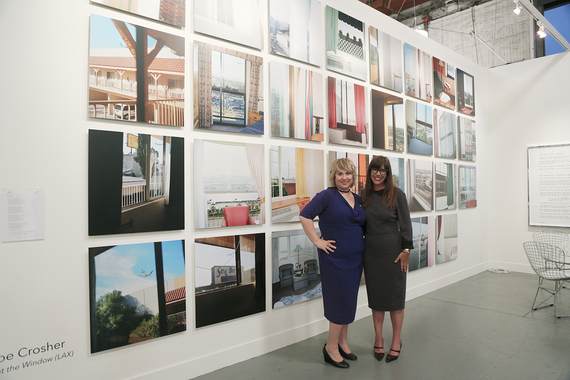 Photographer Zoe Crosher and gallerist Eva Chimento-Mccoy of LAM Gallery. Photo by EMS.
There were many more LA galleries representing like MAMA Gallery and LAM Gallery who had a huge wall of Zoe Crosher's "Out The Window (LAX)." LAM gallerist Eva Chimento-Mccoy described the work as conceptual mapping of LAX where Crosher stayed in nearby hotels around LAX. Crosher photographed the series from 2001 to 2005, then showed it in 2006. This is the first time it has been seen since then.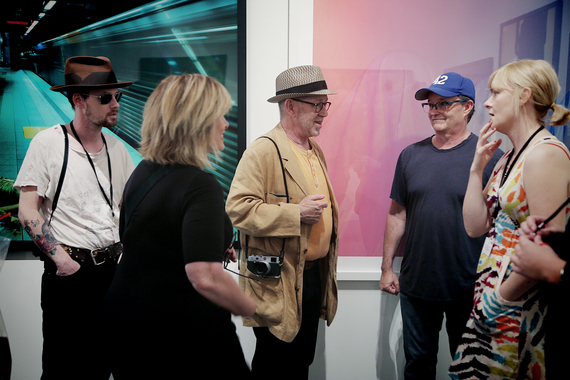 Photographer Melanie Pullen (right) at the Jenkins Johnson Gallery booth. Photo by EMS.
Photographer Melanie Pullen who exhibited at the at the Jenkins Johnson Gallery booth was aglow at her many days at the fair. Overwhelmed by the traffic at her booth, Pullen told me, "What an opportunity to meet people from other countries," alluding that many foreigners traveled to Paris Photo LA and showed interest in her work.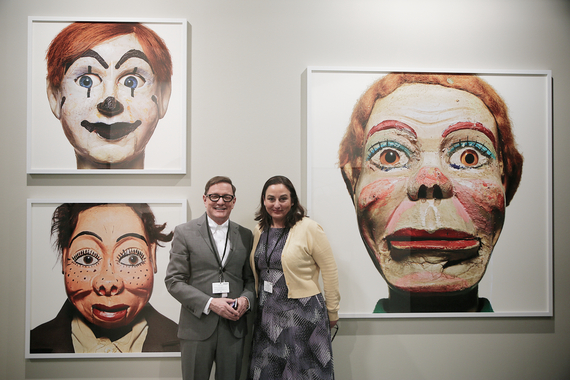 Photographer Matthew Rolston and gallerist Diane Rosenstein. Photo by EMS.
Exhibitor Diane Rosenstein said the fair exceeded her expectations. "We've had fantastic informed interest from collectors and institutions, and I say this without exaggeration. All smiles here," she said on the last day of the event, seemingly worn out from the 4 day marathon.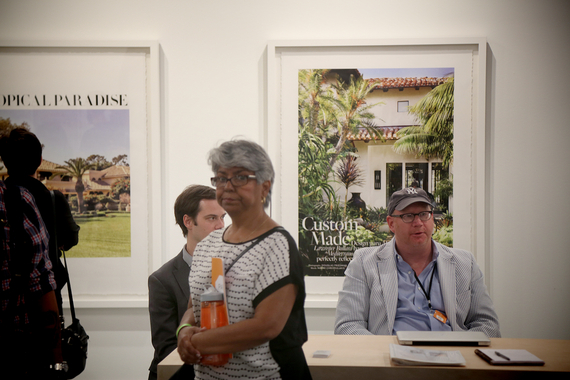 Charlie James at his booth. Photo by EMS.
Charlie James told me, "My gallery has always done more business outside of LA than here at home and PPLA was the perfect tool for us to start to counter that imbalance. We're super pleased with the quality of people we met and the response to our artists' work, and we'd definitely do it again..." Ultimately, I was exasperated myself of what the 4 day event had to offer. California is suffering from a drought, but there was no lack of compelling booths, people, and vibe for, yet, another year at Paris Photo LA, where one felt a bit Hollywood, a bit California cool, and bitm no doubt...Los Angeles.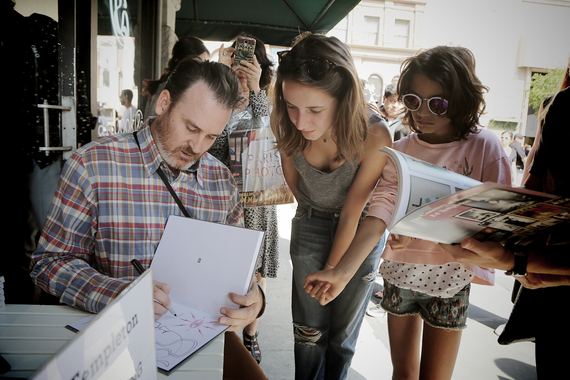 Photographer Ed Templeton book signing. Photo by EMS.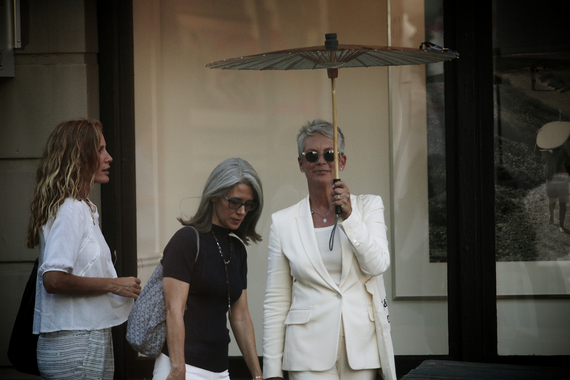 Actress and photography collector Jamie Lee Curtis. Photo by EMS.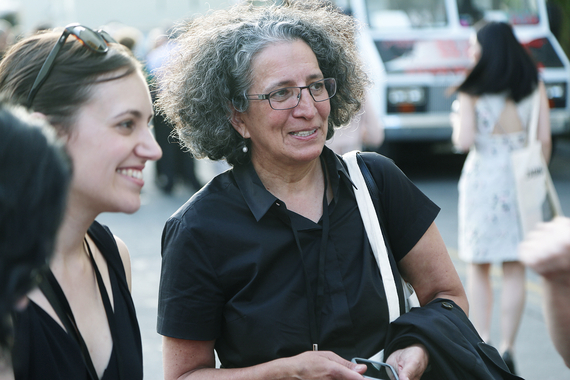 Virginia Heckert, Curator of Photography at the Getty. photo by EMS.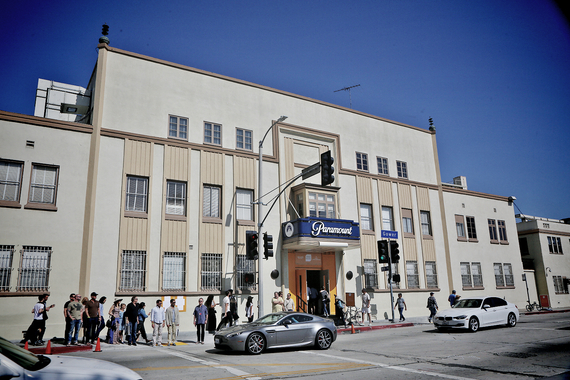 Final hours of Paris Photo LA. Photo by EMS.
This article is part of an ongoing photojournalism survey of art exhibition openings titled EMS N(art)rative. Through my lens I document a photographic essay or visual "N(art)rative" that captures the happenings, personalities, collectors, gallerists, artists and the art itself; all elements that form the richly varied and textured fabric of the SoCal art world. This reconnaissance offers a unique view for serious art world players to obtain news and information on the current pulse of what's in the now, yet capturing timeless indelible images for posterity and legacy. Here is EMS N(art)rative Twenty-Three.