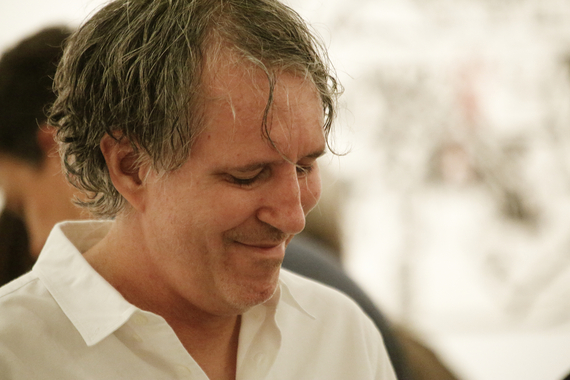 Raymond Pettibon at the opening of his solo exhibition at Regen Projects. Photo by EMS.
Hollywood-based mega gallery, Regen Projects held another triple canopy opening with Raymond Pettibon on Thursday, April 23rd. The show is officially titled, "From my bumbling attempt to write a disastrous musical, these illustrations muyst suffice," an exhibition of new work by international acclaimed artist, Raymond Pettibon. This marks the artist's tenth solo presentation since joining the gallery in 1993. Pettibon is based in New York. I had the privilege to photograph the opening as part of my survey of covering important events and exhibitions in the Los Angeles art scene.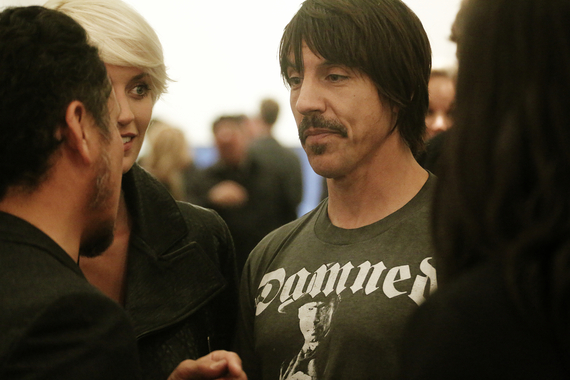 Anthony Kiedis of the Red Hot Chilli Peppers. Photo by EMS.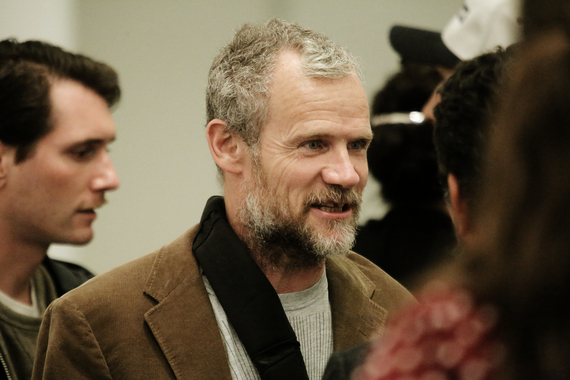 Flea of the Red Hot Chilli Peppers. Photo by EMS.
The show itself presented so much work, that any avid fan who has followed Pettibon since his Black Flag days (Pettibon designed their distinctive "four bars" logo) in the late seventies would be amazed and worth the rush hour drive to make the six to eight opening.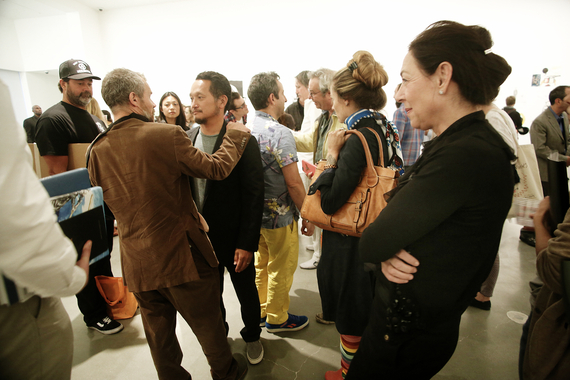 Gallerist and art dealer Shaun Regen (right) overlooks the assembly. Photo by EMS.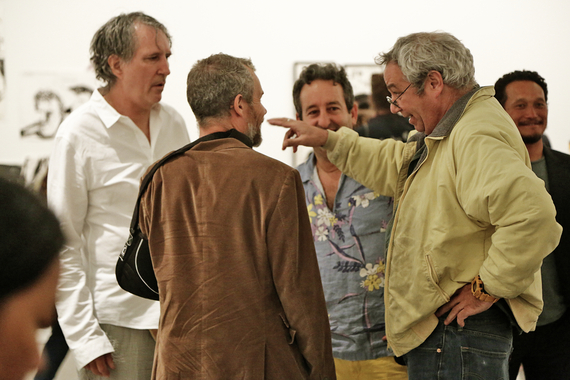 Raymond Pettibon, Flea, and Mike Watt, bassist for the reunited Stooges. Photo by EMS.
Regen Projects says, "Raymond Pettibon's work draws from a broad spectrum of influences ranging from Southern California surf culture, punk rock aesthetics, baseball, and film noir to popular culture, world history and politics." It is this reason why so many attended the opening at a fringe corner of Hollywood not far from the Kodak Theater where the Oscars are held, Sunset Boulevards storied music scene, and relatively not that far from Dodger stadium and Venice Beach. Combining all these elements attendees got glimpses of a certain amount of celebrity from these cultural genres.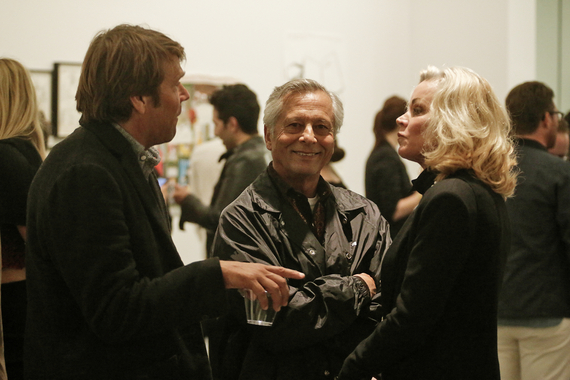 Surf legend Herbie Fletcher and his wife Dibi. Photo by EMS.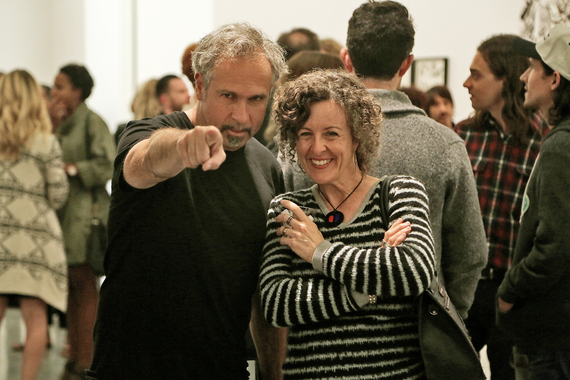 Artist Gary Baseman. Photo by EMS.
Furthermore, Pettibon's work in the exhibition has so much rich satire, that a Southern California historian could spend hours trying to decipher the art. On top of that, the gallery states "Pettibon's images have included quotations from quotidian and literary works by authors including Marcel Proust, Henry James, William Blake, John Ruskin, and Art Clokey, as well as texts written by the artist himself."
If you're a fan of the Red Hot Chili Peppers (Pettibon's artwork inspired the music video for the 2011 song "Monarchy of Roses" by Red Hot Chili Peppers), literary works, punk rock from the '80s, political satire, or baseball, this is a mark your calendar destination show to see. It is up till May 30, 2015.
This article is part of an ongoing photojournalism survey of art exhibition openings titled EMS N(art)rative. Through my lens I document a photographic essay or visual "N(art)rative" that captures the happenings, personalities, collectors, gallerists, artists and the art itself; all elements that form the richly varied and textured fabric of the SoCal art world. This reconnaissance offers a unique view for serious art world players to obtain news and information on the current pulse of what's in the now, yet capturing timeless indelible images for posterity and legacy. Here is EMS N(art)rative Twenty-Two.