The problem of slavery has existed for thousands of years; unfortunately it remains a thriving business today. Presently, there are around 27 million people enslaved worldwide and the industry commands 32 billion dollars in profits every year. These statistics come from the Polaris project facts sheet found here.
Although there is work being done by agencies like the Polaris project, Do Something, Google, Twilio, DARPA, and The Department of Homeland Security, there is always more that can be done.
I learned of modern day slavery first hand, at the tender age of 12 years old. I was on a family vacation in India when I witnessed an enslaved man in a small town outside of Bangalore. Seeing this man affected me in fundamental ways. In school we were learning about how Americans had abolished slavery. After that day it all felt like lies. Like the world was so much bigger and harsher than I knew. I decided to devote my life to fighting slavery.
Originally, I believed the solution could be found in economics since slavery is ultimately about supply and demand. In order to tackle the problem, I completed an undergraduate degree in Economics and a Masters of Science in International Economics. While I did learn a great deal, I only learned how to frame the question of slavery in modern society. To solve this problem I had to pursue a different line of thinking.
Ultimately I decided to pursue a Masters Degree in Computer Science. Computational thinking has given me the tools to do something about the problem, and to make a real difference. To that end, I have put together my own research on the subject and am actively looking for collaborators. The goal of my research is to identify victims of human trafficking. Once we have a solid idea of the numbers, I believe that the data can be used by law enforcement to aid in the extraction and rescue of the victims. I have a proof of concept tool, which you can find here.
Using this tool, I was able to classify hundreds of postings on Craigslist as likely sex workers. In order to do this classification, I made use of the textblob's Naive Bayesian Classifier. I am currently developing methods to pin point victims of trafficking. Some initial results for New York City during November of 2013 are shown below: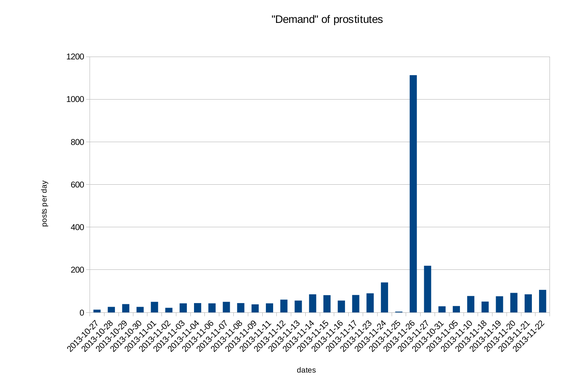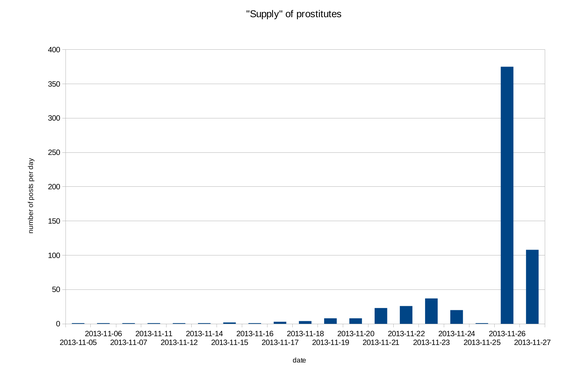 As these pictures show, there was a spike in both demand and supply on Thanksgiving. I believe these figures give a feel for the magnitude of this problem. However, this is merely a subsection of traffickers that choose to promote on Craigslist. We can assume this is a conservative estimate of the market's magnitude. Whether or not the majority of these women are forced is unclear.
As a result of my work I have been given the opportunity to collaborate with many individuals in the field, one of which is a counselor of sex trafficking victims. She has indicated that many of patients were at one time victims of sex trafficking. Thus, we can assume the supply listed above is at least somewhat representative of the population I intend to help.
I believe the developer community is in a unique position to help with this issue, as part of the rise in trafficking has been due to increases in the availability of information. As such, we have the power to shape this culture in ways that were not possible in the past.
I will be developing and organizing a monthly hackathon to help organizations without technical expertise. The goal of these hackathons is to build applications for law enforcement, legal aide, preventative services, secondary care services, and other organizations in this space.
There is a solution to this problem, perhaps not completely. But every person we help is a life no longer in torture. If you are looking to get involved you can follow me on twitter @EricSchles. Or sign up for the Googlegroup .