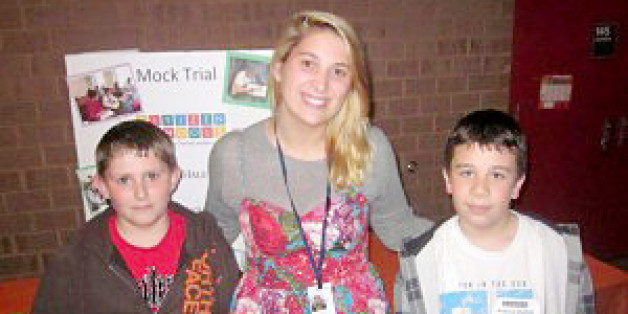 On Monday, many of us enjoyed a day off from work to celebrate Labor Day. In the 132 years since the holiday was first celebrated as recognition of the contributions workers have made to the prosperity and well-being, both social and economic, of America, the original meaning and intent has been somewhat lost in barbeques, beach weekends, and shopping sales. Too often Labor Day is now seen as just a last hurrah to summer and a start to the new school year.
This September we have the opportunity to provide special recognition for the labor of some 80,000 full- and part-time AmeriCorps members who are working hard across some of our lowest income communities to help millions of children return to schools that will better prepare them for their futures. As I argue in my new book, The Opportunity Equation, full-time AmeriCorps members and volunteer "Citizen Teachers" can serve as the twin engines of a new national effort to lift up opportunity for all kids and to reduce growing achievement gaps between upper and lower income children.
At Citizen Schools, we rely on a contingent of Teaching Fellows to support the schools we work in and our expanded learning time programs. The Citizen Schools National Teaching Fellowship is a stipend AmeriCorps national service opportunity for individuals dedicated to directly impacting the futures of middle school students in low-income communities across America. By committing to two years of service, each Citizen Schools AmeriCorps member provides about 20 middle school students with 900 extra hours of learning (over two years) and up to an extra year of academic gains, according to rigorous external studies. Our AmeriCorps members are effective both through their direct work with middle school students and also because they mobilize thousands of citizen volunteers - engineers, lawyers, architects and more who mentor middle schoolers while connecting academics to the real world through hands-on apprenticeships.
Full-time AmeriCorps members join with volunteer "citizen teachers" to create a powerful second shift of educators who can team up with teachers and parents to expand the school day and narrow and often close or even reverse pernicious opportunity and achievement gaps.
AmeriCorps members like Lindy Smalt are on the frontlines of creating educational opportunity every day. Lindy's experience as a student leader at Wheaton College led to a teaching fellowship with Citizen Schools in Revere, MA, where she felt for the first time her interest in political theory confronted with the very tangible reality of the lives of her low-income students. Over her two year term as a teaching fellow, she taught children who had been impacted by drugs, violence, parents in jail, language barriers, and more, and through them saw the depth of the issues our nation faces, and also the centrality of her role in making progress.
The story of one student was particularly impactful. Through the support of his mother, his own talents, and Lindy's knowledge of outside opportunities, a young Iraqi refugee was able to attend summer camp and gain acceptance in to an excellent charter high school close to his home. She said of Abdellah "He is small and gets swallowed in large classes of screaming, sassy preteens. But he is diligent, positive, and extremely kind, and he deserves a chance. And there are millions more like him."
I believe dramatic expansion of AmeriCorps is essential to equalizing opportunity in America. Whenever the country has moved forward, citizens have been in the lead -- and citizen power continues to be the nation's most plentiful and renewable natural resource. Recruiting 250,000 Americans into full-time service, with a majority laboring in schools, can be the heart of a massively scaled "second shift" in education and can in turn recruit, train and support citizen change makers. Funding for this program would more than pay for itself in terms of the economic reach of its impact on the benefitting population. Not only would a fully funded national service corps lead to higher educational attainment and higher wages for the millions of children who would benefit, but it would also result in higher tax receipts and lower social service costs for the government. The combination of benefitting the target communities and our larger society makes this a positive step for all involved.
The experience of participating in national service not only leaves an impact on the communities we work with, it leaves an irreversible impression on those who serve. Teaching fellows finish their two years and head to a myriad of career options, including law, research, non-profit management and, in many cases, teaching. More important than the exact position they take is the mindset and commitment they take to it: that there are inequalities that exist in our country, but that they can do something about them. The ability to confront the very real inequalities with a determined and empowered mindset is precisely what our nation needs if we are going to change the current imbalance of opportunities for low-income Americans.
This Labor Day, I am struck by the significant contribution of Citizen Schools AmeriCorps Teaching Fellows and all national servants to both the social and economic future of our country. It is for them and millions more working hard to build better communities and to broaden opportunity that we take this day to celebrate.
For more information on National service programs through AmeriCorps, please visit, http://www.nationalservice.gov/programs/americorps.
Citizens Schools is a partner of Cisco CSR. Cisco sponsors The Huffington Post's ImpactX section.