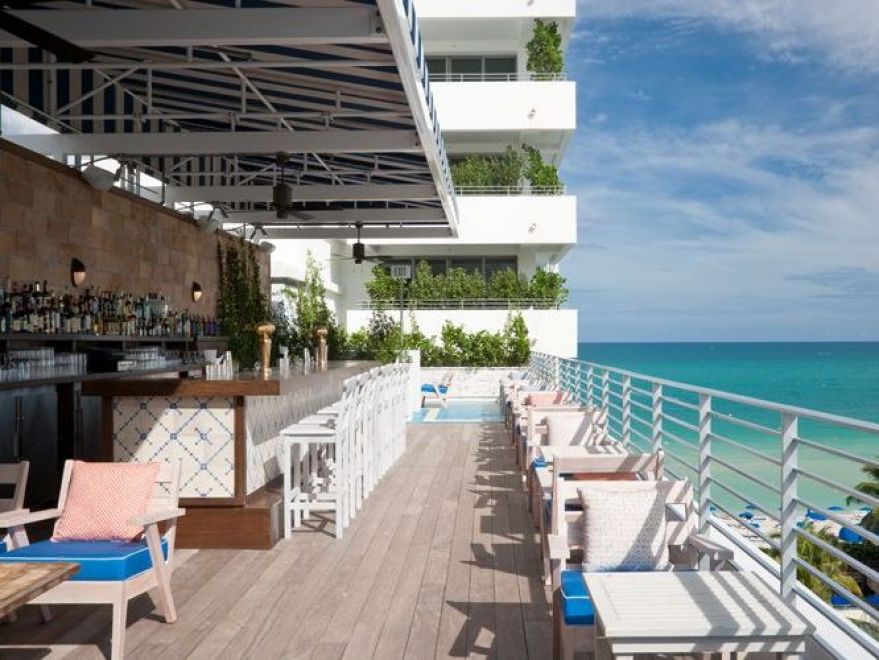 The latest incarnation of Soho House has opened in Miami and the brand is on quite a roll. After years of standing pat on U.S. expansion they have opened their latest outpost on the heels of debuting a spectacular Los Angeles branch - an impressive feat amidst a lethargic economic climate. One that also probably means founder Nick Jones likely waited out the bubble and seems to have perfectly timed the and upswing in the real estate market (we won't hate him too much). Located on the site of the historic Sovereign Hotel which has has been redesigned and expanded to include a sixteen story ocean front tower, Soho Beach House is a hotel open to the public and includes a members-only club.

Miami, the gateway to Latin America, beloved holiday destination of Europeans and a place that many New Yorker's think of as the City's sixth borough, is a metropolis that embodies different things to different people. Miami's fortunes have always ebbed and flowed and its personality can often remind you of a volume switch stuck on high but it's the city's wonderful tapestry of Art Deco design, Latin seductiveness and enviable winter weather make you really want to like it.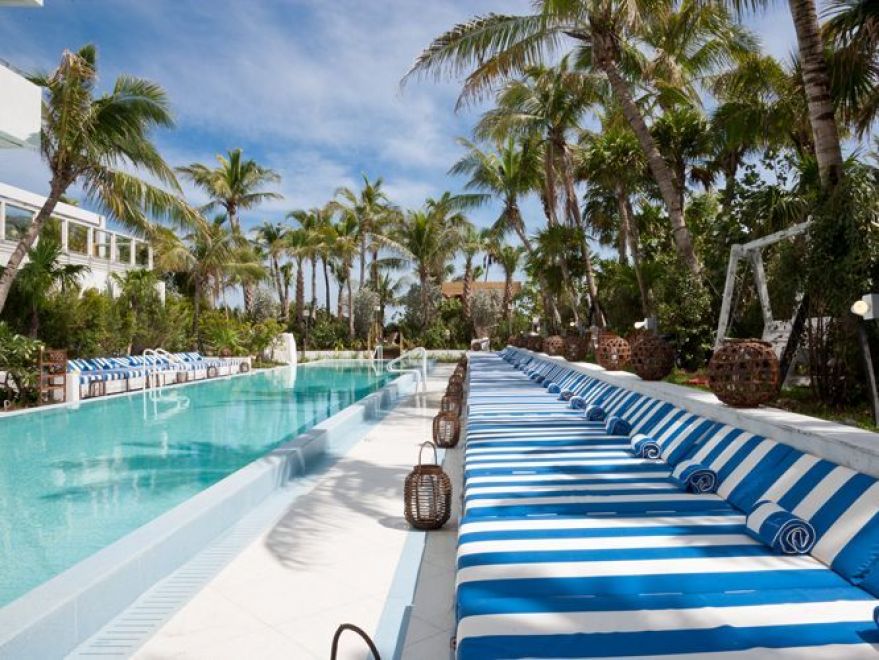 Nick Jones told me he wanted to do a property for people who had stopped coming to Miami. In both style and substance the Soho Beach House does not pay homage to the Miami that has sprouted up in the last 10 years - the one epitomized by sleek white frosted modernism (a style that would make ideal lairs for villains in a James Bond film). The design of Soho Beach House hearkens back to 1940s Miami - a style that happens to mesh perfectly with the Soho House aesthetic. The property does not feel new. It has been so perfectly curated with furniture, artwork, flowers and accessories that it gives you the sense of a hanging out in a really stylish friend's living room. The signature element of the property is the incredible attention to detail paid to everything and its these tasteful accents that end up shaping your experience. The vintage boxing gloves hanging just so in the gym, the retro coolers on the beach and the decorative motifs on the floor tiles all come together flawlessly to give the property a very well developed sense of character. The timeless classicism that is the essence of Soho House makes sure to integrate the latest technology like easily accessible iMacs, Wi-Fi and state-of-the-art Samsung flatscreen televisions meaning that while the décor may transport guests to another era, they can still very much live in real time.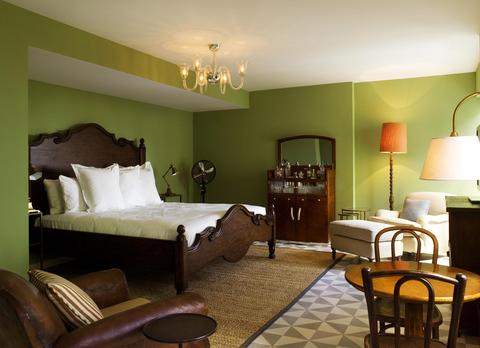 The hotel has six room categories and Don Draper would feel very at home in any one of them. Mid-Century mechanical fans, clocks and writing desks adorn the space along with what would have to be the most perfectly choreographed in-room bars I have ever seen. Ideal for living your very own Mad Men fantasy. For sybarites, the spacious bathrooms have wood clad sinks, the trademark Soho House rain-fall showers (which have been known to save lives in the morning) and many rooms featuring large soaking tubs. The most impressive of the suites have their own private floors and terraces that enjoy stunning views. I can envision that for those looking to fall in love or even fall back in love, the act of booking an ocean suite is akin to firing a state-of-the-art cruise missile - a can't miss relationship smart bomb that will launch you into couples bliss (well at least during your stay).
In Miami, you will also find the largest Cowshed spa Soho House has ever built, a screening room with 3-D capabilities, a tiki bar on the beach, and a club floor that recalls Havana in the 50s all masterfully squeezed into the boutique-sized footprint. As great as the design of the hotel is, it's the service that really makes the place shine. From beach attendants who offer to wash the sand off your feet with weathered metal watering cans to a warm and knowledgeable wait staff, everyone was terrific and it was hands down the best service I have ever gotten in Miami (a place with a spotty track record when it comes to taking care of customers). The final verdict? Soho Beach House is utterly unlike anything I have ever seen in Miami. It's an oasis that is the perfect home away from home for a few days. One that allows you to casually choose from the buffet of attractions that Miami has to offer and sidestep the ones you don't.