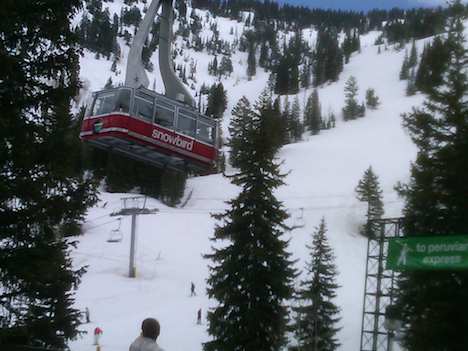 For most Americans Memorial Day signals the start of summer and conjures up images of lazy days by the beach, drinks with umbrellas (I like Cadillac margaritas myself), buckets full of beer and grilling up hotdogs and hamburgers. But for a select few it is one last chance to grab a snowboard or strap on a pair of skis and make some turns down a snow-covered mountain. Most people (or 34.9 million to be exact if you believe the AAA) drove to some form of beach or pool this weekend but this year I wasn't one of them. I literally took the road less traveled and headed out to Utah for one final winter ride. Instead of the highways choked with cars and a 60 percent chance of precipitation, I jumped at the chance for an adventure in a year when the snowfall was historically epic. With resorts like Jackson Hole (over 500" inches), Mammoth (over 600"), and Snowbird (over 700") getting record amounts of snow -- skiers and snowboarders finally got their version of Bodhi's "50-year storm". (Apologies to Warren Miller but how often do you get to quote the late great Patrick Swayze?)
I've heard people speak about late May skiing (places like Mammoth will be open until July) for years but just because you can ski doesn't mean you should if it's a slushy rocky mess. So -- first things first -- how is the skiing? Really. Well I'm happy to report that this year it was delicious. On some runs you are the only person on the trail and getting first tracks was so easy it's like you just jumped out of a helicopter. It's really not fair. People who are out there are mostly expert skiers since this late in the season it's only the diehards who come out and this means the ever present danger of getting clipped by an out of control novice is greatly diminished.
In almost every way spring skiing is far less predictable than Winter conditions. It requires more planning and flexibility but when you hit it right it's truly magic. My Uncle Bruce lives in Utah and I've been skiing with him for over 20 years and learned long ago you can't go wrong following him down a run. He offered up sage advice and simple guidelines to find the best conditions. Normally if it's warmer you want to start early in the morning before it gets slushy. If you have cooler weather like I had you want to start around 10 or 10:30am so you let the hardpack soften. Ice and heavy snow is the hated foe you face in spring conditions (I would say rocks -- but not when you have 700 inches of snowfall). Avoid it as you would jury duty. Unlike in winter, you want to start out low on the mountain and make your way to higher elevations as the day goes on. You also want to work your way from the East facing slopes to the West facing ones to follow the path of the sun (which is what softens the ice and gives you the best snow).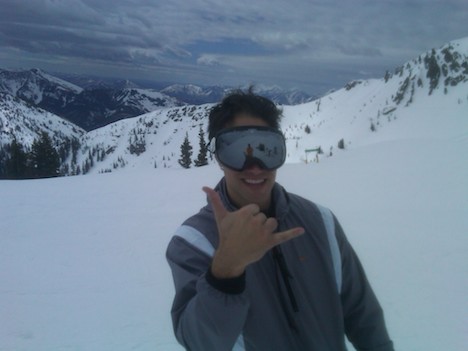 But wait, There's more!
A few days skiing may not be enough to entice significant others who don't share your ski addiction to spend their holiday away from the beach so let me give you some more ammunition. The conversation has to start with unbelievable value. We are talking about rooms in the Park City area (approximately a 45 minute drive from Snowbird) that during high season could fetch $1,200-2,500 and up going for as little as $199-300 at resorts like the Montage, the St. Regis, and Waldorf Astoria. There are a number of packages to investigate so you'll have to surf the net to find precise rates but the bottom line is you can get serious discounts. They all have different benefits. The Montage is further up the mountain and thus a more monastic alone-in-the-wild experience (honeymooners and writers-on-deadline sort of thing). The Waldorf has a Golden Door spa and is a bit closer to snowbird but it's further from Main Street and its superlative restaurant scene. All things considered I have to say the St. Regis, its funicular, Jean Georges and convenient location are the way to go. You can read about that property here.

Lastly while Snowbird's higher elevations preserve the snow, I found spring in full bloom in Park City so don't be under the impression you're headed to a frozen tundra. This means that non-skiers will actually appreciate the properties even more than during winter. Add into the mix cycling, jogging, mountain biking and hikes set among magnificent vistas and you start to see that a trip out to the Mountains isn't as crazy it may seem at first blush.
Finally, although this is a light spirited blog post I would like to say that first and foremost, Memorial Day marks a solemn day of remembrance for those that have sacrificed everything for America and no discussion of the holiday should pass without that acknowledgment. Thank You to all who have served and all who have fallen in defense of our beloved nation.