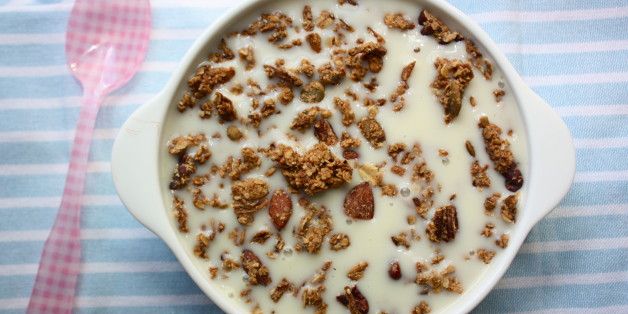 "When you wake up in the morning, Pooh," said Piglet at last, "what's the first thing you say to yourself?' 'What's for breakfast?" said Pooh. "What do you say, Piglet?" "I say, I wonder what's going to happen exciting today?" said Piglet. Pooh nodded thoughtfully. "It's the same thing," he said.
-- A. A. Milne, The House at Pooh Corner
I don't understand all of you people who don't like breakfast. Every day, I wake up, begrudgingly do my hair and get dressed, and then scurry downstairs for breakfast. Sometimes, I even fall asleep dreaming about breakfast.
Breakfast is beautiful. As a food photographer, I can manicure a B.L.T. sandwich all I want and make it look pretty sexy. But it will never look as stunning as a hot stack of pancakes dripping with warmed maple syrup and melted butter. Pancakes, doughnuts, eggs benedict... You're probably thinking "I don't have time for that on a Tuesday morning!" Trust me, nobody's got time for that, even a foodie like me. It's all about hacking breakfast to make it awesome (and faster than pouring a bowl of cereal).

Before you click away from this article, and go back to your Facebook stalking/Buzzfeed news article/actual homework, let me say that this is not going to be a cliché PSA about how breakfast is "the most important meal of the day." I am going to give you some awesome "breakfast hacks" that will obliterate your mornings of soggy cereal or the horror of skipping breakfast altogether.
Here are some simple hacks to enjoy gourmet, healthy breakfasts every day of the week -- no matter how many tests you have to study for, soccer games you have to play in or episodes of Gossip Girl you need to catch up on.
Hack #1: Make oatmeal taste like warm banana bread.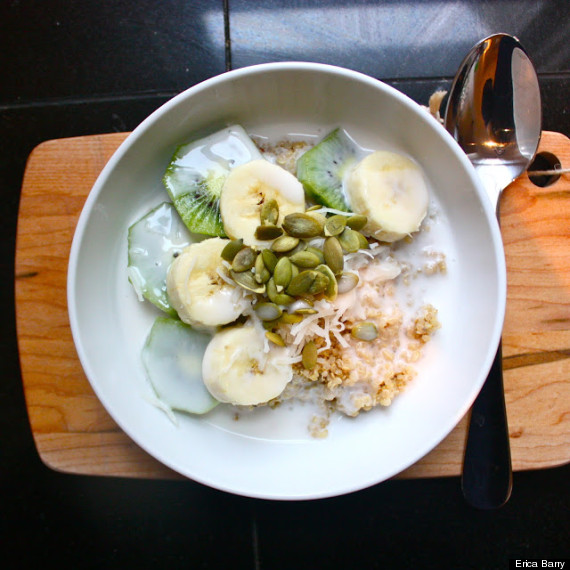 Oatmeal is not food for old men with no teeth. I am aware that oatmeal is one of those foods that invokes strong feelings in people. Some people love and others really hate it. If you're not totally opposed to oatmeal, here's a little trick to make it less bland: melt a banana into oatmeal. Bananas melt?! Yes they do. I am currently going against everything that your chemistry teacher has taught you this year. Put a banana on top of your oatmeal and pop it in the microwave. Two minutes later, your banana will be gone. Stir your oatmeal and voila! It will be super sweet (without any added sugar!), and taste like warm banana bread -- toss in some chocolate chips and voila, it's chocolate chip banana bread!
Hack #2: Make a really fancy muesli/parfait hybrid in approximately zero seconds.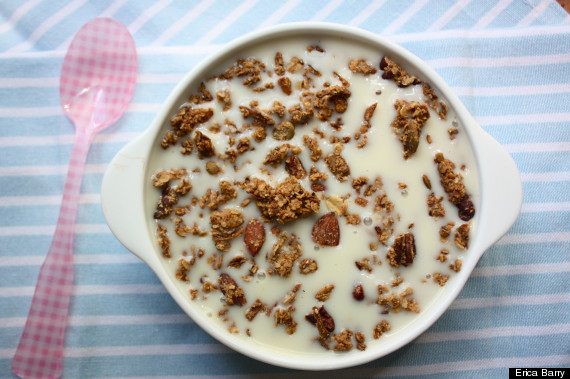 If you're one of those people who has no free hands in the morning -- between cramming for a reading quiz in English, texting your friends about lunch and locating your gym bag -- and you think that I'm absolutely crazy for suggesting a "luxurious" breakfast on top of your crazy morning routine, try overnight oats. At night, mix together equal parts rolled oats, milk and yogurt (I usually do about 1/3 cup each) and some fruit. If you want to get fancy with it, add some chia seeds, cinnamon or vanilla extract. Stir everything in a container, put it in the fridge and just grab it in the morning.
Hack #3: Eat a really swanky omelet every morning with cheese, veggies and meat with minimal effort.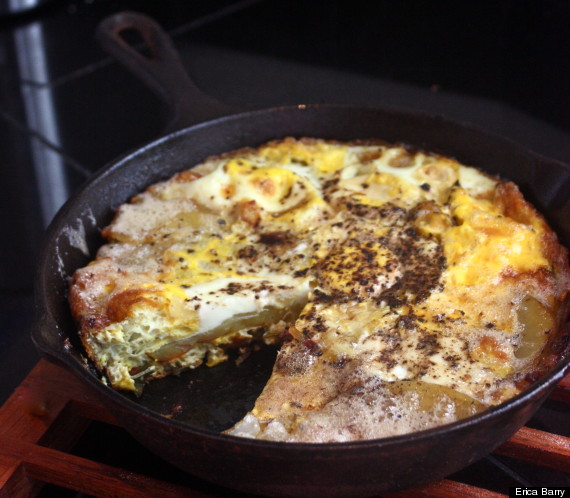 If you want to bulk up on protein, try making a frittata. It sounds really fancy, but it is ridiculously easy to make. A frittata is basically a really thick, baked omelet. Just make one on Sunday, keep it in the fridge and eat a slice for breakfast all week. Beat together eight eggs, 1-cup of vegetables (tomatoes, corn, spinach), 1-cup of protein (smoked salmon, sausage crumbles, diced ham), 1-cup of cheese and some Dijon mustard or pesto if you want to get fancy. Garnish with some salt and pepper. Pour into a cast iron skillet or pie dish and bake for 20 minutes at 350 degrees until the top is set and the eggs are cooked. Take it out and SHAZAM! You have breakfast for a week.
So there you have it! Give these three super healthy, super easy and super tasty recipes a try this week -- I guarantee they will be much better than stale cereal or awkward stomach growls in first period.
Check out more recipes on my blog at http://www.cannellavita.com.