Wherever I go, I bring a little piece of my heritage with me. I am half Mexican and half Chinese and was raised in an eclectic home in the southwestern border city of El Paso, TX, surrounded by Chinese vases, terracotta floors, Buddhist iconography and the sweet smell of warm tortillas and roasting chiles.
When I moved to New York City for college, the excitement of being in a different place, out of the desert and in a metropolis -- an ant in a forest of skyscrapers -- meant that my freshman dorm was covered in posters of The Beatles, vintage NYC maps and photos of family and friends. Not much effort was put into the look of it all. In fact, it was just a collaged mess of papers and colored Christmas lights that lined the walls of my first home away from home.
Three years later, I am moved into an apartment in the East Village. Gone are the colored lights and posters, chosen willy-nilly and put up with orange masking tape in a haphazard fashion. Three years wiser (I am graduating from college soon--surely a sign of emotional maturity!) after having visited my beautiful home in El Paso several times over summers and winters, I have re-fallen in love with my Mexican culture, its colors and decorations and the memories of home that come with it.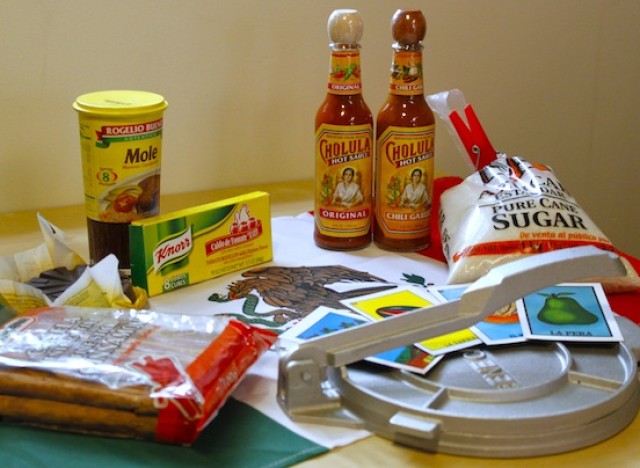 Imagine sunlight streaming in through large windows, illuminating warm, red terracotta tiles that in turn reflect a rusty hue onto mustered-colored walls. Imagine a dinner table, covered by a large Mexican tablecloth with hot plates of molé (a dish made with chicken and Mexican chocolate), rice, beans and tortillas. The warmth of my desert home and the tenderness and strength with which my mother lives, decorates and cooks within it, is what I wanted to transport to my tiny apartment in NYC.
My main goal was to bring color onto the white walls of my two-bedroom flat, especially those of my kitchen/dining room. Painting the walls was out of the question so my first choice was to get papel picado, or "perforated paper."
In Mexico (and parts of Texas for that matter), papel picado is usually seen in restaurants or houses where parties are being held. Perforated with different images of Mexican charro hats, Day of the Dead skulls or images of the sun and moon, these rectangular pieces of tissue paper are held together by string and hung on the walls close to the ceiling, usually from one corner of the room to the other.

I brought my papel picado from home, but there are many places online that sell these colorful wall decorations, including several really cool Etsy vendors.
To add a little more flair to the room, I decided to outline my one window in the kitchen with Loteria cards my mom had sent me to help teach my boyfriend Spanish. Loteria is a Mexican version of Bingo, where each player gets a large card with several pictures on it and one person has a deck of player cards, with a picture on each. The rules are basically the same as Bingo, but when the first person gets a horizontal, vertical or diagonal row he or she yells out "Loteria!"
In my apartment, I've tried to highlight my more Mexican belongings as much as possible, putting up my Frida Kahlo magnetic finger-puppet on my overhead stove fanlight and hanging up my Mexican flag on my bedroom door. I try to compliment this decorative style by drying out flowers I am given (by my still unSpanish-speaking, Loteria-taught boyfriend) and hanging them on my door--I feel this adds a slight desert/rustic feel to the house.
In the end, the thing that most inspires me to decorate my home in this way is my family. In addition to the Loteria cards, my mom sent me a photo of my abuelos, or grandparents, and a statue of the Virgin of Guadalupe. She sent these originally for a Day of the Dead alter I built for my grandparents last year (together with twelve sugar skulls).
Although these two serve as decorative features in my house, they are also daily reminders of the love of my family. I feel protected and safe when I see these things, and that is truly what makes my new house, my new home.