I have always been a market girl in search of the freshest and finest, but to be honest, part of my enjoyment is in the verbal slap and tickle that happens when discussing the perfect melon or vying for position at my favorite fish vendor. It's all about spontaneous conversations. And I've been chatting in markets since I was child, picking out baby lambs while practicing Italian slang at Esposito's Meats in Philadelphia's Italian Market. My adult version was more like picking up guys in Hollywood's Whole Foods while perusing vegan sodas and sugar-free chocolate-covered pretzels. Translation: the social scene is fundamental to the market place.
It wouldn't be unrealistic to say that Italy, and Rome in particular, has always cornered the market on, well, markets. Forums were established shopping and meeting places since the Archaic era only to be finessed by Trajan in the early second century. More modern translations have been the medieval piazza where conversation and political ideas were traded as fast as local produce. The 1920s birthed Rome's famed covered markets -- white-walled, organized and buzzing with chatter. The Italian market scene has always existed and as a social entity, it is constantly evolving.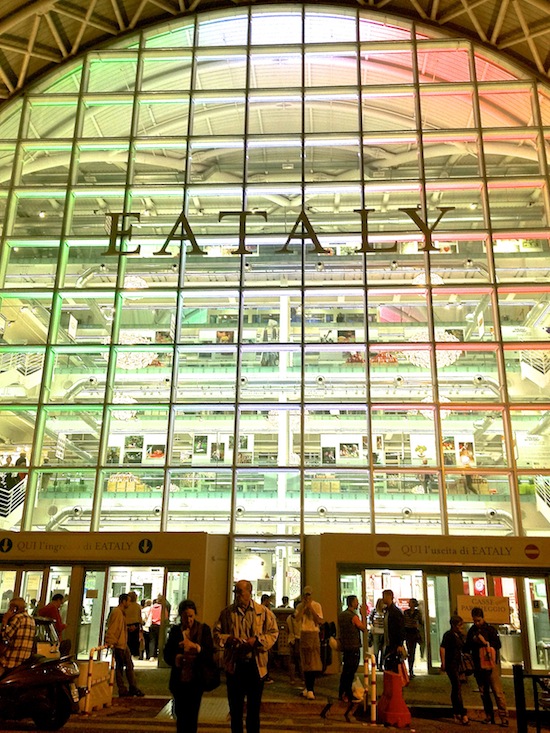 Enter Eataly, the made-in-Italy-thus-made-to-be-fabulous uber markets that began in Torino and have spread to New York, Japan and now back to Rome. Eataly Rome is a blockbuster, literally and figuratively. Located in the abandoned Air Terminal (built in 1990 for the FIFA World Cup), its 170,000 square feet offer artisanal Italian product representing every region. Its four levels are also filled with shopping areas, restaurants, conference rooms, coffee shops and even a microbrewery. Though you may likely want to shake your head at Eataly's bombastic presence in a city where traditional markets pepper every neighborhood, you are forgetting one thing: Eataly was never meant to be traditional.
With its working hours from 10 a.m. to midnight, Eataly Rome has quickly found its place in Rome's social scene. Almost every evening, the glowing Air Hangar is packed with people who are shopping or dining, and are definitely talking. Post-work shopping, pre- and post-soccer game hangout, quick business meeting drinks, lunch with friends -- Eataly fits a variety of needs. Its presence in Rome's Ostiense neighborhood (about 15 minutes from the city center), along with an Italo train hub and architect Rem Koolhaas's upcoming Città dei Giovani, may even nudge subtle gentrification to the area. And Eataly has definitely encouraged movement in a stifled economy by adding over 500 jobs, attention to customer service and ranking as the second in retail sales per square foot, next to Apple stores. For that, Eataly is the contemporary Italian market with quality product, invigorating sales and social scene.
Don't be afraid to visit. Eataly is not out to replace the lovely local food markets that we cherish for both fresh produces and photo ops. Let's leave that up to the wide-spread economic crisis that is affecting all corners of the country. And if it is to be considered a glorified food court, make sure to consider its glass throne a looking glass into 21st century Rome.