In 2009, I called my best friend Melissa with devastating news. "Oprah's ending her show! Now what are we going to do?"
"She can't!" Melissa exclaimed "We haven't been on it yet!"
Melissa and I were sure we'd be on The Oprah Winfrey Show someday. We'd talked about it since 1989. We knew -- just knew -- we'd be on it.
"We still have a year," I told her. "We have time to do something amazing and be on the show."
I looked around me. I was crammed in a messy kitchen with a Golden Retriever and three kids under age 5. My career was nonexistent. I'd moved four times in seven years. There was nothing going on in my life that would warrant an appearance on Oprah, unless she needed an expert on how to bubble wrap useless wedding Waterford and efficiently move kid clutter from residence to residence.
On June 20, 2010, despite the fact that I knew Oprah was ending, I threw a Hail Mary and put being on her show on my list of 100 life dreams.

Even after the show was canceled, Melissa made her own list, saying she wanted to "meet Oprah or be on her show or radio."

When I made my list, I wasn't even a writer -- in the professional sense. But I'd been writing since someone gave me a sparkly pink diary when I was 7. I spent my life writing in notebooks and then shoving the notebooks in closet corners. I swore I'd never let anyone read my writing. Yet I secretly hoped to be a writer. You're thinking, that makes no sense. You're right. I became an attorney.
In 2011, I started a humor blog called Mommy Klatch. Parenthood and my life in general were so frustrating yet funny to me, and my blog was an outlet for that. I was terrified to feel exposed and put it out into the cybersphere, but I forced myself to do it. It's not like people will read this little blog in a sea of blogs, anyway, I thought.
People read it. People liked it.
In 2012, KJ Dell'Antonia of the New York Times praised Mommy Klatch and said it made her "snort coffee." At least, I think that was a compliment.
In 2013, I got my first paid writing job.
In 2014, I read my blogs on a radio show, and then the show creator asked me to become a co-host. A month later, I began blogging on The Huffington Post.
I wasn't writing the Great American Novel or anything, but life seemed to be telling me that writing was the right track. Still, as my late mom would have been happy to tell you, I never listen. I continued to stress about what career to pursue. On many days, my mind said, Why are you writing these silly articles? Go be a lawyer again like you're supposed to. You had your fun. Now stop writing ridiculous blogs about yoga pants and get a real job. Some days, I wondered if I should risk sharing my non-humorous writing. For me, comedy is a less vulnerable, safer place. Writing comedy is still stripping your soul bare -- but it's harder for people to tell.
A few months ago, Melissa called me and told me that Oprah was coming to Michigan (my home state) to do a conference. It was called The Life You Want Weekend, and Oprah, Elizabeth Gilbert, Iyanla Vanzant, Rob Bell, and Mark Nepo would be speaking.
"You're coming here," Melissa said. "This is our 40th birthday gift. I'm buying you a ticket and you're getting on a plane. We're going to meet Oprah. It's happening."
On September 12, day one of the two-day conference, we watched Oprah speak at the Palace of Auburn Hills. She was relatable, eloquent, inspiring. She wore a long green dress. She told us that the point of the conference was to help us find our true callings. I hoped to get insight about my career path.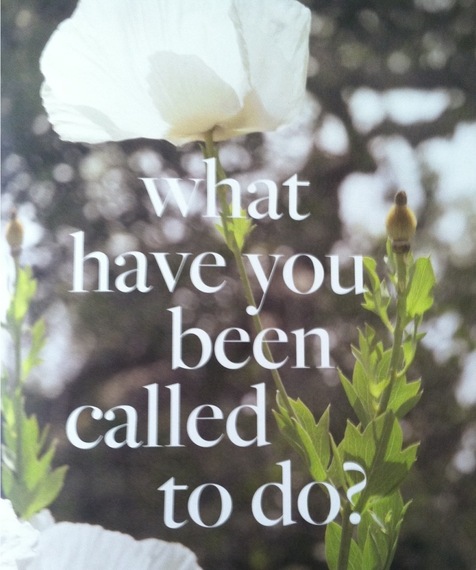 A page from the conference workbook
That night at the hotel, I had a dream. Oprah was wearing her green dress. She looked into my eyes and asked me questions. I thought, This isn't fair to Oprah. She's always asking people about themselves. Does that get lonely? Does she want someone to ask how she is? So I said, "Oprah, how are you?"
Oprah looked at me like I was a wacko.
I woke up.
The very first thing Melissa said to me that morning was, "Last night, I dreamed that Oprah talked to us!"
I opened my mouth to say, "Me too!" but I stopped myself. For some superstitious reason, I was afraid mentioning both dreams would cosmically cancel out any chance of them manifesting.
That morning at the conference, Oprah asked us to do an exercise where we close our eyes, picture someone we love, see their face, and write what we wish for them. I started writing about my daughter, and tears rolled down my face immediately. As I wrote, my crying got more intense until I reached that point of restrained public sobbing -- where you're breathing sharply through your nose and then swallowing hard, over and over again with a tissue pressed to your face. Why I was crying so hard is a topic for another blog -- and for a skilled team of psychoanalysts.
I looked over at my friend and saw that she was teary eyed -- and staring at someone. She was staring at Oprah, who was about 15 feet away. Oprah looked our way and Melissa, my heartfelt friend who isn't afraid to talk to anyone, said, "Oprah, you're making us cry!"
Oprah looked sincerely concerned and approached Melissa. Oprah (Oprah!) asked who we were writing about. She moved over to me and asked if she could read what I wrote. (And when Oprah Winfrey asks if she can read what you wrote, you say yes, even if you've doodled giraffes in party hats on the side.) After she read it, she put her hand on my arm, looked into my eyes and said, "I like that." She asked how Melissa and I knew each other, and we told her we'd been best friends for 38 years. She moved on.
When Oprah returned to the stage, she said into her microphone: "Where are the best friends? Come up here, best friends."
We walked up the stairs to the stage. Melissa left her workbook on her seat, but I clutched mine. Oprah asked me to read what I wrote. In front of a stadium crowd. On the Jumbotron. I wasn't sure I could collect myself, because I was still in the secret land of tears.* And because I was talking into Oprah Winfrey's microphone! And because the incredible Eat, Pray, Love author Elizabeth Gilbert was there. Imagine reading your third grade "How I Spent My Summer Vacation" essay to a New York Times bestselling author.
I somehow got it together and read with a shaky voice. Melissa and Oprah were on either side of me, and they joined hands and rubbed my back as I read. Because reading out loud to the Palace with Oprah rubbing my back is totally the sort of thing that happens to me on an average Saturday morning.
I was so into the emotion of the exercise that I don't think I smiled once, even though part of my heart was doing an "Oh What a Feeling," '80s Toyota jump. I'm standing with Oprah!
Looking at pictures of the experience now, I realize that when I asked the universe to put me on stage with Oprah, I should've specified, "and look really good, too." I had my big moment with Oprah looking like a bewildered, soggy squirrel. That was not how the daydream went.
But the reality is even better. Because writing was my question, and Oprah gave the answer.
I'm not saying what I wrote in that moment was Pulitzer Prize worthy. Or that my writing was even the reason Oprah invited us onstage. Maybe she liked that we were really into the assignment. Maybe we were conveniently sitting on the stage-stair side of the stadium. Or maybe she simply felt sorry for me, a woman who seemed about to slide out of the building on an Alice in Wonderland torrent of tears.
The bottom line is that, for whatever reason, Oprah Winfrey asked me to read my writing on her stage. At a conference where her goal was to help us find our callings. Oprah did that for me. And she didn't even know she was doing it. She really is just that magical.

I am the forlorn person in stripes.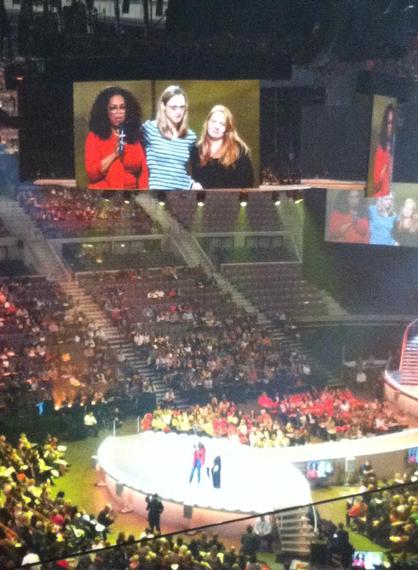 *I can never resist a little Little Prince.
Erica Ford is the author of "Scotch Tape is Cheaper Than Botox: And more not-so-helpful insights for parents, spouses, and other tired people," available for pre-order on Amazon.