The first time I saw a flyer advertising the Brandeis University's Annual Messiah Sing, and the corresponding kosher Christmas cookies, I did a double take. Kosher Christmas cookies? Really?
As a freshman, I was a little surprised to discover that a community wide rendition of Handel's Messiah, complete with the University's chorus and orchestra, was one of Brandeis' most well attended and loved traditions. Although it is a secular university, Brandeis is known for its strong Jewish roots, as well as a Jewish population that is well above the national average. Therefore, the annual gathering of hundreds of students, staff, faculty and community members to sing this Christian classic in the middle of the campus center may be a little counter-intuitive. Yet every year, people wearing Santa hats and yarmulkes fill the staircases wrapping the campus center and join their voices in song.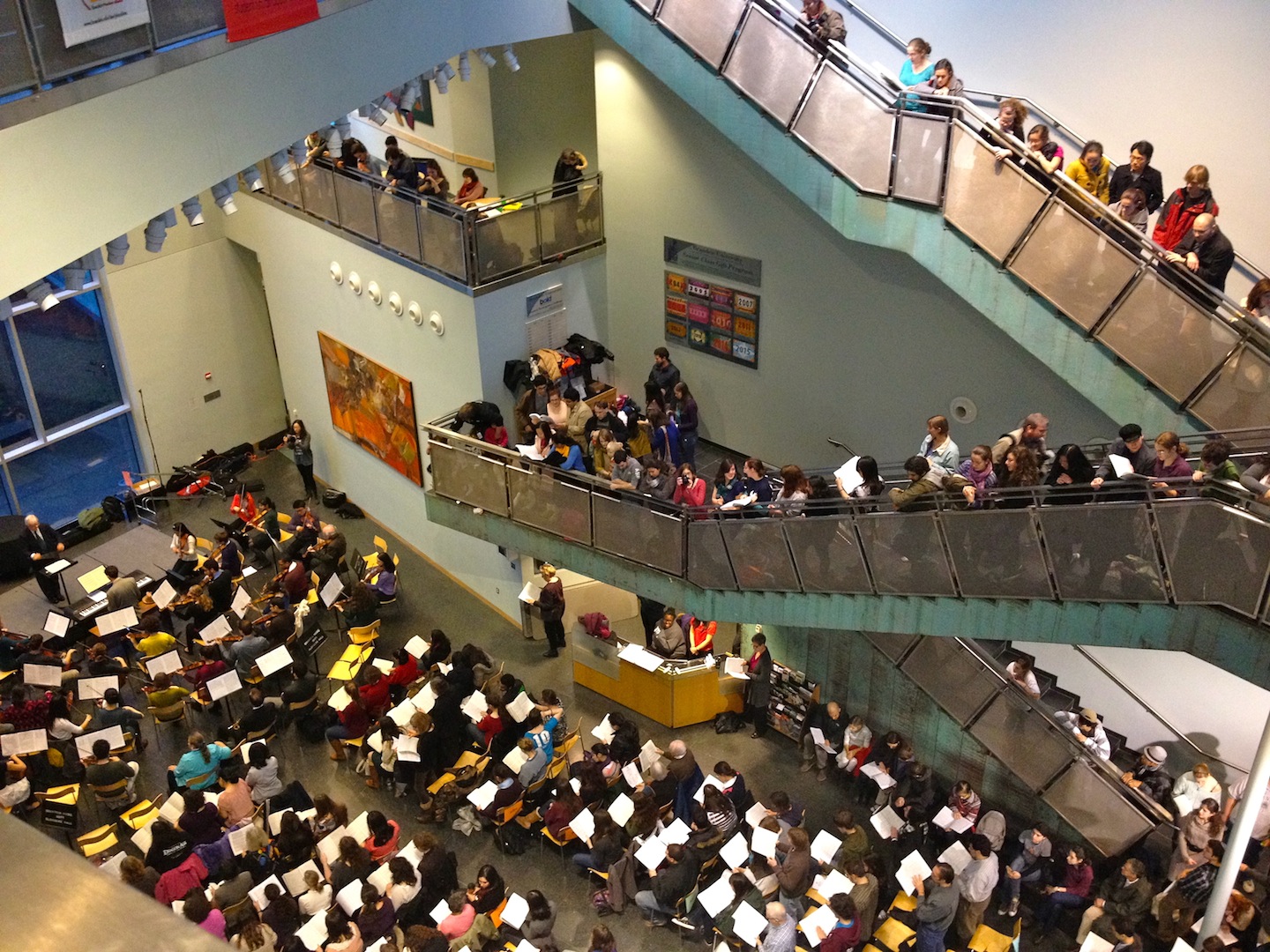 Three years later, as I sang the final Hallelujah chorus of my college career, I felt a deep wave of nostalgia and gratitude. For me, the Messiah sing has come to epitomize the unique opportunities for religious pluralism and engagement that saturate Brandeis and many college campuses across the country. It is hard for me to think of settings other than a college campus where this type of program would be possible. Universities are distinctive because they bring people from incredibly diverse backgrounds, who may otherwise never have met, together with the shared goal of expanding knowledge. Pluralism needs to be at the foundation of community formation.
Brandeis' identity presents even more opportunities and challenges: How can the school celebrate its Jewish roots and accommodate its large Jewish population while still being inclusive and welcoming to all of its students? I would be lying if I stated we never experience tension and awkwardness as we try to strike a balance.
For me, the answer is in the kosher Christmas cookies. Communities should not gloss over our differences but instead, work to make programs accessible to people of diverse backgrounds. Although we may roll our eyes and state, "only at Brandeis," when we see the flyers first appear in early December, the idiosyncrasies that make our University unique are worth acknowledging and celebrating.
University Vice President Andrew Flagel captures it best when he explains, "I think it is so wonderfully Brandeisian for a place that begins the year with one of the nation's largest break the fasts [after the Jewish holiday of Yom Kippur] to conclude our semester with this beautiful sing-a-long of the Messiah."
Due to good timing, this year the sing-a-long, which was conducted by Fred Lawrence, our university's Jewish president, was followed by communal menorah lighting for Hanukkah in addition to Christmas caroling. This moment served as a tangible example of America's beautiful religious diversity and how much stronger our communities are when we embrace it.
While some people discuss the "war on Christmas," I prefer to view the challenges of America's diverse religious fabric, particularly during the holiday season, as an opportunity. At college campuses across the country, students and supporters have learned how to develop their own meaningful traditions grounded in religious pluralism. This represents the best of the holiday season and serves as an example of something we should try to emulate in our own communities -- one kosher Christmas cookie at a time.