What would you do with $3.75 billion - that is, if you had to use it to fund a project that alleviates poverty and mitigates climate change, and not to, say, purchase a personal tropical island?
The World Bank, supposedly committed to the above goals, voted April 8 to finance construction of massive coal projects in South Africa with a loan worth $3.75 billion. Not only is coal use the largest cause of carbon dioxide pollution, but it puts both the environment and coal miners at risk.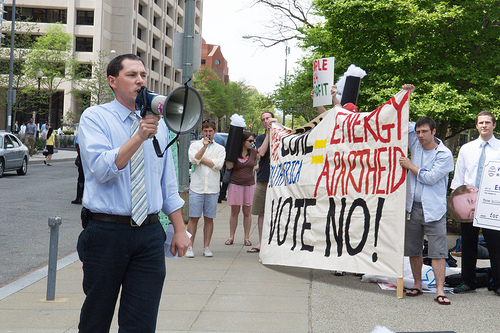 Coal is cheap, the argument goes, and South Africans deserve cheap energy to help raise people out of poverty. Unfortunately, the word 'cheap' doesn't apply to the energy generated from this project. Eskom, the company building the plants, plans to raise energy prices for individuals by 25 percent over the next three years. This increase will occur even though large industrial firms in South Africa get cut-rate electricity.
Friends of the Earth is one of more than 125 community, labor, faith-based, and environmental groups worldwide allied with South African groups opposed to the World Bank funding this project.
Friends of the Earth joined several other groups April 7 to protest outside the World Bank offices in Washington D.C.
Here is a video from the protest:
From wearing smokestack hats to staging sidewalk skits and dressing up in suits on a 90 degree day, you can see how dedicated this group was to voicing our concerns.
Despite these facts and voices, on April 8 the Executive Directors from the World Bank voted to fund the project. Representing more than 26 percent of voting power within the World Bank, the U.S., U.K., Italy, Netherlands and Norway abstained from the vote. For an organization like the World Bank, which works largely by consensus, abstaining essentially voices opposition but allows a project to move forward. Sadly, by not voting no, the U.S., the World Bank's largest funding source, did not live up to its December 2009 U.S. Treasury guidelines to stop funding coal projects.
However, we are proud that our global collective efforts created such a large coalition of abstainers. The United States' explanatory statement cited its concerns over the environment and poverty as its reasons for abstention. Friends of the Earth will continue to be active and vocal in advocating just and clean energy decisions and denouncing unfair and dirty ones. Get educated at http://www.foe.org/world-bank-dirty-coal-loan and join us by signing up for our email list to stay informed.