Eight years ago, Brian Copeland debuted his one man play, Not a Genuine Black Man at The Marsh Theater in San Francisco. Kudos ensued. What was scheduled to be a six-week run became the longest running solo show in San Francisco history.
So, many who loved the show have been anticipating Copeland's sophomore solo performance, which opened Saturday at the Marsh.
Its title -- The Waiting Period -- refers to the 10 days Copeland was required to wait before his gun license cleared. It refers to the 10 days Copeland needed to wait before he could commit suicide.
It's a great structural concept for theater -- an autobiographical clock-ticking countdown to a life or death choice.
Like Not A Genuine Black Man, this is a play born of a distinctive experience with true human interest. Genuine Black Man was inspired from a piece of writing advice that comedy maestro Carl Reiner had imparted to him; "find the piece of ground that you alone stand on, and write from there," Reiner told Copeland.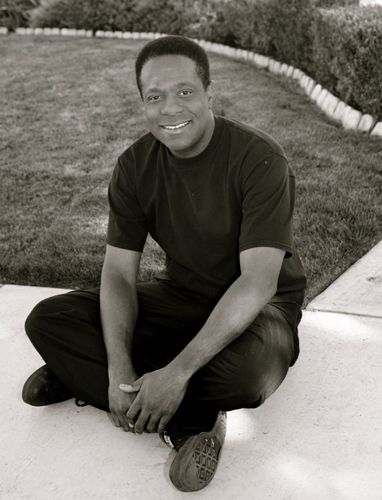 So Copeland wrote about his childhood in the 99.4% white San Leandro and his adulthood as a man accused of not being black enough.
A radio personality at KGO, Copeland had received a letter -- the umpteenth of its kind -- accusing him of not being "a genuine black man." Copeland's singular story started in 1972, when, at age eight, his family moved to San Leandro, which had recently been named one of the country's most racist suburbs. His account of his experiences with racism, police harassment and housing discrimination was historically illuminating, funny and dare I say, poignant.
The new show is likewise intrinsically interesting. And potentially poignant; what does one do (or, what does one do) during the 240 hours when one is waiting to kill oneself?
Copeland tells us, more or less, what he did do -- and what he made his kids for dinner. (Spoiler Alert: Chinese take-out.) His persona is affable and familiar and he has an easy, appealing humor. But his articulation of what he thought and felt during those 10 days is much more vague.
Certainly there's an unique challenge in crafting a play about emotional numbness. But if one is going to write from a particular piece of ground that he alone stands on, particularity is key.
But here, Copeland skips around a bit from his ground to other people's ground in an effort to create a sense of universality to the topic of depression and suicide. On a number of occasions he refers to people who are "one of us" -- they are part of an unseen community of dangerously despairing people.
In between quite a few warmly amusing scenes (he's clueless at the gun shop, requesting a revolver because he knows its name from the Beatles album), the play slips into an earnest PSA-type inspirational speech.
In fact, the performance I attended was a benefit for Bring Change 2 Mind, a non-profit, founded by Glenn Close, that focuses on the stigma of mental illness.
At times in the play, Copeland reflects the experiences of some suicidal young people who he had interviewed. He performs their interviews Anna Deavere Smith-style, presenting the character verbatim.
He also plays his daughter, who is really worried about him. Her fear and stress are well-conveyed, but Copeland's gift for playing anyone other than himself (particularly kids) is somewhat lacking.
I'd like to have heard more about his kids, and the wife who left him, and the people he is planning to leave. In The Waiting Period, context and storytelling are a bit wanting. And while the 10 day time-frame is precise, the experience itself is sharp but not vivid.
The Waiting Period runs through March 24, 2012 at The Marsh Theater in San Francisco. For tickets and information visit themarsh.org.
This story appeared originally on KQED Arts