Berry Coconut Frozen Yogurt is the flirty little sundress of desserts -- pretty, pink, and ready to play lawn games in the sun.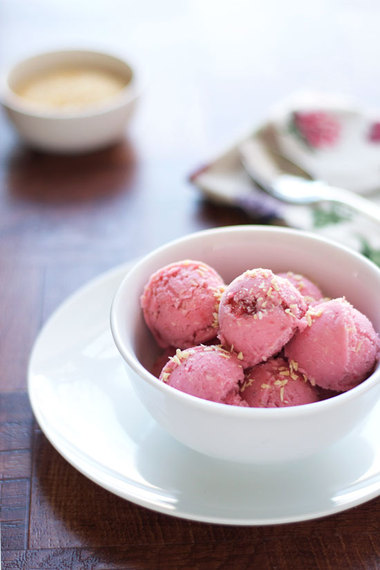 I owe this sweet little number to the bright, happy things in half-empty containers that littered my fridge: straggling berries at the brink of over-ripeness; a scrap of jam I was saving for a small piece of toast (or midnight graham cracker dunk); a half-empty can of coconut milk. I hate throwing food away, not only because I find it wasteful, but also because I feel that by doing so, I have given up on its potential. No flipping burgers for my lagging spoonful of jam and orphan coconut milk-their future is beaming with Berry Coconut Frozen Yogurt!
Though simple stir fries and creamy quiches are my usual outlets for repurposing extra ingredients, these savory dishes cannot rescue me where sweet leftovers are concerned (though if anyone has a quiche recipe that calls for excess peanut butter glaze, I'll venture a bite).
A few weeks ago, I checked out the ice cream Bible from the library, and in it, author King David David Lebovitz mentions that he often uses ice cream as a vehicle for the excess dessert bits he has strewn about his kitchen from the week's assorted baking projects. Besides prompting me to declare David Lebovitz's apartment a place I could exist quite happily, this idea struck me as brilliant. I often top my leftover caramel brownies with ice cream, but for some reason, the idea that I could put them in the ice cream itself never occurred to me. Life hack. Also, I'm slow.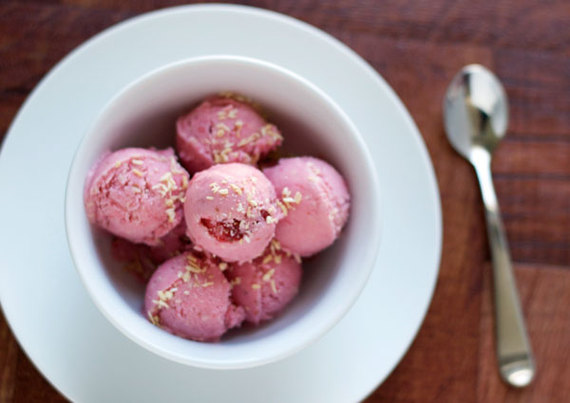 I decided to apply David's "turn it into ice cream" principle to the sweet leftovers in my fridge, and oh my lans -- I may never do another thing with them again. My little ice cream (or in today's case, frozen yogurt) experiment demonstrates that coconut milk pureed with Greek yogurt and leftover berries creates a perfect, 30-second custard, and a smidge of jam contributes extra fruity "oomph." The remainder of our sweetness comes from a squeeze of natural honey.
The initial fruit/coconut milk/Greek yogurt/honey combo left me with a wonderful berry frozen yogurt, but I wanted the coconut flavor to shine too. Enter toasted coconut flakes, both mixed in and served atop our Berry Coconut Frozen Yogurt. And coconut rum too. A few tablespoons of booze helps keep the frozen yogurt soft (alcohol has a lower freezing point). Plus, coconut rum. Tropics, here we come!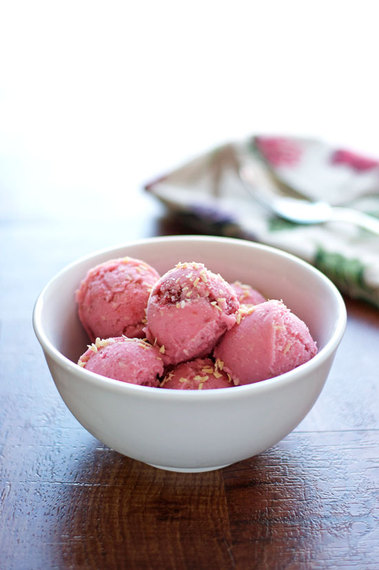 Looking for an ice cream maker? I use and LOVE my KitchenAid standing mixer attachment. I have also heard great things about the Cuisinart ICE-30BC, and the Amazon reviews agree.
Don't have an ice cream maker? You can still make Berry Coconut Frozen Yogurt! Try this method from King David himself.
Berry Coconut Frozen Yogurt
Ingredients
8 ounces strawberries, fresh or frozen and thawed
4 ounces raspberries, fresh or frozen and thawed
1/4 cup honey
2 tablespoons raspberry or strawberry jam
2 tablespoons coconut rum
3/4 cup light coconut milk
1/2 cup plain Greek yogurt (whole, 2 percent or non-fat -- the higher the fat, the creamer the frozen yogurt)
1/4 teaspoon kosher salt
1/4 cup shredded toasted coconut, plus additional for serving
Directions
Freeze ice cream maker according to instructs. Hull strawberries and slice into fourths. Place in a large bowl with the raspberries, honey, jam, and coconut rum. Stir to coat berries in the honey and rum, then let sit at room temperature for 1 hour to macerate.
To the bowl with the berries, add the coconut milk, frozen yogurt, and salt and stir to combine. Transfer the mixture to a food processor or blender (or use an immersion blender) and puree until mostly smooth. Return to bowl, cover with plastic wrap so that the plastic is touching the surface, then chill in the refrigerator for at least 1 hour.
Freeze according to your ice cream maker's instructions (or if you do not have an ice cream maker, follow this method to freeze), adding the toasted coconut in the last 5 minutes of churning. Serve topped with additional toasted coconut.
Erin Clarke is a food blogger fearlessly dedicated to making healthy food taste incredible. Find more of her recipes on her blog, The Law Student's Wife.