We're approaching the time of year when I forsake my married name and relive my bachelorette days. No, I'm not craving a sketchy bar hook up -- I'm after my Irish roots and Corned Beef and Cabbage Grilled Cheese.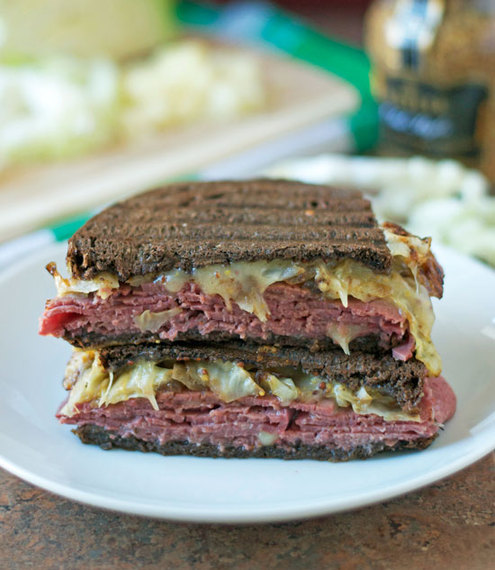 I grew up Erin O'Neill. Could that name be any more Irish? I thought I was so cool. In grade school, my Grandpa O'Neill told me the less-than-appetizing history of The Red Hand of Ulster and how it came to be on our family crest. Normal seven-year-olds would have nightmares. I was fascinated. (Hand chopping and throwing for the sake of victory is involved -- maybe this is why I hate losing board games.) In college, I raided every scrap of St. Patrick's Day décor from Target, then proceeded to hang it year-round. March-to-date I've baked Green Pistachio Pudding Donuts, Irish Whiskey Brownie Pie, and today's Corned Beef and Cabbage Grilled Cheese. I take my Irish heritage quite seriously, especially around St. Patrick's Day.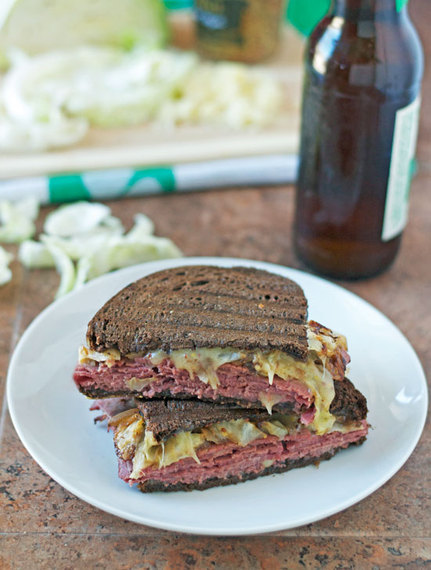 Despite my moderately obnoxious pride for my Irish heritage, I do have a little secret -- I'm actually more German than Irish. In fact, I'm such a medley of origins, my genes could practically form their own EU. Will that stop me from blasting Irish music, sneaking some Bailey's into my coffee, and wearing my "Erin Go Braugh" button on St. Patrick's Day? Absolutely not.
No matter your heritage, St. Patrick's Day is a free pass to baptize yourself Irish for 24 hours, drink a Shamrock Shake for breakfast (it's kind of like a smoothie, right?), slip some Irish whiskey into your Diet Coke, then settle in for dinner with Corned Beef and Cabbage Grilled Cheese.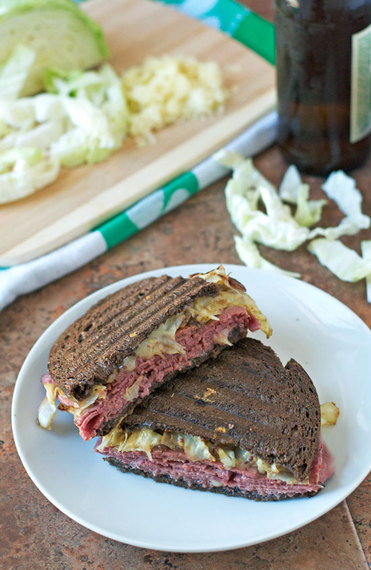 Despite my affinity for my Irish heritage, I spent most of my life believing that I didn't like corned beef. My logic: the name. The word "corned" sounds terrible, particularly when used in reference to something I'm about to consume. Then a few years ago, my roommate made corned beef for a special St. Patrick's Day dinner. Out of respect for her efforts, I took a small bite with every intention of hiding the rest I my napkin. (Does that trick still work?). To my happy surprise, the corned beef was absolutely delightful, and I've eaten it on every St. Paddy's Day since.
As it turns out "corned" refers to the "corns" of salt that are used to cure the beef. (Memo to any butchers reading this: You might increase your corned beef sales if you set out a little sign with this explanation.) Though corned beef is traditionally served in thick slices with a side of cabbage, I thought it would be even more festive to involve a third Irish product: Irish cheddar.
Turning corned beef into Corned Beef and Cabbage Grilled Cheese is to follow the old Irish adage: Where the question is "Cheese?" the answer is yes.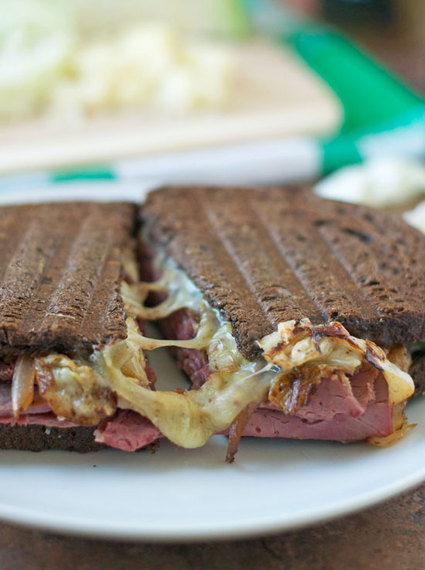 I definitely made that up, and I'm definitely standing by it. Creamy Irish cheddar + shaved corned beef + amped-up sautéed cabbage, smashed together with whole grain mustard on pumpernickel bread. Dear ancestors, would you be appalled or impressed?
Verdict: impressed. I didn't ask, but I did eat two of these sandwiches in one sitting. The salty corned beef flavor with the savory cabbage, gooey molten cheese, and sharp mustard fused fabulously into one seriously satisfying sandwich. Great great great grandpa, I've done you proud!
We're all Irish on St. Patrick's Day, so this year let's celebrate with Corned Beef and Cabbage Grilled Cheese. After all, if melty gooey cheese on buttery bread can't unite us, what can? (Besides a round of Guinness of course!)
Corned Beef and Cabbage Grilled Cheese
Ingredients
1 tablespoon extra virgin olive oil
3 cups sliced green cabbage (1/4 small head)
1/2 cup sliced yellow onion (1/4 large)
1/4 teaspoon kosher salt
1/4 teaspoon black pepper
1/2 cup water
2 teaspoons Worcestershire sauce
4 ounces corned beef
4 slices pumpernickel or dark rye bread
2 tablespoons unsalted butter, plus additional for griddle as needed.
1 tablespoon whole grain mustard
1 cup grated Irish cheddar cheese or other white cheddar (about 4 ounces)
Directions
Heat olive oil in a large skillet over medium heat. Add onion, cabbage, salt, and pepper and cook, stirring, until the vegetables begin to soften and brown, about 5 minutes. Reduce heat to low, add the water sauce, then cover and let cook until the cabbage is tender, 15-20 minutes. Check and stir the mixture about every 5 minutes. If it becomes to dry, add a bit more water so that the vegetables do not stick to the pan. Stir in the Worcestershire sauce and cook, uncovered, for 2 additional minutes.
Heat 1 tablespoon butter a large non-stick skillet over medium heat or preheat a Panini press.
Assemble sandwiches: Spread 1 side of each bread slice with 1/4 tablespoon butter for grilling. Spread the other side of the bread slices with 1/2 tablespoon mustard. Layer the sandwiches as follows: bread slice (butter side down), 1/4 cup cheese, 2 ounces corned beef, 1/2 of the sautéed cabbage mixture, additional 1/4 cup shredded cheese, final bread slice (butter side up). Grill the sandwiches for 2-4 minutes on each side, until bread is toasty and the cheese is melted.
Erin Clarke is fearlessly dedicated to making healthy food taste incredible. Find more of her recipes on her blog, The Law Student's Wife.