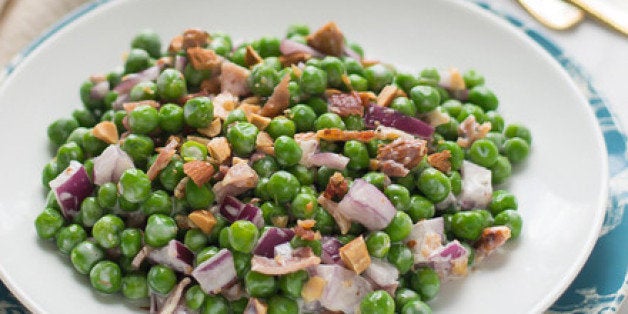 Peas are not exactly a vegetable that garners love and esteem. More often, they are lumped into categories in the realm of, "things my toddler won't eat" and "green foods to choke down because they are good for you." An ardent veggie lover, even I don't rush to cook up a side of peas for dinner, and if a restaurant offered peas as an option (which I rarely see), I would probably choose an alternative vegetable. Poor peas. No love for you -- until now.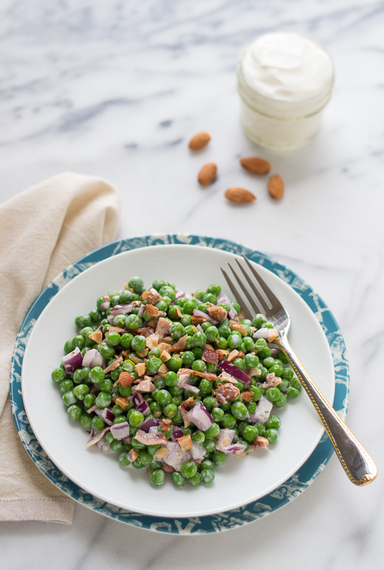 Green Pea Salad with Bacon and Almonds has taken peas from "baby food" to "food I cannot stop impulsively shoving into my face and will eat directly from the fridge," an esteemed category typically reserved for my favorite chocolate chip cookies and Slow Cooker Honey Pulled Pork. Even Ben, who considers peas to be his least favorite vegetable, could not stop eating this healthy green pea salad.
The key to pea irresistibly is the toppings: chopped roasted almonds for warmth and crunch, red onions for bite, and a bit of crispy bacon for smokiness. (I also blame applaud the bacon for this pea salad's addictive properties.) Vegetarians can obtain a similar effect by omitting the bacon and using smoked almonds instead of the regular roasted almonds called for in the recipe.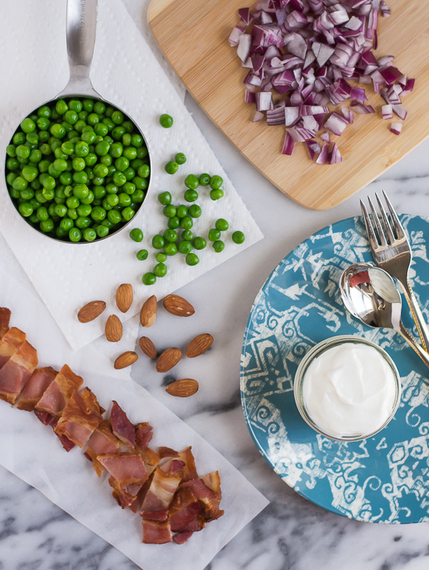 At the heart of the salad is a creamy, honey-sweetened dressing. Classic green pea salad calls for gobs of mayo, which completely negates the positive effects of the vegetables (plus, I have a lifelong mayo phobia.) In the mayo's place, I made an easy, healthy dressing with Greek yogurt, which tastes rich and creamy, but is loaded with protein and calcium. I quickly mixed the yogurt with honey for sweetness and a little apple cider vinegar for balance, tossed it with the peas, and voila! A creamy pea salad that tastes just as decadent as the original, but is filled with good-for-you ingredients. Green Pea Salad with Bacon and Almonds is my current favorite for summer picnics and potlucks, or for an easy, healthy dinner side dish.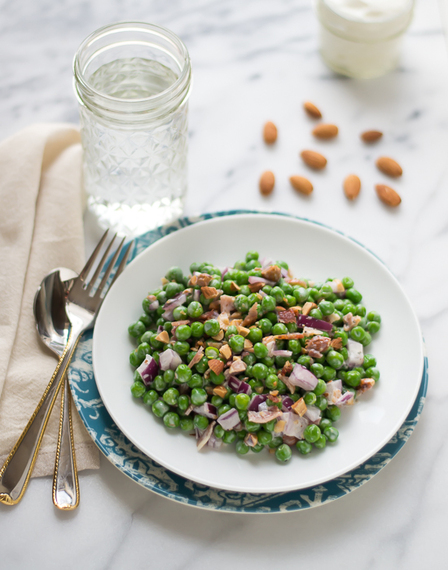 I leave you in peace with the peas, courtesy of Green Pea Salad with Bacon and Almonds.
Green Pea Salad with Bacon and Almonds
Serves 4; Prep time: 10 minutes; Cook time: 15 minutes
3 strips bacon
1/2 cup plain non-fat Greek yogurt
2 tablespoons honey
1 tablespoon apple cider vinegar
1/2 teaspoon kosher salt
1/4 teaspoon black pepper
16 ounces shelled petite peas, fresh or frozen and thawed
1/4 cup whole roasted almonds, roughly chopped
1/2 small red onion, finely chopped
Prepare the bacon: Place rack in center of oven and preheat to 400 degrees F. Line a large rimmed baking sheet with foil. Arrange bacon slices in a single layer on a flat ovenproof rack, then set the rack atop the prepared baking sheet. Bake bacon for 10-15 minutes, until crispy. Once cooked, set bacon between two paper towels and pat dry. Chop into small pieces and set aside.
In a large mixing bowl, stir together the Greek yogurt, honey, apple cider vinegar, salt, and pepper. Add the peas, almonds, and red onion. Toss gently to coat. Serve chilled or at room temperature.
Erin Clarke is a food blogger fearlessly dedicated to making healthy food taste incredible. Find more of her recipes on her blog, The Law Student's Wife.