Have you experienced the agony of seeing your child sick, weak, pale and hurting? Seeing my vibrant, silly and vivacious Elena looking tiny and pale in the hospital just about did me in... but somehow, I was able to find an inner reserve of super mama strength.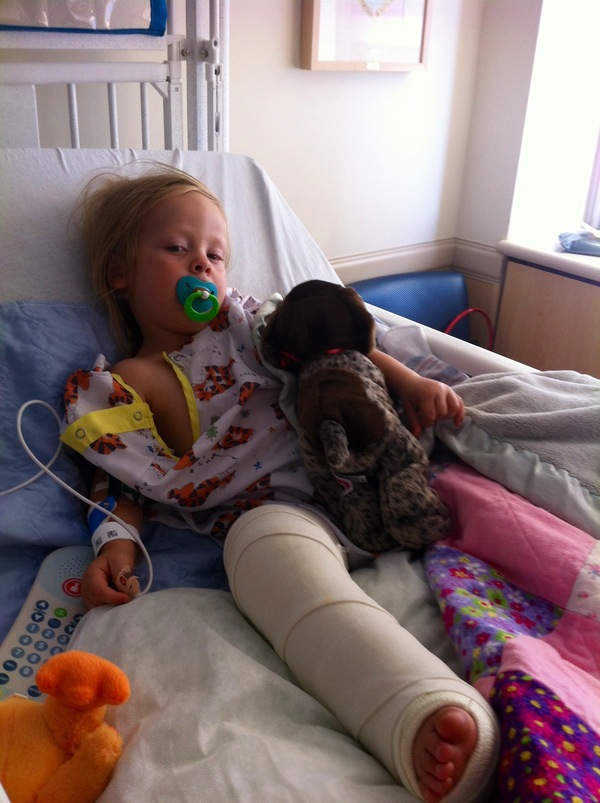 On that morning, we had already covered nearly five hours of driving during the first day of my family's recent road trip to Southern California when we stopped in Reno for a break. I had a conference call for work, so we found a coffee shop with Wi-Fi so I could do my call. My husband took our three kids to have lunch and play during my business call. A local Reno number beeped in on my phone, but I was hosting the call with an engineering client, so I ignored it. A few moments later, another Reno number dialed in... and I knew. I knew something was wrong, and my stomach immediately felt nauseous. My mouth went dry. "Guys... I've got to cut off the call now, something's wrong," I said as I clicked over. "Hello," I said with sick apprehension. "Is this Erin Cox?" said the unfamiliar voice on the other line. "Yes," I barely squeaked, my heart and mind starting to race. All I heard through my heart pounding in my ears was that it was a paramedic calling from the ambulance carrying my family... my 2-year-old, Elena, had injured herself at the park and they were on their way to the hospital. The paramedic told me to wait out in front of Barnes & Noble and a guy named Jason in a white shirt would come to pick me up. "Okay," I said slowly, the reality of his words not fully sinking in.
So, I went and stood out there, feeling such a complex range of emotions -- panic, sadness, guilt and anxiety. I called my mom, and as I told her about the call I'd just received, I heard the panic in her voice and the tears began to well up in my eyes. My baby was hurting and I wasn't there at her side. I had to get off the phone, and I immediately started to focus on taking deep breaths and I prayed. Jason, a kind and gracious stranger who had witnessed my daughter's fall while at the park with his own children, came to pick me up and take me to the hospital. His calm demeanor and chitchat helped me pull myself together and come to believe everything would be okay.
Seeing my precious little girl lying there in a hospital bed looking so tiny and fragile was one of the most painful experiences of my life so far. She shrieked "Mama!" as she saw me walk in. The first thing they had to do was put another IV into her other arm, since she'd been screaming and wiggling too much when they put the first one in during the ambulance ride, which was not working. Watching her little face wince and look at me with pleading as they inserted the new IV made me want to break down an sob... but I knew it was a moment where I had to be strong for her sake. So, I focused on my breathing and asked Elena to take deep breaths with me, as we often did when trying to calm down for bedtime. I watched her little heart rate slow on the monitor as I held her hand and breathed with her. This experience gave me the focus and strength I needed to be there for her that day. I had to, because I am a mom.
Isn't that just what we moms do on a daily basis? We simply hunker down and take care of business, no matter how uncomfortable, painful or stressful it might be. I knew that day that I could handle it. There were tears with my husband, in private, but we held each other up so we could be strong and do what needed to be done.
Have you experienced anything like this? If so, please share in the comments below. I would love to hear from you! Or, connect with my on my website, www.erincox.com or on Facebook at www.facebook.com/ErinCoxAuthor.