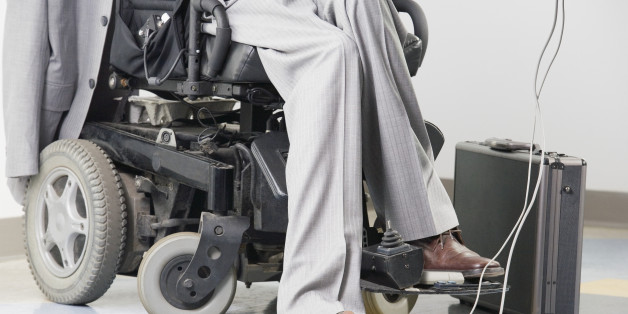 Author's Note: Every kid has a hero. Dwayne 'The Rock' Johnson has been mine for 15 plus years. In that time frame, I've lost my grandparents, gained perspective from my cerebral palsy and a recent battle with Graves' disease and have written Dwayne countless letters. As I celebrate my 30th birthday this weekend, this particular letter means the most to me.
Dear Dwayne,
It would be easy for me to express how much you've impacted my life. It would be even easier for me to turn this letter into a gushing tribute to you, but it would ultimately read the same as my other thousands of letters to you over the years as a fan of WWE. That being said, I write this particular letter not so much as a fan -- but as someone who's become more familiar with what it means to truly struggle, and is simply looking to say thank you.
I've always struggled with my cerebral palsy in one way or another. It's a non-progressive condition that I was born with. It challenges me day in and day out, due to the fact that the majority of my independence is compromised and I constantly have the shadow of my wheelchair draped over my shoulder.
My chair, as well as everything that comes with it, influences everything I do in life -- much like your Samoan tattoo has done for you. In fact, when I first watched you in a match against Mick Foley on TV in 1999, I was captivated by the way you could move and contort your body so easily--yet still "lay the smackdown."
There have been times when I've looked at the shrine of pictures of you on my bedroom wall as just that -- a shrine. I built it out of my borderline obsession with watching you wrestle and cut promos on TV every Monday night as a kid. I wasn't looking beyond the modern-day Renaissance Man the world now knows you to be -- but today, my eyes always seem to gravitate toward one particular picture on my wall.
You sent me an autographed photo in early April of 2003. My grandfather had just passed away a few weeks prior--and all I could do was sit in my room silently, clutching the clean, white envelope that the photo came in. The purity of that moment is still one of the most surreal things I've ever experienced. I don't think there's a sufficient juxtaposition on Earth to describe that day. I was so shattered and broken from losing my best friend of 17 years. He taught that the grass is truly always greener on the other side and would've given up his legs for me so I could walk.
Nothing else mattered to me, until that envelope came in the mail. I racked my brain trying to figure out how you could have ever known my grandfather died. Soon after, I received a call from my uncle, a public relations director at the time, who contacted your agent and told them the story.
This has been the sole reason for most of my letters since 2003 -- to thank you for being so kind, selfless and generous to one of your "millions and millions" of fans without thinking twice. However, life has thrown a lot more curveballs my way since.
In 2012, I lost my grandmother to severe complications following heart surgery. Her death left me equally as broken as I was when my grandfather passed. Most recently, on February 25th of this year, I was diagnosed with Graves' disease -- a progressive condition with a multitude of sporadic symptoms caused by inflammation of the throat.
Now, as I prepare to celebrate my 30th birthday, I look back and smile because there's still so much I haven't done yet that I've kept track of with a bucket list all these years. It seems as if the big day is a hot-button topic as this weekend draws near. The million-dollar question all week has been, "So Erin, what do you want for your birthday?" I could use my stock answers here -- cake, iTunes cards and movies -- but I might as well put it ALL out there.
I'll be the first to admit that the things I've always had on my bucket list are far less tangible and accessible than most would like them to be, but that's why I always dream with my eyes open. One of the biggest things is securing an agent to assist me with the publication of the three books I've written--and I'd be flat out lying if I said meeting you, Steve Carell and Ellen DeGeneres wasn't on the top of that list -- but again -- that's why dreams are called dreams.
Is this a birthday-worthy bucket list? I don't know. All I know for sure is that you truly are "The People's Champion". I've been looking for a chance to thank you for that since 2003, and also since you flexed your comedic muscles as "The Rock-Obama" on Saturday Night Live for the first time.
If this is my one opportunity to say thank you, I wanted to "tell it like it is" and leave no stone unturned. I admire you for everything you're doing, have done and ever will do. I smell what you're cookin,', DJ -- and it smells good!