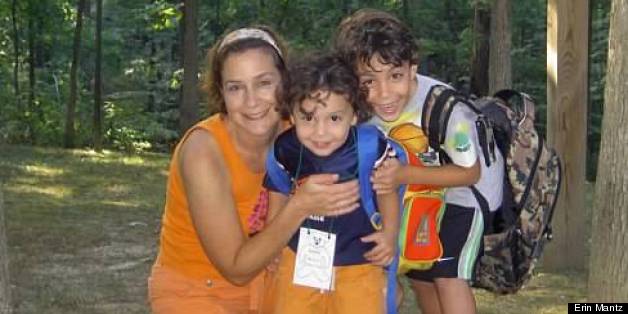 Being a single mom stuck in the suburbs can be hard. Happy, intact families are everywhere, holed up in their big houses and two-parent, tag-team bedtime routines, working on the garden or schlepping in the groceries. But the one thing that could make daily life more enjoyable is out of reach -- neighbors like my mom had.
Growing up in Chicago, my mom and I moved around a lot, but every apartment felt like home to me -- mainly because of my mom; secondly, because of our neighbors. My mom always found a great friend in our neighbors. They were other moms -- some single, some married -- but they seemed to be around and interested in our lives, from mundane things like loaning us a cup of sugar to chatting for hours over spaghetti dinners.
Shari lived one floor above us from the time I was 8 until the day we moved away at 13. I remember my mom and I sitting up there in their sun-filled living room laughing, playing with her little boy and feeling the breeze roll in from the French windows overlooking Indian Boundary Park that was basically our backyard. She made spaghetti dinners. I didn't like eating at other people's houses, but I loved being there. I remember my mom was happy. I remember when I needed my first babysitting job, Shari was there to hire me. If my mom was at work and I needed something, I knew Shari was there. I waved to her and her kids when I rode my bike past their kitchen window. I have two photos, including one where her son was 2 and sitting on my lap, and they still make me smile. He's grown up now, a famous singer in a fast-rising band. My mom lives miles away from her, but they keep in touch, meeting for dinner a few times a year. I wish I had a Shari here.
Stacey was another single mom who lived upstairs from us when I was 13. Her daughters were 1 and 4. I only knew them for a year or so, but our time is etched in my mind like it was yesterday. I didn't know anyone in this new neighborhood. It was a summer where my life was mainly about surviving after my mom's divorce and learning to live without the step-family I'd grown to love. I was 13, which is tough in itself. I was struggling, I was starting yet another new school, and I was sad. Stacey wrote me a poem on a piece of paper. (Remember, there was no email back then.) I still have that paper somewhere, but I remember it by heart. It went like this:
Getting into myself,
How long will it take?
A month, a year, a decade?
Or maybe just one clear thought.
Getting into myself & getting out.
I have one picture of Stacey and her girls stuck haphazardly in a slot in one of my albums. It's just one picture, from one year, but it stays with me.
I never saw Stacey again after I turned 14. We moved away again. She and my mom lost touch. But I often think of her now that I'm that single mom, wishing a friend like her would move into the townhouse next door.
I don't know why neighbors like this never came into my life now that I'm an adult. Could it be I live in a more affluent or suburban area, as opposed to the urban environments where I grew up? Could it be that it's houses and townhouses, rather than the apartment buildings I grew up in? Or could it be simply the times? People seem so much busier and to themselves in 2013 than they did in 1983. I don't think forty-something women where I live are very interested in hanging out with their single neighbors. They look upon me with a little fear or suspicion when I say hi to their husbands, or simple disinterest because I am the odd person out.
I did borrow a spoonful of baking soda from one of them last spring, and they were very nice about it. But no one was cracking open a bottle of wine to chat on that Sunday afternoon.
Sure, being a single mom stuck in the suburbs can't be the worst thing in the world. I know I am lucky to be able to raise my children in a safe environment with great schools. Many single moms live in much worse physical circumstances than I do. I used to drive past the Chicago housing projects year after year; my kids ride their bikes in the courtyard outside and I don't worry for a minute. I know I'm lucky.
I consider myself an introvert, and was an only child growing up. I don't need or like a lot of people or buzz around, but... On some long summer afternoons and long lonely winter nights, stuck in the house with the kids squabbling, I sometimes wish a Shari or Stacey was a knock away.