Senate Majority Leader Harry Reid (D-NV) bolted the hallowed halls of the U.S. Senate this week to visit New York City, first taping an interview with Jon Stewart for Comedy Central's The Daily Show, then speaking at a book-signing to celebrate the publication of his third book, The Good Fight (co-written by Mark Warren, editor at Esquire magazine.)
The invitation-only event was held in an elegantly furnished private home in midtown Manhattan in honor of Reid, who has served in the U.S. Senate for 22 years, and his wife, Landra. Fifty attendees included Democratic Sen. Chuck Schumer (D-NY), who, when posing for photos with me said to the photographer, "Say O-Bama..." Some former Congressmen were there -- New Jersey senator Bob Torricelli, who served 14 years as a representative before running for U.S. Senate, and an almost-senator from Tennessee, former representative and current Democratic Leadership Committee chair Harold Ford Jr., who has been seen on MSNBC this week offering Democratic primary commentary.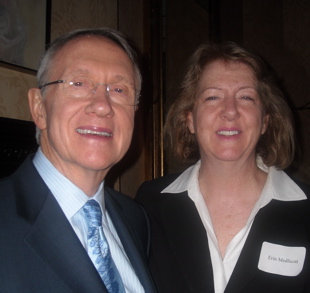 Senator Reid looked into the crowd and singled out both Torricelli and Ford for their political service. "Harold Ford should have been in the Senate," Reid candidly remarked. "The only reason he didn't get elected was because of the color of his skin."
Throughout the evening, when talking about the book (his third), growing up in the tiny town of Searchlight, Nevada and then answering questions about the Democratic primaries, Reid dished witty one liners. "I learned to swim in a bordello." The crowd roared and listened intently to his soft-spoken remarks. "Every Thursday afternoon, Mr. Martello would ask the girls who worked there to clear out and he'd invite the children to swim in their pool. Our town had 13 bordellos and no church."
On the Democratic primaries: "I'm a believer that the primaries are good for the country. The Democrats have developed a way to raise $100 million, 80 percent in donations under $90 each. With two outstanding candidates, we have four million more registered voters in Pennsylvania, and 50,000 new Democrats in Nevada." A man in the crowd asked if Sen. Clinton or Sen. Obama should drop out after the Indiana and North Carolina primaries, if they didn't win by double digits. "People should just cool their jets," Reid answered. "Hillary Clinton and Barack Obama have work to do up to June 2nd."
Reid, 68, talked about the current White House. "I was there with Reagan and Tip O'Neill...we had battles, but we got things done. George Bush the first -- with him, there was good will. But George W... He is the most dividing president we've ever had. It's his way, or no way. He has been a real disappointment to me."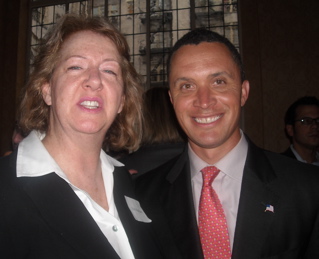 On state elections this November: "The Republicans have never gotten over the snit they were in when we took over the Congress. They don't like the fact that we are competitive in eleven or 12 U.S. Senate races. The American people don't want the status quo; they want change."
On Iraq: "Both Clinton and Obama will keep their promise to the American people by working on getting our troops home. We have 4,000 dead Americans. We have tens of thousands wounded, and more than 3,000 double amputees. The current GI Bill is not taking care of our soldiers when they come home." Reid added: "and we don't believe we should have permanent bases in Iraq."

I spoke for a few minutes with the senator and mentioned that if he ever stepped down as majority leader, I'd like Delaware Senator Joe Biden to take his place. "Don't you think he'd be great?" I asked. He smiled in his classic understated way and whispered, "Oh, yes, he would.
Senator Reid's The Good Fight was released in book stores on May 1st and is published by Putnam. (He autographed it, "Harry Reid, U.S.S.") Proceeds from the book sales are being donated to The Searchlight Leadership Fund.
You can learn more about his committee work by visiting the Senate Web site HERE.