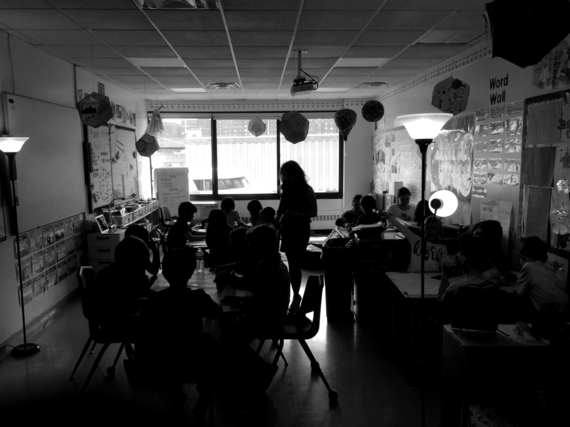 Photo courtesy of Kamau Z. Akabueze
It was a cold, gray, rainy morning here in New York City. As the children made their way into our third grade classroom at United Nations International School, many of them grumbled about the lost opportunity to play tether ball at recess, and commented on how soaked they were from their morning commute. I myself had arrived slightly late due to a rain triggered traffic accident, and so I could relate to the stress brought on by the morning weather.
"This whole day is spoiled!" commented one.
"It's like winter again!" grumbled another.
I knew the day could be easily lost in rainy day grays if we didn't act fast, and so I called a morning meeting. Once settled on the carpet, I shared that rainy days could make us go two ways:
"We can be grumbly gray or... "
"It's like half-full, half-empty!" called out one child. "You can be grumpy or -- "
"You can find the wow!" interjected another.
"Yes! You can find the wow!" echoed the class.
Look for the wow is one of the happiness habits we have been practicing as we develop our poetry writing and photography skills through our interdisciplinary unit on self-expression. We define the "wow" as the small moments that make life wonderful, the little things for which we can be grateful.
One sparkly eyed child was so eager to share her "morning wow" with us that her words tumbled into one another as she spoke.
"I was rushing to school with my mom, and then we had to stop at the corner, and I felt stressed until I looked up to see the tree above me, with little tiny green buds, and the tree was dusted with rain drops." She slowed, a smile coming to her face. "Fine, small green petals were falling like snow and landing on the ground. I took a beautiful picture in my mind."
It was clear that our visit from a recent photographer had an impact on this clever young lady; she was seeing the world with an artist's eye, taking notice of the small moments.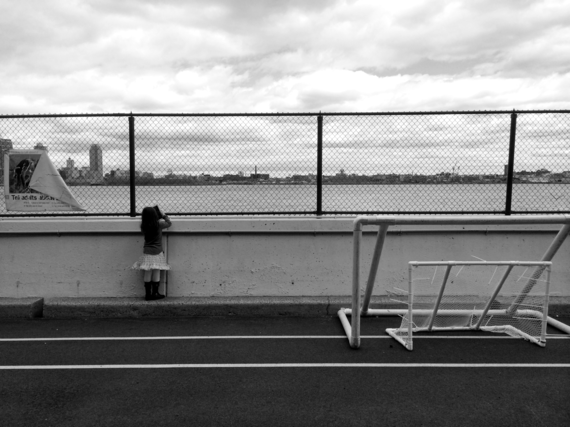 Photo of the young artist, shown here practicing her skills during a photo workshop, taken by Kamau Z. Akabueze, the New York-based photographer who visited our classroom.
"What a wonderful thing to notice -- how did you feel about the rain after that?"
"I didn't mind, because it made the tree look so pretty. It made me happy to see something so nice," she explained.
"So are you saying that there are ways to find the wow, even on a rainy, no good, gray and cold day?"
"Yes!" the class exclaimed.
Hands shot into the air, fingers waving to announce a thought needing to be shared.
"Oooh! I have an idea!"
And so, here we have it: our newest post with advice from a third-grader:
How to Find the Wow on a Rainy Day:
1. Wear some groovy rain boots. Today is your day to be a funky monkey! Go all out; even if your boots don't match your outfit, have fun with your footwear!
2. Dance in some puddles and have some fun! No music? Don't worry! Let the splash of the puddles create your beat.
3. Take your shower in the rain. Be one with nature, and save the 12 gallons that you would use if you took your shower at home.
4. Have a raindrop race. Look out your window and select two of the raindrops that are slipping down the glass. Watch to see which one wins. You could even invite a friend to join in on this one.
5. Let the colors of the day surprise you. Just open your eyes and pay attention to how different the colors of the world look on a rainy day.
6. Watch the raindrop ripples. If you live near an ocean, lake or river, watch how the raindrops fall. If you don't, watch the ripples inside the puddles.
7. Let the rain wash away your grumpiness. Is there really more to say about that?
8. Drink hot tea or hot cocoa. Warm things in a great mug will warm up your spirits.
9. Pretend you are a spy and dodge the raindrops. You might look weird, but you'll have fun. Still worried? Just go back to #1: Today is your day to be a funky monkey.
10. Find the sun behind the clouds. Look for the way the sun creates shadows, and see if you can find cracks of light.
11. Twirl your umbrella behind you when you walk. If you are tempted to sing "Singin' in the Rain," just go for it!
12. Just go with the day. No umbrella? Get soaked! Have fun!
13. Collect the raindrops in a bucket. You'll be amazed how much water you get for your plants.
14. Find your reflection in the puddles. The world is your mirror!
15. Ride a bicycle and listen for the awesome SWISSSHHHHH! The bicycle lane will be clear and you will be able to ride faster than usual.
16. Collect raindrops on your tongue. Again, go back to #1.
17. Stay in and cozy up with a good book.
18. Meditate to the sound of the rain. You'll be amazed at how calming it is.
19. Take out your camera and snap some pictures. Nature is beautiful in the rain, and so are city streets. Snap away!
20. Write a poem about the rain. Here's a Haiku to get you started.
Drops into puddles
Umbrellas open up wide
Rainy days are fun
21. Look for the light that you might not normally see. Check out the reflections from car lights, streetlights, and stores. Look at the colors of leaves and grass, roads and buildings. Then refer to #20.
22. Be an investigator. If it's foggy, guess what's on the other side and then check it out.
23. Recite Shakespeare in the rain. Because, why not?
24. Make some rainy day art. Be creative and have fun!
25. Keep a journal of rainy day wows. You can look back and appreciate it when you need to be reminded of goodness.
What do you do on a rainy day that makes you happy? Let us know in the comments section!
Need advice something in your life? Let us know and we'll do out best to help you out.