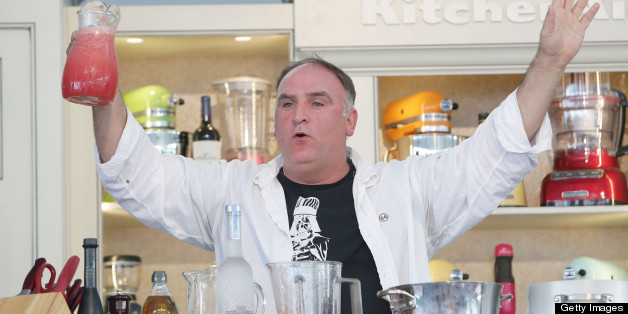 The President and Michelle Obama celebrated Valentine's Day at minibar, Chef José Andrés' pricey Penn Quarter small plates restaurant, and while there's no word on how far ahead the president had to call to reserve a table (reservations open at 10 a.m. one month ahead of the desired date), it's not the Obamas' first taste of Andrés' food.
In March 2010, Michelle Obama was spotted lunching at Zayntina. The restaurant specializes in Mediterranean mezzes and if the first lady were dining on a budget, she could have had the four-course, $25 Mezze Lunch.
A few blocks away is Andrés' Oyamel, which the first lady called one of her top D.C. dining spots. "Oyamel is one of my favorites because I love Latin food and it's really a good menu and good margaritas," she told WJLA-TV. (Here's a step-by-step video on how to make the restaurant's signature Salt Air Margarita.) Michelle Obama was most recently spotted there in January 2012 hosting a party of 10 in a private dining room. According to Obama Foodorama, the first lady may have dined on 'antojitos' ('little dishes from the streets') like carne asada and Pacific tuna ceviche.
The Obamas-Andrés lovefest doesn't just extend to dining out. Andrés has been invited to the White House more than once as part of Michelle Obama's Let's Move initiative to promote healthy kids. In June, Andrés joined White House Senior Policy Advisor for Healthy Food Initiatives Sam Kass as a judge in The Healthy Lunchtime Challenge, in which children ages 8-12 were invited to submit a healthy recipe for healthy, nutritious and delicious lunches. The winners were invited to August's Kids' State Dinner.
Andrés has also appeared with Kass in the White House's Let's Cook video series:
In January, Andrés was named 2012 American Chef of the Year by The Daily Meal:
Jovial, charming, rakish, innovative, kind, successful, ambitious, talented, skilled, and well-liked -- when you think about all the adjectives with which you could describe chef-restaurateur José Andrés, it almost doesn't seem fair.
On Wednesday, Michelle Obama was spotted dining on foie gras, burrata and lobster ravioli at Fiola, while she celebrated her birthday last month at Georgetown's Cafe Milano. Meanwhile, the president's favorite burger joint, Ray's Hell-Burger, announced this week it was closing two locations.