What happens when a classically trained British architect develops an interest in social, cultural, and humanitarian design? Architecture for Humanity is born, a world-changing organization improving the lives of millions through innovative, collaborative sustainability solutions in the built and natural environment. Cameron Sinclair is the founding and leading force behind AfH. Designer, builder, writer, lecturer, TED Prize winner, and internationally-lauded expert on aid, social justice, and design, there are few things this visionary global thinker cannot or will not undertake.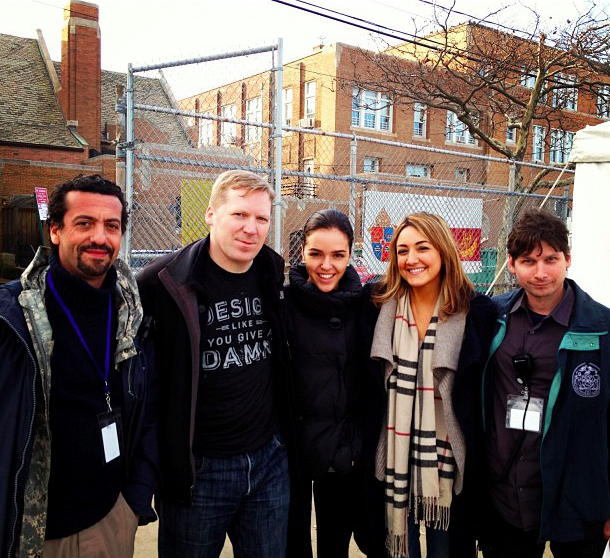 A mentor and dear friend, I sat down with Cameron in advance of our Basic Needs summer speaking series at The Ecology Center - a first-of-its-kind community action hub for all things environment, education, and engagement that inspires stewardship and cultivates hands-on leaders in Southern California. We could talk for hours (days, even) about how rabble-rousing optimists may just be the crazy ones who see things differently - those crazy enough to think they can change the world and therein prove to be the geniuses who push humanity forward, the heart of Steve Jobs' philosophy. Now, let's get down to the nitty-gritty...
Erin: Who are you?
Cameron: I'm a designer, rabble-rouser and eternal optimist. I believe we all have the power to make a positive impact on the planet and collectively we can work together to protect and conserve while adapting in a more complex world.
What makes Cameron tick?
A passion to improve the lives of others through the built environment. I am fueled by the creativity of others, in particular when I get to collaborate with them on something positive. I also have an unwavering addiction to curiosity, especially when it comes to trying to understand other cultures and communities. As much as I love developing projects and programs, I feel more at home when I can spend time in the field getting to work firsthand with our clients.
Describe to me one moment that changed your path.
In South London I used to live in a fairly rough neighborhood. Concrete tower blocks surrounded by tarmac parking lots and a boarded up blighted main street covered in graffiti. I saw how harsh and negative people treated each other. After a while it became clear that a poorly built environment takes a toll on residents, who in turn acted out their frustration and anger on others. Rather than join a culture of violence, I became fascinated in how to change it through the only way I knew, design. From that moment on, I knew I was going to be an architect of change.
Lots of people talk about humanity, but why architecture?
Architecture represents the places we live, learn, work and play. Through building, our species is the one that has shaped the world more than any before it. Therefore we have an overwhelming responsibility to be custodians of the world we have created and beyond conserving this planet, we need to create environments that compliment or support it.
Tell me about Architecture of Humanity.
AfH brings together architects, designers, planners and building professionals respond to humanitarian crises around the world. In the last 15 years we've provided structures for more than 2 million people in 47 countries. Currently we are responding to rebuilding efforts in Haiti, Japan and the United States as well as building youth sports facilities and schools across Africa and South America. On a local level we have over 50 city-based chapters focused on local needs ranging from food deserts to better shelter for the homeless.
How does ecological sustainability play into your projects?
The environment plays an incredibly important role in our work. Excluding the United States, almost every structure we've built has integrated some form of renewable energy system or built entirely off grid. Our work should never be against nature, but built in harmony with it.
What makes a structure good? Sustainable? Useful? Beneficial?
A building is only sustainable when it is loved. It doesn't matter how green or energy efficient it is, unless the client truly loves the building they won't maintain it.
What projects are you most proud of? Why? What is the impact on your clients? On you?
1. Football for Hope Centre in Kigali, Rwanda
This center brings together Huti and Tutsi children by using sports as a mechanism to teach post-genocide peace and reconciliation as well as gender equity.
2. "We Are One" Market in Kitakami, Japan
This market was one of the first structures built post-tsunami. It integrates childcare, a meeting space, a community classroom and marketplace.
3. Vila Rosa Community Project and Basketball Courts in Port au Prince, Haiti
An incredible community reconstruction program to create urban acupuncture projects to galvanize a once devastated community. Innovations included solar-lit pocket parks to stop gender violence and basketball courts that double as storm water runoff to prevent cholera.
Yodakandiya Community Complex in Yodakandiya in Sri Lanka was the first project where I got to see a community transformed by the community design process. Eight years later this complex stands tall bringing education, health and government services to the entire community.
The Center for "Women Who Weave Like Spiders" in Ralco, Chile is an amazingly beautiful women's cooperative in the mountains. The weavers came up with an off-grid building design that blew away our design team.
Let's talk collaboration and community.
Without collaboration on a community level, you are designing for FOR not WITH. It is vital to work with your clients as equal members of the design process and, if possible, during the building phase. Not only does this ensure community buy-in, but true ownership over any intervention or structure built.
I am a "rabble rousing optimist," as per my @erinschrode twitter bio. You are Chief Eternal Optimist (CEO) of Architecture for Humanity, as per your @casinclair digital identity and formal title. Why does this virtue stand out?
If you believe in improving life, then you can only be an optimist. We have created a world filled with doubt and controlled by cynics. This attitude stagnates growth and evolution.
Give me a quote that inspires.
"First they ignore you, then they laugh at you, then they fight you, then you win." - Gandhi
Why "design like you give a damn" (the title of your two books)?
What if we decided to live a life of mediocrity and shaped our world to reflect that? A sterile space devoid of the things that make life worth living happens when a designer doesn't care. Not caring makes you negligent in the social breakdown and disconnect. The act of being a designer gives us a huge responsibility and we have to give a damn about those we serve and the communities we build in.
What is the power of passionate designers and architects in tackling global challenges and building a socially and environmentally just, responsible and sustainable world?
It is not just the power of designers to pace a difference, it is the only way forward if we truly care about a just, responsibly and sustainable world. We all need to become developers of our future and not rely on others to dictate to us the world in which we will live.
Are you in Southern California this summer? Come hear a brilliant lineup of thought leaders dialogue around current, compelling environmental issues at The Ecology Center in San Juan Capistrano with the annual Basic Needs summer speaker series! I speak THIS Friday, June 28 about Teens Turning Green and more, then Cameron takes the stage on Friday, August 16 to round out season five of this explorative open forum. Find out details and share far and wide about these upcoming eco events!
Above photo: Site visit to The Rockaways after Hurricane Sandy. Cameron and Erin meet with first responders in November 2012. Courtesy of Jennifer W. Lopez.