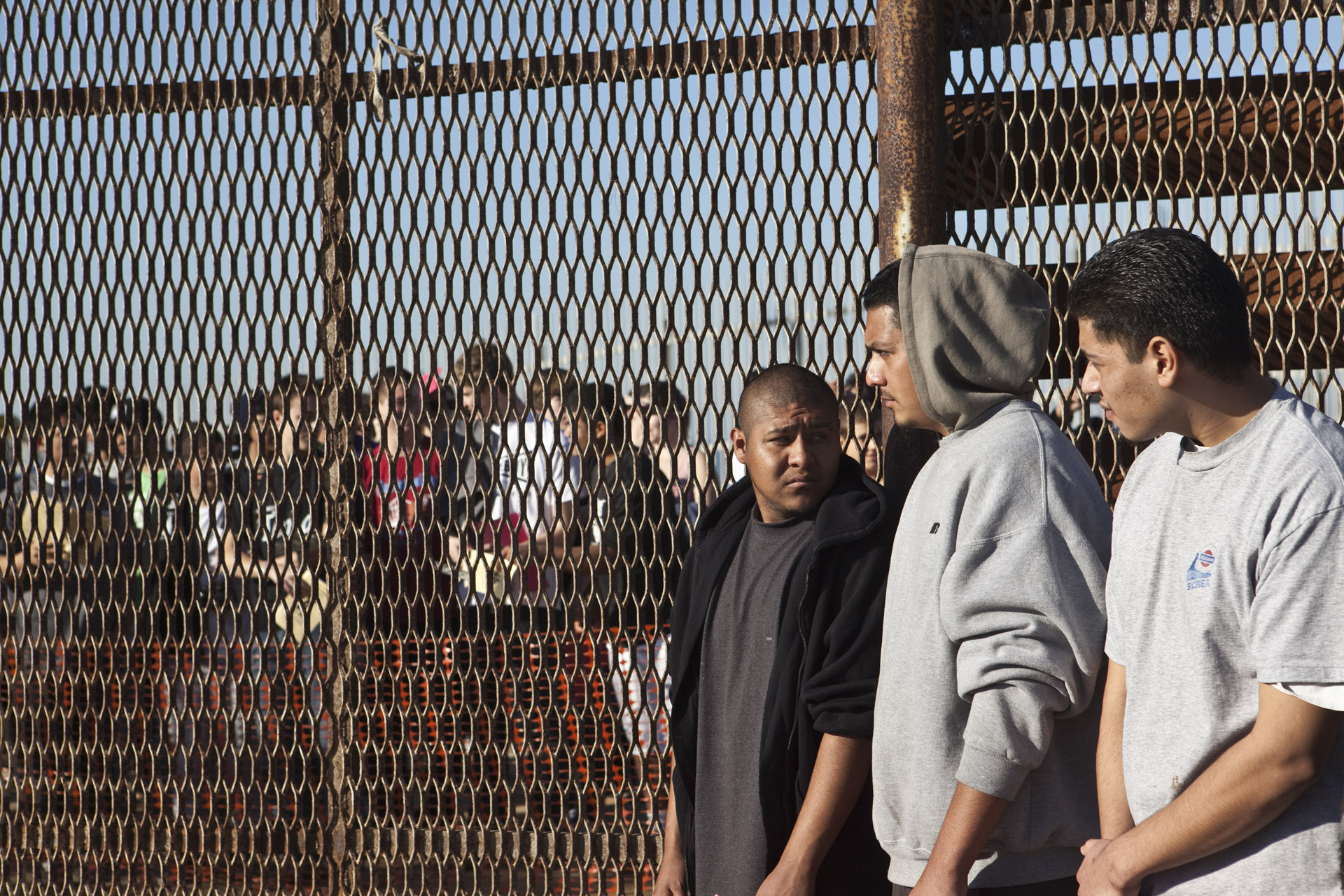 Erin Siegal/ Redux Pictures
According to current U.S immigration policy, every non-citizen convicted of any charge among a long list of misdemeanor and felony offenses is automatically deported, even if the conviction is for a non-violent offense or one that occurred many years ago. Immigrants living in the United States legally, including legal permanent residents, can be permanently banned based on a single criminal conviction. Although hundreds of thousands of people have been permanently deported from the United States under this policy, most Americans are unaware that it's happening.

We're a three-person reporting team based on the U.S-Mexico border covering issues related to deportation. Ultimately, we hope our work will illuminate a variety of issues related to mass deportation based on aggravated felonies, and increase public awareness around these issues. Got a question? Comment? Chime in and leave your thoughts in the comment section below our columns.

One of the most criticized aspects of this aspect of deportation policy is its mandatory nature. Even if the individual subject to deportation grew up in the United States and has no memories of her country of origin, there are no exceptions to this blanket deportation requirement. After serving jail or prison sentences, those subject to deportation are transferred to the custody of ICE for immediate deportation. After deportation, these people are banned from returning to the United States, the country many consider home, for the rest of their lives.

As producers for the 2006 PBS film Sentenced Home noted, "Not only are non-citizens vulnerable to retroactive convictions of deportable offenses -- including minor crimes like shoplifting committed decades earlier -- but these convictions trigger an irreversible chain reaction that ends in permanent exile without a chance to protest." Human rights advocates and the Inter-American Court of Human Rights have criticized the mandatory nature of deportations under this law.

Judges have no discretion to allow people to remain in the country, even when they have grown up here, been educated here, and have children who were born here. Not surprisingly, immigration court judges are troubled that they have been stripped of all discretion under this law. One retired immigration court judge expressed frustration with "not being able to grant relief to someone because of the precise requirements of the statute, even though on a personal level he appears to be worthy of some immigration benefit." Because immigration courts are civil and not criminal, immigrants have no guaranteed right to counsel.

Since Congress passed The Illegal Immigration Reform and Immigrant Responsibility Act of 1996, well over a million people have been deported. According to ICE Deputy Director Kumar Kibble, in 2010 "ICE removed a record 195,772 criminal aliens, more than any other year in history, and 81,000 more criminal removals than in FY 2008." ICE has also expanded its "Secure Communities" program, which works with local law enforcement agencies to identify non-citizens convicted of crimes for possible deportation. With a mandate to deport around 400,000 people per year, the amount of money that ICE is spending on deportation has swelled: in fiscal year 2005, $3.6 billion was spent; by 2009 that number was $5.9 billion. Additionally, funds allocated for ICE'S Criminal Alien Program, which targets immigrants with criminal convictions, has increased 204 percent.

The impact of deportation reaches far beyond a deported individual. Two years ago, the Urban Institute reported an estimated 5.5 million kids in the United States are the children of undocumented immigrants, and of these, roughly 4.5 million are American citizens. During the first six months of this year, ICE reported around 45,000 immigrant parents of U.S. citizen children were deported.

Last year, the Applied Research Center spent a year researching how many children ended up in the U.S. foster care system because their parents have been detained or deported by Immigration and Customs Enforcement. Their findings were shocking: around 5,100 children of undocumented immigrants were in state care, and in many instances, had been cut off completely from communicating with their families. One-fifth of foster care children are subsequently adopted, permanently severing existing family ties.

Through the spring, our team, supported by a fellowship from the Open Society Foundation in NYC, will be researching the impacts of U.S. deportation policy, beginning with the effects on U.S. citizen children now living in Mexico. We'll also be looking at government spending, national security, education, families, the judicial system, and more.