Six days, nine women, one mission: to gain a deeper understanding of the development challenges facing sub-Saharan Africa, through the gender lens.
We've led lots of trips to Africa but this one is special both personally and professionally. This time I'm surrounded by an amazing group of women all committing themselves to working with ONE to strengthen the ways in which ONE's women support the fight against poverty. And this time we're going to take a fresh view at the continent-by focusing in on the disproportionate challenges women face but more importantly on the critical role African women are playing in finding solutions. When travelling, I'm always reminded of our common humanity but as a mother, sister, daughter and wife myself-the focus on women's role in the fight against poverty offers yet another thread of connectivity.
We have just arrived in the capital city of Accra in the West African country of Ghana, where we will be spending the next four days before embarking for Sierra Leone. I am surrounded by a delegation of eight prominent women from all walks of life who have come together to learn more about the inspiring work and vast untapped potential that women and girls possess here in Africa.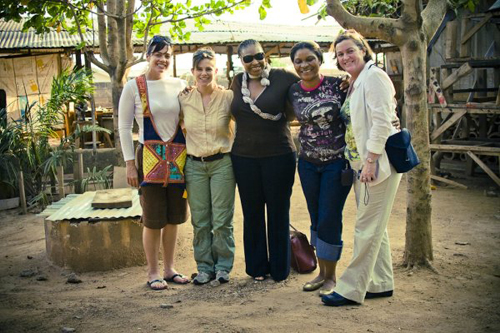 We are traveling as part of a listening and learning trip to gear up for ONE's new women's campaign, Women ONE2ONE, a movement which seeks to promote women's empowerment - through maternal health, girl's education and economic opportunity - to fight poverty and preventable disease. The women on this trip exemplify all that this new campaign stands for: women as change-makers, community-builders and peace builders.
ONE's U.S. Executive Director Sheila Nix and I are accompanied on this trip by a diverse delegation of accomplished, insightful women who know firsthand what impact women can have in their communities and around the world. Some of the women joining us include: Cindy McCain, a humanitarian in her own right and wife of Senator John McCain, who is joining ONE for her second trip to Africa with us; South African musical icon and a leader in the fight against disease and illiteracy Yvonne Chaka Chaka; star of NBC's television drama Friday Night Lights Connie Britton, who has also dedicated her time to producing a documentary in Ethiopia while also supporting ONE; former White House Press Secretary Dana Perino, and the Maureen Orth, an award-winning journalist and Vanity Fair Special Correspondent.
Over the next week, we will visit a wide spectrum of sites and meet with key officials so we can explore how African leadership, civil society and U.S. investments are opening school doors and creating economic opportunity for women and girls. I am eager for our group to further explore how women and girls in developing countries are critical to the health, social and economic well-being of entire communities.
It's sure to be a fantastic week-with its own challenges, surprises and inspiration. I'm looking forward to meeting women whose stories are sure to stick with me as I and my colleagues think through ways that the U.S. can help empower women to pull their communities out of poverty.
Erin Thornton, ONE's senior director of policy