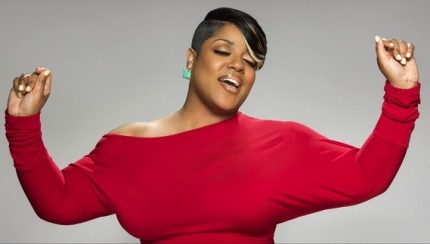 On June 24, 2014, music lovers around the world will hear a new sound of gospel that hasn't been experimented like this in years. No, it's not a hip-hop attempt of worship, nor is it a pop mash-up of Christian hits. Anita Wilson is singing from her soul "an evolution" of contemporary soul gospel while paying homage to the sounds and influences before her.
With her upcoming sophomore album, Vintage Worship, Wilson takes control of her authenticity while exploring a new way of touching the lives of her listeners this time around.
The East St. Louis native has been in the business for over a decade, starting her career embracing the Chicago sound that has catapulted to her work with the award-winning ensemble, Donald Lawrence & Company. "Donald taught me about the business, he taught me balance and gave me wisdom...an innovator, he was one of the first to beef up songs in gospel through his recordings."
The teachings of Laurence gave her the confidence to continue her own songwriting and even though should would get early praise to go solo while still being in the ensemble; her decision was not influenced by that. "I didn't back then and still don't believe in my own hype...when I decided to go solo, it was God who led me to that decision," Wilson said when discussing her transition in 2009 into writing what would eventually become her debut album Worship Soul.
Released in 2012, Worship Soul was a live record that took Wilson's career to new heights. The breakthrough gospel album featured the popular hits "It's Done," "Speechless," and "Jesus Will," and this led to numerous Stellar award nominations and eventually the monumental Grammy nomination for Best Gospel Album.
Although Wilson walked away empty handed at these awards ceremonies, she remains humble by the acknowledgement. "It's not about the accolades, the sales, or the fame," Wilson states. "God told me 'if you don't sell a million, does that mean you don't sale any?'...that spiritual epiphany humbled me to remind myself that this gift within me should never be doubted."
And two years later, Wilson is back with a confidence and ambition to finally create her own sound through an album that she describes as "feel good music with a positive message." It's an unconventional record. The album, produced by long time collaborator and friend, Rick Robinson (who is well known for writing Lamar Campbell's 2001 hit "More Than Anything"), is array of old school R&B vibes with a contemporary gospel narrative.
The Motown Gospel recording artist knows she is walking into unfamiliar territory in the industry as a woman performing this sound. "I think that a lot of gospel music is great, but it is singing to the choir," Wilson says. "I'm a Baptist pastor's daughter so I am familiar with the traditional sounds of church gospel, but I also want to reach out and touch people who don't usually go to service every Sunday with this new record."
But do not let her debut single from Vintage Worship (the highly praiseful "That's What He Done for Me") give you any suggestion that the rest of the album will continue in that director. It is a flowing array of self-spiritual reflection and declaratory personal worship.
The sophomore album gives Wilson a chance to express her "light-hearted spirit" while also making her lyrics "contagious for her supporters." Wilson doesn't believe in calling her devout listeners fans. In fact, she doesn't have extreme expectations that the album will have any chart toppers. "Again, I don't believe my own hype and I know this is a unique record outside of what is currently being played on the radio...so I am willing to go a different route in spreading the gospel," Wilson says.
And perhaps she might be on to something. Currently, the Gospel radio tunes playing are less up beat. And while there is new talent and a variety of young and old performers, the sounds remain very traditional and colloquial to the Sunday service culture of the genre. "No, this album will not have me screaming or speaking in tongues," Wilson made very clear. "And even though that works for many other artists and I can respect that, I personally will not try to compromise my own style in order to do that."
The self-proclaimed "perfectly imperfect" artist also doesn't compromise her beliefs in love, body image projection, and a host of other issues impacting young women today. "There is so much shade and hate in our culture today, and with the track 'Happy Being Me' off the record, I want to encourage all of us to take ownership of our identities and stay positive."
The "Keep Doing What You're Doing" songstress is off to a very lucrative schedule for the upcoming album. From more intimate nation-wide album listening sessions, to being a featured performer in the highly anticipated Essence Music Festival this summer, not a slow season is in sight for Anita Wilson.
"I just want to make gospel music touch the lives of those that don't already know that God can make an impact in their life," Wilson says about the hope her sophomore album would bring.
"Whether in the church or in your living room, the gospel is for everybody."