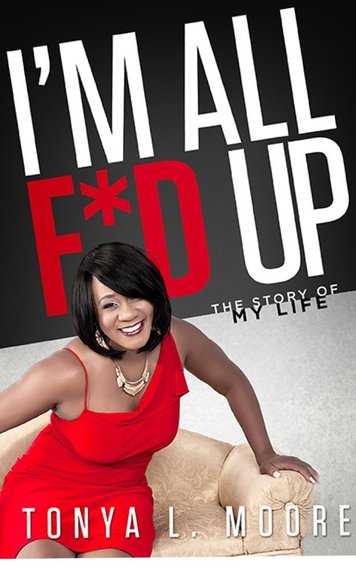 Picture this: By your mid-40s, you have filed three divorces, raised two children, overcame an affair and now you are a widow. Would you still believe in love? For corporate media doyenne, Tonya L. Moore, she still has faith. In her newly-released memoir, I'm All F*d Up: The Story of My Life, Moore tells all in what many readers are deeming a self-expose.
The title I'm All F*d Up is phrase[d] to symbolized that I'm all freed up from failures, frustrations and fears... The memoir was a way to no longer have the devil blackmail me into thinking that I wasn't good enough,
Moore states. The self-expose allowed her to tell her own life story through love, hardship and faith. For many in the entertainment industry and church community who know of her -- this will be quite the revelation.
The Event Productions and Corporate Relations Manager of BET Network (a unit of Viacom Inc.) Moore has spent the past 20 years in the business and along the way endured some personal trials and tribulations. The memoir reads initially like a tragic soap opera as well: Read about the childhood sexual abuse and betrayal that Moore faces that leads to her first marriage where she encounters further abuse.
At times the subject matter was too intense that one had to take breaks to reflect in between. Moore does not leave out details, regardless of how dark or embarrassing. "I know when a person read certain parts in the book, they might say, 'Tonya has lost her mind,'" she laughed. "Trust me, I haven't lost it. I've actually gained it."
And while there are moments where she is very candid about the abuse that she faced from her first and third ex-husband, she also takes responsibility to her actions as well. During an intense moment in the memoir -- mostly every chapter of the book is -- where she discusses what went wrong in her second marriage, she reveals she had an affair as retaliation to the cheating that went on while her husband was abroad on military duty. This section of the memoir reveals a side of Moore that everything leading up to it was suggesting: She is emotionally and spiritually detoxing.
In the media landscape of Karrine Steffans and Kim Kardashians, who exploit their lives for profit and social capital, Moore's memoir serves a unique purpose and sets a standard of values that comes with time, growth and maturity. With as much of the personal and emotional setbacks each marriage had on her life and that of her two children, she never faltered on her faith. Her optimism is inspiring for women in general, particularly young mothers of color and those in restoring faith-based intervention.
The memoir, as revealing as it for conservative readers, is necessary. It is hard to recall any recent self-expose from a woman of color who is in corporate America today that give a reader this much depth and introspective. In fact, it might be revolutionary in its relevance to the larger discussion of feminism in the age of the Lean In movement. Business men have for years written about their personal obstacles to the top. When was the last time you read one from a black women who has encountered such hardships?
Tonya L. Moore is a symbol of the modern-day black woman -- strong, perseverant, resilient and focused, yet spiritually vulnerable. Rational in how heartbreak happens, yet optimistic overcoming it -- she invokes all of those traits in a literary piece that should be mandatory reading for her proteges.
"The scriptures state that where the spirit of the Lord is, there is liberty... I'm free to forgive, I'm free to love and I'm free to be who God called me to be," Moore mentions about her continual faith and how writing the memoir helped her tap into it. And as the book reaches its conclusion, you find yourself immersed with a sense of inspiration and self-purpose. It is the kind of feeling you get after you read a novel such as Alice Walker's The Color Purple when you tell yourself, "Gosh, if she can make it out alright after all of that, then I can overcome (insert any insignificant personal complaint in your life.)"
I'm All F*d Up is a must-read memoir of the summer. And as much as you will find yourself interested in the who's who of the names that she purposely (and intelligently) decided to omit, you will also gain a better sense of self and worthiness in your own life through each chapter. Moore takes full control of her life as a successful woman of color that in many ways can inspire a new wave of black feminine social consciousness in regards to issues discussing professional life and intimacy.
"You are not by yourself," Moore tells her readers. "There are people out there who have been through the same things you've been through and have survived... Now I can say, I'm all FREED up."