This post is part of the Global Moms Relay. Every time you share this post, Johnson & Johnson will donate $1 (per action) to help improve the health and well-being of moms and kids worldwide through MAMA, Shot@Life, and Girl Up. Scroll to the bottom to find out more.
The activity was intended to be a day focused on fun for the little children in attendance, but I was surprised to see that rather than the children, their very young mothers were the ones enjoying themselves the most. At first I didn't understand the mothers' unbridled enthusiasm for a piñata. But then it hit me -- these teenagers hadn't had the chance to be little girls, because they became mothers too soon. They were little girls with babies. We watched their kids while they played with the piñatas and the inflatable playground and decided that for future years we would have to buy two piñatas, one for the mothers and one for their young children.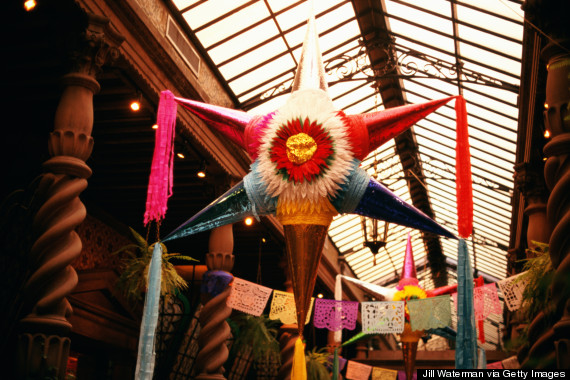 That visit changed me. I felt connected to those girls and so impressed by the program -- Social Project for Mother and Child (La Obra Social de la Madre y el Niño in Spanish, abbreviated as OSMAN) -- that I have continued to support the group's work for almost 20 years. Throughout my 30+ year career with Johnson & Johnson, I was always actively involved in the company's volunteer and contributions programs in Venezuela. I was introduced to OSMAN in 1996 while looking for organizations that could implement the Johnson's Baby program, through which mothers are taught how to provide the best care for their babies. I was immediately captivated, seeing teen and pre-teen mothers taking care of their children instead of playing with toys and dolls.
During a visit to the organization, my then 10-year-old daughter met a mother who was even younger than she, an experience that affects her to this day. In 2011, Venezuela had one of the highest adolescent pregnancy rates in all of Latin America, according to the World Health Organization. OSMAN is one of the organizations helping to address this issue through a range of activities and life-skills trainings for teenage mothers. They teach a variety of essential values, healthy habits and how to manage household chores, and the organization also helps empower these young mothers by teaching them leadership and business skills. One unique strategy is to use tokens that are earned by showing responsibility and cooperation. These tokens can be collected by the young mothers and exchanged for donated clothes, toys and other items.
OSMAN's work has inspired many who have gone through the program to help teach other young mothers. The graduates of this program are able to successfully settle into stable relationships, and choose to wait before having more children. Many of the girls have even gone on to receive scholarships to college and find full-time jobs.
OSMAN provided me with an invaluable opportunity to educate my daughter and my family on the delicate subject of teenage pregnancy and responsible parenthood. Our family's involvement in this program has had a lasting effect on my children who, as adults, have chosen to contribute their time to giving back to others. It is my belief that resolving the issue of teenage pregnancy and creating a better world begins in our own homes.
Johnson & Johnson employees have led volunteerism and socially responsible efforts beyond their roles in the company over its 126 year history. Many of their stories are not only moving and inspiring, but they exemplify the company's commitment to caring for mothers and children around the world.
You share, they give: each time you 'like' or share this post via the social media icons on this post or comment below, Johnson & Johnson will donate $1 (per action) to help improve the health and wellbeing of moms and kids worldwide through MAMA. The Mobile Alliance for Maternal Action (MAMA) empowers new and expectant mothers living in poverty with life-saving health information via mobile phones. Every $1 provides a women in Bangladesh a month of mobile messages to support her through pregnancy. You can also Donate A Photo* and Johnson & Johnson will donate $1 when you upload a photo for Girl Up or Shot@Life -- you can help raise up to $250,000 in seconds with the click of your mouse or snap of your smart phone. Share this post with the hashtag #GlobalMoms, and visit GlobalMomsRelay.org to learn more.
The United Nations Foundation, Johnson & Johnson, BabyCenter and The Huffington Post created the Global Moms Relay with a goal of improving the lives of women and children around the globe.
* via the Donate A Photo app for iOS and Android. Johnson & Johnson has curated a list of trusted causes, and you can donate a photo to one cause, once a day. Each cause will appear in the app until it reaches its goal, or the donation period ends. If the goal isn't reached, the cause will still get a minimum donation.