Let's see, it's been a whopping 22 months since my favorite cyclist, Isai Madriz, mounted his rickety bicycle -- the one with the picture of his girlfriend, Danielle, taped to it -- to pedal from the suburbs of Chicago to Argentina and back up to Venezuela to raise money for low-income students to go to college.
I've written about him several times (read the September post on him here, and the most recent post from March here), chronicling his amazing adventures as he rides 22,500 miles from Montgomery, Ill., a tiny 'burb outside Aurora, to Tierra del Fuego (''Land of Fire'') at the southernmost tip of Argentina, then up to Caracas, Venezuela.
Why in the world would anybody do that? He's doing it because after struggling to pay tuition and board at Humboldt State University in California, he wanted to make it easier on other young Latino students pursuing their college degrees. So he decided to make the bike trip to raise funds for college-bound low-income Hispanic students.
On this incredibly long journey he's been chased by dogs, broken several bones, been bitten by truly horrifying bugs and fought off several debilitating viruses.
He crossed into South America August 11, 2008, and was in Colombia in early September. In February 2009 he crossed into Argentina and just this week he sent me a note from Buenos Aires.
"During these last three months I've been a volunteer at the Patagonia Nature Foundation," Isai wrote in Spanish. "During my stay I've [helped] rehabilitate vultures, liberated a small, hairy armadillo, and served only the best lettuce leaves and roots to a very discriminating turtle.
"In mid-May I met a new friend, Adrian Marino, an Argentinian from the Silver City -- who I met, ironically, one morning out on a deserted road back in January when he, too, was riding his bike. We hooked up and he introduced me to an engineering student named Javier Grange who let us use his garage to make a contraption to ride the rails."
Apparently, the boys designed, built, ripped apart and rebuilt this two-bike frame five times before they got it to work on the rails serviceably, though screechily, but the friction on the rails made for too many sparks and they shortly abandoned the contraption for just regular biking (folks, I am NOT making this stuff up!).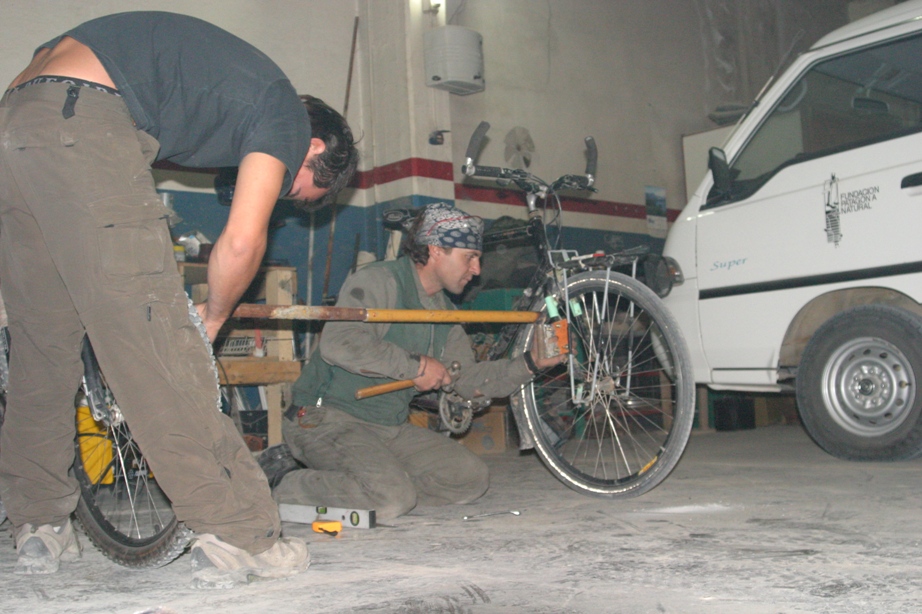 Not to be discouraged, Isai and his traveling companion decided to try again.
"Right now we are preparing to continue our journey anew and we have constructed a new and improved apparatus for riding the rail so we can traverse the next 3,000 kilometers (1,864 miles) to Bolivia by rail," he gushed in his note. "I will keep you abreast of what happens."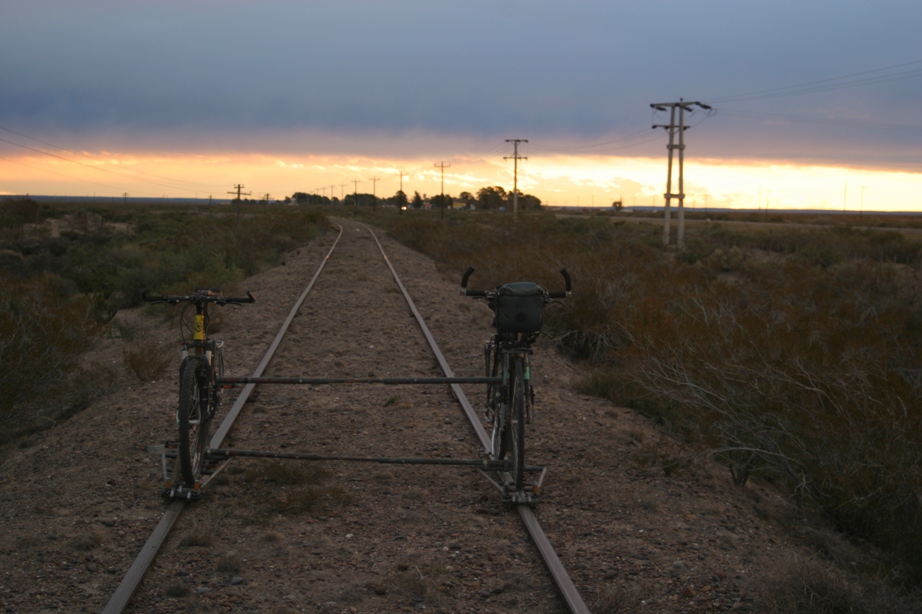 No mention of how his fund raising efforts for the low-income college students are going, but in his earnest and self-effacing dispatches he seems to be having so much darned fun I just don't have the heart to ask what I already know: you can't squeeze blood from a stone -- folks in South America are even poorer than "starving" college kids in Illinois.
But that's where you come in!
As Isai continues on his way I'll keep sharing his stories with you. If you'd like to help him help poor college kids you can send donations -- which will go to the education fund, not to Isai's travel expenses -- to: Jesus Guadalupe Foundation, 902 S. Randall Road, Suite C-322, St. Charles, IL 60174. Write "For Isai" on the check.
Esther J. Cepeda writes about dreamers, bicyclists, Latin America, and much, much more on www.600words.com