I had the honor of being part of an amazing effort last weekend.
The Voter Engagement Tour in Miami "Operation Lemonade"; Souls to the Polls with Bishop Victor Curry, Rev Al Sharpton, Congressman Kendrick Meeks, Congresswoman Frederica Wilson, the SEIU 1199 and Florida Region and many more. All of the Black clergy in Florida got together to have rallies at different early voting polls throughout Florida and had people watching to make sure voter suppression wasn't taking place. It was a really great strategy and very effective. I was proud to have been a part of this.
When Republicans shortened early voting days in Florida, black leaders say it was like handing voters a lemon.
"So we're going to make lemonade," Victor T. Curry, senior minister at New Birth Baptist Church, told 150 black pastors from South Florida on Monday.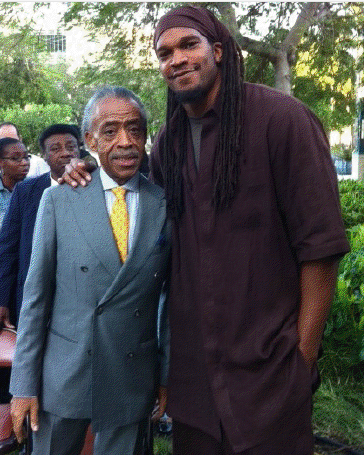 Thus began Operation Lemonade, a massive vote-turnout operation that started before the first early in-person voting polls opened Saturday, Oct. 27.
Early voting in Florida goes from Oct. 27 through Nov. 3, which is a much shorter period than voters had in 2008. The state legislature reduced the number of days from 14 to 8. In that time frame, voters can cast ballots at designated precincts prior to Election Day, Tuesday Nov. 6. In addition, the Florida legislature and Gov. Rick Scott also eliminated voting the Sunday before the election.
This has led to speculation that this is a direct attempt to discourage and suppress the Black vote.
According to the New York Times, in 2008, 54 percent of Florida's Black voters voted early. This was nearly twice the rate of white voters.
According to the Miami Herald, the Sunday ban -- as well as other changes affect early voting.
In the 2008 election 1.1 million black voters cast ballots in Florida. Ninety-six percent of those votes went to President Obama, and he won Florida by less than 240,000 votes.
Nearly 54 percent of Florida's black voters in 2008 voted at early-voting sites; another 13.6 percent submitted absentee ballots, the Florida Democratic Party reported.
In addition, on the Sunday before the election, black voters comprised 32 percent -- almost a third -- of the statewide turnout, according to a study by Michael McDonald, an assistant professor of government and politics at George Mason University.
The heavy black turnout was no mere coincidence. Florida's biggest counties, with large populations of black voters -- including Miami-Dade, Broward, Palm Beach and Duval -- allowed voting on that Sunday.
State Rep. Perry Thurston, D-Plantation, told Dunkelberger that he worked with black ministers in Broward County to encourage voting.
"On that Sunday before the election, they told their congregation members we're going to leave church when church is over and we're going to the polls," Thurston said. "They didn't tell you who to vote for, but on that day that was part of what was done at the end of the service."
Similar entreaties no doubt were made that day at other black churches in Florida.
However, while something does seem to be afoul in the air, Rev. Sharpton, Bishop Victor Curry, and the rest of the Black clergy of Florida were not going to allow this to be an excuse as to why we can't get the job done. This brought about the concept of turning the lemons that we were given in the form of voter suppression, new voter I.D. laws, purging voting rolls, and early voting adjustments into lemonade by allowing that to energize the masses into going to the polls in record numbers. The concept is that what they meant for evil, we turn into good.
Obviously, they are concerned with the Black vote if they are going this extra mile to effect it in tangible ways.
Last Sunday morning, Rev Sharpton spoke at the Saint Ruth Missionary Baptist Church, which I was in attendance and he told the packed sanctuary that was filled to capacity:
Many of us are just a generation or two away from not being able to vote. As bad as it is, it is no where near what it was...

I was in Memphis on the National Action Network Voter Tour and went by the Lorraine motel and I went to the National Civil Museum and looked at the balcony where Dr. Martin Luther King was killed. I spoke that night and went on to Birmingham the next morning and went to the 16th Street Baptist Church where those four little girls had been killed in a bomb getting us the right to vote. These girls never became teenagers. Never knew what high school was, lost their lives, lost their future getting us the right to vote... And here you are in sunny Miami Florida nobody bombing your church, nobody shooting at you, nobody threatening you, and we have to beg you to use what somebody else paid the price for you to be able to do.
Everything that we have fought for is at stake in this election. And as Rev Sharpton told the crowds over and over as we traveled to different destinations,
"If you don't appreciate the past, you better vote for the present."
I saw people who were in fact angry at the system, but it wasn't a simple message filled with griping and complaining, instead that anger was being transformed into action. Rev Sharpton and Bishop Curry were attempting to ignite a fire within the hearts of the masses. Yes, we should be angry and should be offended but that anger should be reflected in doing exactly what they want you not to do which is to vote. Rev Sharpton eloquently reminded everyone of the history of what our people had gone through in order to be able to have the right to vote, and then dissected all that is at stake in the present. He kept stressing that these two things combined should be enough to fire up anyone to vote. To transform what they meant for evil and turn it into good. Lemons to lemonade.
Their efforts had an apparent effective. The crowds were responding and every early voting location we went to had a line wrapped around the building of mostly black people waiting and fired up about casting their vote. It was beautiful to see.
Here is an excerpt of the poem I recited that day.
They want you scrambling for crumbs like the hunger games for their entertainment
They want to, take away your access to health care and a quality education
To flip your rights like a spatula
While they're married to the fruits of the American Dream
They want to keep stringing you along like a dedicated bachelor
Waving the possibility of a ring in front of your face like a man without character
Wasted motions running on a treadmill going nowhere but still
Stressing your cardiovascular
And tax you like you have no dependents
To stop and frisk your right to peacefully exist right out of existence
Our work is far from done.
We now stand at a make-or-break moment for the middle class, and America faces a clear choice in this election:
I have been blessed to have played 11 years in the NBA and I personally don't really need a tax break In order to really survive in this economy.
But teachers, single mothers working two jobs struggling to make ends meet, nurses, carpenters, construction workers, firemen, college students, secretaries, sanitation workers, Joe the plumbers, farmers and the rest of the 99 percent -- those are the ones who we need to help along with trickle down economics where only the 1 percent is granted the rights of liberty and justice is just plain wrong.
It's the Republican's never-ending story without the white flying dog -- to go back in time like Marty McFly taking the Delorean in hopes of exploring the previous failed Bush policies.
Or we can move forward toward a nation built from the middle class out where everyone has the chance to succeed.
On the path where all Americans will be able to earn enough to raise a family, send their kids to school, own a home, put enough away to retire and have enough food on their table to eat.
We need to make sure that hard work actually pays off -- and people are equipped with the proper tools.
Where responsibility is rewarded, everyone has a fair shot, does their fair share and plays by the same rules.
That's what this election comes down to.
Don't let them stop you from voting with their tricks of reducing the number of eligible voters, purging voting rolls, purposely giving misinformation about voting procedures and voters needing a proper photo I.D.
Because all Americans regardless of race, color, religion, nationality, income, tax bracket or economic status deserve the right to truly be free.