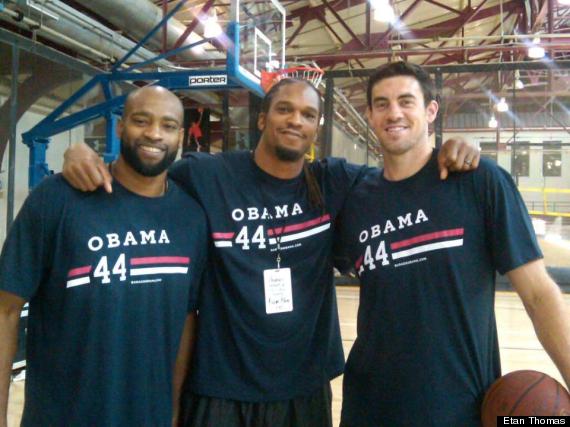 Now that they occupy a position where they can be more than symbols of achievement, where they can actually serve their communities in vital and tangible ways, while also addressing the power imbalance within their own from a position of greater strength, they seem most at a loss, lacking purpose and drive... the Black Athlete has abdicated their responsibility to the community with treasonous vigor.
-- William C. Rhoden, 40 Million Dollar Slaves
Let me first say that I enjoyed Mr. Rhoden's book and found it to be a very informative history of the black athlete in America. It touched on the unfortunate paths and states of mind that have overtaken the realities of some black athletes of today. I agree with his position that "making the evolution to be a completely free man is realizing that racism is more virulent and determined than ever before." In fact, I think the book is a must-read for all athletes -- if only to serve as an example of what not to become. That being said, I respectfully disagree with the overall notion that the black athlete today is simply "lost," as Mr. Rhoden labels us in his book.
In his words:
Isolated and alienated from their native networks and increasingly cloistered into new networks as they become corporatized entities, they are excised from their communities as they fulfill their professional responsibilities and disconnected from the networks of people, in many cases predominately African-American, who once comprised their 'community' (177).
This leads to a general ignorance of the issues impacting a vast majority of African-Americans across the country.
One of the primary examples used as a symbol of this lost generation is the great Michael Jordan. In a recent article on ESPN, LZ Ganderson brings us back to the infamous "Republicans Buy Sneakers Too" comment that has become exhibit A of the overall tragedy of wasted power. Of an athlete who had the ability to influence an entire generation of young people especially within the black community, who had he said "jump" they would have jumped, but instead chose to remain publicly neutral in all matters racial and political. Never capitalizing on their potential to mobilize their community thus becoming the yin to the great Muhammad Ali and Jim Brown's yang.
According to LZ Ganderson:
Back in 1990, Harvey Gantt, a black Democrat and former mayor of Charlotte, was attempting to unseat the much despised race-baiter Sen. Jesse Helms, who opposed making Dr. Martin Luther King Jr.'s birthday a national holiday and allegedly whistled "Dixie," a song lamenting on the good old days of slavery, to purposefully antagonize a black member of Congress in the elevator with him.

In 1992 the Department of Justice said the North Carolina Republican Party and the Jesse Helms for Senate campaign sent tens of thousands of postcards to black voters, with false voter information and threats of jail during his contest with Gantt. Helms, of course, denied being involved.

Jordan, who had played at UNC and at the time of the election was the most famous black man on the planet save for Michael Jackson, was approached by the Gantt campaign for support. Jordan declined, reportedly telling a friend later, "Republicans buy sneakers too."

Now perhaps if he hadn't been the closest thing to Muhammad Ali the black community had, or if Helms hadn't been such a blatant racist, Jordan might have been forgiven years ago.

For many, "Republicans buy sneakers too" defines Jordan outside of basketball almost as much as hitting clutch shots and hoisting trophies define who he was within it.
However, what I witnessed was something very different to what Mr. Rhoden and Mr. Granderson described. Some current and former athletes may very well fall into that category described by Mr. Rhoden. Don't be under the misconception that all of the athletes in the '60s were like Bill Russell, Tommie Smith and John Carlos. In addition, those events from Michael Jordan's past will unfortunately haunt him for the rest of his days. But not all athletes can be painted with that same broad brush, and we may be a witness to the evolution of Michael Jordan.
Athletes from the NBA and WNBA participated in an all day fundraiser for President Obama's reelection campaign. The players ran a fantasy camp at Chelsea Piers, signed autographs, and attended a dinner reception hosted by none other than Michael Jordan and Commisioner David Stern. Various supporters of President Obama donated to the campaign to have their favorite athletes run them through drills in a fantasy camp, take pictures, get autographs, or be able to have a dinner with NBA and WNBA royalty. The fact that so many athletes wanted to be involved disproves the theory that many current athletes possess a "general ignorance of the issues impacting a vast majority of African-Americans across the country." Especially since by the numbers every athlete involved in this Obama Classic have acquired enough money where they could easily adopt the policies of Romney and Ryan's "trickle down economics." A policy aimed to only benefit the people at the top. We could easily adopt the greed and I got mine now you need to pull yourself up by your own bootstraps mentality that has overtaken many of the people who share our tax bracket.
Myself as well as many of the athletes there come from humble beginnings but we have not forgotten where we come from. Personally, I don't need a tax break
But teachers, firemen, construction workers, receptionists, farmers, Joe the plumbers, those are the ones we need to help along.
It's that mentality that caused all of these athletes to lend their names, time, and effort to help re-elect President Barack Obama.
A list that included:

• Carmelo Anthony
• Harrison Barnes
• Chris Bosh
• Vince Carter
• Nick Collison
• Patrick Ewing
• Allison Feaster
• Kym Hampton
• Penny Hardaway
• Juwan Howard
• Kyrie Irving
• Dahntay Jones
• Michael Jordan
• Brandon Knight
• Alonzo Mourning
• Chandler Parsons
• Paul Pierce
• Austin Rivers
• Rajon Rondo
• Steve Smith
• Dawn Staley
• Sheryl Swoopes
• Etan Thomas
• John Wall
• William "Bill" Bradley
• Walt "Clyde" Frazier
• Mike Woodson
President Obama personally thanked Michael Jordan in his opening remarks at the dinner for all of his support dating back to before he ran for Senate in '04.
On the bus coming back from the fantasy camp a few of the guys were discussing how excited we all were to be a part of something so special. We also discussed the fact that there is a misconception about athletes that we are all afraid of politics. I know I personally get that question all the time as being an "exception." My response is always that the stereotype simply isn't true and that I have witnessed and had plenty of conversations with players who are very passionate about politics.
Kyrie Irving
This is my first election that I have ever been a part of. My father voted for President Obama when I was 16 years-old and introduced me to politics. my entire family voted for him It is truly an honor and a blessing to be able to carry that tradition. He has my support and my vote. I am not afraid to speak out politically I just have to become more educated on the subject so that I can speak intelligently about various topics but I am definitely not afraid to speak on politics, I just need more research.
John Wall
I think it's a great cause and for all of us basketball players to come out here and support the president means a lot. I personally feel that he is a good President and he is doing the right things for us. The middle class and lower class he's trying to get better jobs for them. It doesn't all happen in four years it may take 8 years to really get us where we need to go. I honestly don't know why people think athletes are afraid of politics we're not afraid it's just that sometimes we want to be careful not to say the wrong thing but we're definitely not afraid. You see by all of us being involved here today that we aren't afraid.
Harrison Barnes
I want to be part of change. When in was young I wasn't really into politics much but now that I am in the NBA I have a platform to speak on. I want to get involved and I want to help people and that is why I am supporting the re-election of President Obama.
Austin Rivers
I feel it's an honor to be involved here today. This is the first year that I am old enough to get involved. I want to take full advantage of this opportunity to be a part of change. We are like everyone else, we want what's right for the country we live in. I don't think it's true when people say that we don't want to be involved. Look at all of the athletes we have on this bus here today. Young athletes, retired athletes, all stars, legends, rookies, females. We are involved and we are here to support the changes that are going to happen in the United States.

This definitely doesn't sound like a generation of current athletes who are "lost" or who have "abdicated their responsibility to the community with treasonous vigor." This sounds like a generation of athletes who are very much involved and passionate about helping their community and see a bigger picture than themselves.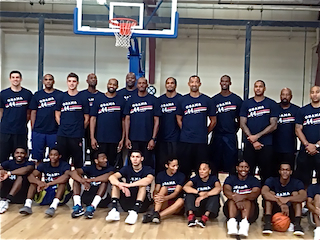 A condensed version of this article was originally posted in the Washington Post.