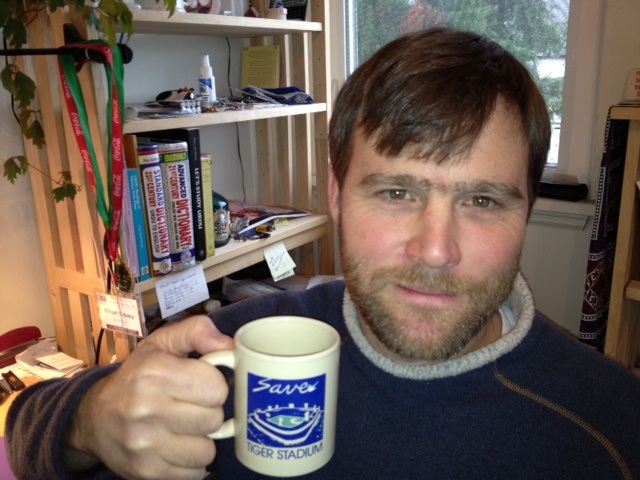 Twenty years ago in Detroit, I told fellow Tiger Stadium Fan Club member Tom Derry that I felt sad that I had never seen a game at Comiskey Park, longtime home of the Chicago White Sox, before they tore it down. "You should be pissed," he corrected me, "because you can't see a game there now."
As you may or may not remember, Comiskey Park, built in 1910, was torn down for no good reason in the early 1990s and replaced, at enormous public expense, by a new stadium erected literally across the street. White Sox owner Jerry Reinsdorf got his way by threatening to move the American League charter member team to St. Petersburg, Florida, where hopeful local boosters were building what was then being called the Florida Suncoast Dome (now Tropicana Field, home of the Tampa Bay Rays).
Reinsdorf's people approached Mary Frances Veeck, widow of legendary former White Sox owner Bill Veeck, to ask her blessing to name the new stadium Bill Veeck Park. Mary Frances said hell no, so instead they named it New Comiskey Park, later shortened to just plain Comiskey Park, as if that somehow made it like or a version of the real thing. It's now known by the euphonious moniker U.S. Cellular Field. It's an okay place to see a baseball game, but it's no Comiskey Park. If you look closely, somewhere in the middle of the parking lot where Comiskey Park used to be, you'll see the outline of home plate painted on the asphalt.
The story of the battle to save Comiskey Park is told, very well, by Douglas Bukowski in Baseball Palace of the World (1991). Michael Betzold and I chronicled the all too similarly unedifying tale of the fight to save Detroit's equally historic Tiger Stadium in Queen of Diamonds: The Tiger Stadium Story (1992). Working with Mike on Queen of Diamonds was an apprenticeship by fire in the craft and calling of journalism, and an important early episode in my political education.
One thing I learned was that the issues at stake went far beyond baseball history and aesthetics (although these in themselves were sufficient reason not to vandalize a classic building), to questions like whether hundreds of millions of dollars of public money should be spent to build a demonstrably unprofitable new physical plant for a commercial business, in a city with a Third World infant mortality rate. To me the answer to that question is obvious, but maybe it's less so if you avert your eyes. I remember saying to Mike: "We shouldn't have to be writing this book."
They don't make them like that anymore, literally. For example, Tiger Stadium's right-field overhang -- the second deck literally extended above the playing field -- was only the most famous of many features that will never be replicated in Detroit or anywhere else, no matter how many faux-retro filigrees they tack onto new stadiums such as the tweely-named The Ballpark in Arlington, Texas, where they put in a few unnecessary vertical posts in the outfield specifically to simulate Tiger Stadium. Mike aptly called Tiger Stadium's overhang "a touch of whimsy born of necessity"; during the stadium's expansion in the 1930s, owner Walter Briggs insisted on it, and an equivalent overhang at the back of the section above Trumbull Avenue, as a way to maximize seating.
Nowadays They minimize seating; most baseball stadiums built since 1990 hold fewer than 45,000 fans, certainly fewer than 50,000. This does not foster intimacy, as we're asked to believe. Rather, its conscious purpose is to create a false scarcity, so teams can charge more for tickets. New stadiums are built with a premium on, well, premium seating. By stark contrast, and appropriately in a city of working people, Tiger Stadium had nearly 11,000 four-dollar bleacher seats. Its structural posts, much maligned by new-stadium advocates during the bitter political fight of the 1980s and 1990s, had the effect -- intentional, at the time of construction -- of putting the stadium's upper deck as close to the field as possible. The front of the upper deck at Tiger Stadium was closer to home plate than the front of the lower deck in most new stadiums.
The posts did obstruct views from about 2,500 seats in Tiger Stadium's lower deck. On the other hand, as architectural writer John Pastier observed pointedly in a letter to the editors of The Sporting News after baseball's sometime "Bible" published a hatchet job, it also had 49,916 seats with unobstructed views -- more than the total number of seats in most new stadiums.
And all new stadiums are designed (most of them by one firm, Kansas City-based HOK) with the upper deck cantilevered behind the lower deck. This avoids posts, but the affordable seats in the upper deck sure are far from the field, aren't they? They're even farther from the field than they otherwise would be, because usually there's at least one layer of luxury boxes between the lower and upper decks.
All this is old news to anyone who was paying honest attention to what was happening to the landscape of baseball during the 1990s. What does it have to do with Fenway Park, and why do I feel churlish about its hundredth birthday? Well, pardon me for pointing out that Fenway Park is in uppity Boston, and the similarly venerable friendly confines of Wrigley Field are on Chicago's fashionable North Side. I'm glad they're still there, but I wish Tiger Stadium were too, and there's no good reason it shouldn't be. Twenty years ago there still existed four specimens not only surviving but functioning very effectively, thank you, from the early-20th-century classic era of ballpark construction. Two of those were torn down; the two that remain are revered and extolled and treated as pilgrimage sites.
Apparently, both history and the public interest can be trampled with impunity on Chicago's blue-collar South Side or in inner-city Detroit. Meanwhile, obnoxious Red Sox fans infest stadiums as far from Boston as Seattle, where I live, because it's so hard to get tickets at Fenway. I was in Boston recently, and on my friends' kitchen table was a copy of the 2012 Red Sox media guide. The cover sported a vintage photo commemorating Fenway's anniversary, of course and understandably. A couple of months before that, I was in Detroit. The only vestige of Tiger Stadium still standing is the center-field flagpole, complete with flag. What statement that makes, you can decide for yourself.
That's the way it is, but it's not okay, and it's important to say that it's not okay. At the very least, it's important to remember that the turnstiles began turning not only at Fenway Park but also at Navin Field, which evolved into Tiger Stadium, in April 1912.
ETHAN CASEY's next book, to be published in 2013, is Home Free: An American Road Trip. He is the author of Alive and Well in Pakistan: A Human Journey in a Dangerous Time (2004), Overtaken By Events: A Pakistan Road Trip (2010), and Bearing the Bruise: A Life Graced by Haiti (2012). He is also co-author, with Michael Betzold, of Queen of Diamonds: The Tiger Stadium Story (1992). Web: www.ethancasey.com or www.facebook.com/ethancaseyfans