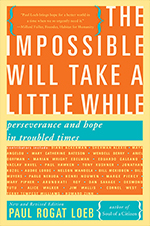 I spent this summer building a patio, something I had never done before. I had to imagine it, then haul out a lot of dirt, then build a retaining wall and haul in crushed rock and sand. I couldn't have done it without my friend Pete, who has experience and tools that I lack. The surface is 2,000 reclaimed bricks: assorted antique pieces of Seattle history (some  from the original harbor steps dating to the 1880s).
I could get run over by a bus tomorrow, or an earthquake like the one that just hit California could destroy my house, or rampaging condo developers could devour my quaint neighborhood. And anyway, ISIS is overrunning Iraq and Syria and police in armored vehicles have been terrorizing residents of Ferguson, Missouri, and I'm told radiation from the 2011 nuclear disaster in Japan has reached the West Coast of North America, which is where I live. So why bother building a patio? My answer is that, regardless of all the bad things happening around the world, my wife and I and our friends and relatives will enjoy it for years to come and, I hope, eventually pass it on intact to others to enjoy. Like establishing a garden or writing a book, building a patio in an uncertain world is an exercise in enlisting the passage of time to advantage: an act of faith.
"Faith" is a widely and glibly abused word, but the sense in which I use it here should ring true to anyone, religious or not, who lives in our world as it is and wants to do what he or she can to make it better. If you're going to bother getting out of bed in the morning and doing anything at all, you have to believe that life is worth living and that human beings are meaningfully connected through time as well as across space. Needless to say, that can be easier said than done. As Paul Farmer has said, depression is a rational response to the state of the world.
But over 30 years, Farmer and his Haitian and international co-workers have achieved remarkable things in a certain very poor region of rural Haiti, as I've seen with my own eyes. They couldn't have done any of it if they hadn't started doing it 30 years ago. Farmer and Haiti aren't featured in Paul Loeb's wonderfully encouraging revised collection The Impossible Will Take a Little While, but they could well have been. And that's part of the book's beauty: Loeb could have conveyed essentially the same message with an entirely different selection of specific material.
The Impossible Will Take a Little While is a judicious selection of writings, grouped thematically and with section introductions by Loeb, by contributors involved in public activism past and present, from South Africa (a compelling excerpt from Nelson Mandela's autobiography and Desmond Tutu's "No Future without Forgiveness") to Chile ("The Black Hole" by Ariel Dorfman) to Nebraska (Mary Pipher's "Reluctant Activists" on the remarkable story of how broad-based local citizen opposition arose to the Keystone XL pipeline).
Also included are poems and reflections on the personal costs as well as enrichments of political action. Loeb is clearly a very literate and humane person, and the book's greatest value is that it addresses, implicitly and at times explicitly, the question of why we should bother in the first place. As Loeb writes in the introduction to the section titled "Beyond Hope:"
Sometimes we achieve the impossible sooner than we expect. Knowing that can stiffen our resolve. But relying on quick victories can also tempt us to place too much emphasis on outcomes; it can cause us to become unduly impatient, brittle, with our will easily broken by setbacks. A deeper, more farseeing hope, by contrast, combines realism with resilience, acknowledging suffering and despair without giving in to them. ...by letting go of impatient hope we can persist no matter how hard it gets.
Loeb quotes his friend Abe Osheroff, who fought in the Spanish Civil War and was still politically active when he died at age 92: "When I was younger, I acted because I hoped to achieve a certain something. Now I'm path-oriented. I act to get in contact with the best part of who I am. I do the work whether we win or lose." Loeb rightly emphasizes that it's both permissible and necessary for us to live with paradox: "If we let go of consequences altogether, we can delude ourselves into thinking that critical life-and-death outcomes don't matter. Yet if we base our commitment solely on whether we'll prevail, we run the risk of giving up before the full promise of history is fulfilled."
The Impossible was first published ten years ago, and the new edition is a substantial revision, with a number of additions and substitutions to cover more recent events, such as "We Are All Khaled Said" by the Egyptian activist Wael Ghonim. For some reason to do with rights or whatever, Loeb wasn't able to include Rebecca Solnit's powerful essay "Acts of Hope: Challenging Empire on the World Stage," written in the wake of the 2003 U.S. invasion of Iraq, but he points out that you can read it on the Internet. As a Wisconsinite, I wish that he had included something on the historic citizen occupation of the state capitol building in Madison in early 2011, but you can (and should) watch the excellent documentary film We Are Wisconsin.
Activism by its nature is about current events, but -- another paradox -- we can't act effectively in the present without knowing and understanding history. Hence, post-Ferguson, the exquisite timeliness of Loeb's pre-Ferguson inclusion of Martin Luther King's classic "Letter from Birmingham Jail:" "I must confess that over the last few years I have almost reached the regrettable conclusion that the Negro's great stumbling block in the stride toward freedom is not the White Citizen's Counciler or the Ku Klux Klanner, but the white moderate who is more devoted to 'order' than to justice."
Loeb juxtaposes King's piece with "The Real Rosa Parks," a memorable excerpt from his own book Soul of a Citizen, because he wants to bring home a crucial point: "She didn't single-handedly give birth to the civil rights efforts, but she was part of an existing movement for change, at a time when success was far from certain.... For only when we act despite all our uncertainties and doubts do we have the chance to shape history."
Ethan Casey is the author of Home Free: An American Road Trip, Alive and Well in Pakistan (10th-anniversary updated edition, 2014), and Bearing the Bruise: A Life Graced by Haiti (2012).