This is the story of an unlikely -- and unfinished -- public-private partnership for development, linking the Gulf emirate of Dubai, the Red Sea state of Djibouti and the United States Agency for International Development (USAID).
In 1998, Ethiopia and Eritrea fought a brief but brutal war. Ethiopia lost use of its former two main ports, and almost all of its exports and imports (Ethiopia's 2011 GDP was close to $40 billion) shifted onto a thin road linking Ethiopia's capital of Addis to the port of Djibouti. Dubai was at this time seeking a beachhead in Africa through which to export its combination of port management services, free trade zones, customs management and amenities. Developments in Ethiopia, a precipitous drop in trade through neighboring Aden, Yemen, due to the USS Cole Bombing in 2000, and Djibouti's strategic location at the foot of the Red Sea made Djibouti an inspired -- and profitable -- bet.
A 2008 presentation in Djibouti by the late Gail Goodridge, then with Family Health International (FHI), converted me to the rather brilliant idea of using transport corridors as a vector for delivering social services to disadvantaged populations. Dr. Jeff Ashley, a veteran USAID official, conceived several years before the idea of using "augmented truck stops" along major transport corridors in Africa to get out the message about HIV/AIDS. This coincided with a Bush Administration push to fund AIDS prevention in Africa.
Dubai catalyzed more than $1 billion in investment in this state -- paying for the construction of the most technologically advanced container port in Africa, a luxury hotel and roads, among other things. Both Dubai-led external investors and Djiboutian government were under pressure to show that this relationship generated benefits for Djibouti's urban and rural poor (Djibouti's unemployment rate is over 50 percent, and the country's population of 800,000 is under continued threat of famine and drought).
As the Corporate Social Responsibility point person for Dubai Ports (DP World), I oversaw a three-year campaign to broaden the USAID program remit to include the provision of primary health care services and small-scale commercial activities, enabled by advances in solar and satellite wireless technology. We revamped the "truck stop" concept and persuaded Dubai Ports and its suppliers to invest in more permanent health care structures according to a "hub and spoke" model, which has since been successfully implemented in other countries in the subcontinent.
The model, and the division of labor, looked robust: Dubai Ports would invest in the hard infrastructure that USAID funding did not allow, the U.S. contractors would work with the Djiboutian government and local hospitals to train local resources to staff the facilities.
Phase I called for upgrading a truck stop called "PK12" (for its distance 12 kilometers from the city center). Intersat Africa, was to install the solar panels that would enable the station (which was not connected to the power grid), to power lights, fans, a refrigerator, etc., and a VSAT internet connection, so truckers could Skype their relatives and pull up health-related information. Planned small-scale commercial activities included mobile phone charging stations and a small canteen.
Meanwhile, in a parallel Phase II, we set about designing a prefab clinic (manufactured by the innovative Italian firm Edil Euganea) that included exam rooms, a lab, a canteen, an audio-visual room, a double roof for cooling insulation, easily sanitizable surfaces and separate entrances for male and female visitors (in deference to the country's conservative mores). We thought hard about what would make the clinic more attractive to its users. We designed the facility, within budget, to accommodate 30,000 individual visits a year. With the "hub clinic" built, the upgraded "SafeTStop" was to be moved up the highway to Dikhil. Connectivity between the two posts, and to other posts over the border in Ethiopia, would serve as the skeleton of a widening network of services, where a mobile patient's records would be available throughout the network.
Thus, a USAID "Global Development Alliance" (GDA) linking Dubai Ports, the Djiboutian government, and the United States was launched in 2009, at a ceremony attended by the Djiboutian Minister of Health, senior DP World executives, and representatives from USAID and FHI. It was touted as the "First Ever U.S.-Djibouti Public-Private Partnership."
However, Dubai's preoccupation with the fallout of the 2008 financial crisis, a lingering disagreement between Dubai and Djibouti over the activities of a former senior Djiboutian official, and an unexplained drop-off in interest by USAID contractors left the newly refurbished SafeTStop operating much as it had previously, and the new clinic sitting unassembled for the better part of two years.
No longer working for Dubai Ports, I worked closely with Edil Euganea and other concerned parties over the following 18 months to assure the new prefab unit was not sold for scrap, and then transported to Djibouti. We lobbied with USAID and senior government officials to make sure the larger initiative was not abandoned.
Now, in mid-2013, an apparent thaw in Dubai-Djibouti relations has brought the clinic concept back to life: the containers were unsealed, and the 2,000-square-foot unit pictured at bottom was assembled in less than two weeks.
Now that the basic infrastructure is in place, what of the original plan? Will the new clinic be staffed by purpose-trained Djiboutians in a collaboration among the Djiboutian government, American medical advisors, and Djiboutian medical personnel? Will the original PK12 structure be moved up the corridor to Dikhil to establish the second node? Who will make sure the clinic and the outpost work properly, and coordinate between the Djiboutian Ministry of Health and USAID? Will this become a successful and exportable model for rural health care in Africa, or a white elephant?
The solutions are there: a major U.S. teaching hospital with deep experience in East Africa has expressed interest in training Djiboutian medics; the Djiboutian government seems very keen to see this project succeed; the Americans, caught up in local labor disputes at Camp Lemonnier (the sole U.S. military base in Africa) could use some positive local press.
The success of this venture is all the more critical, as each stakeholder -- Dubai, Djibouti, the U.S. government, and Ethiopian transport workers -- has a stake in the outcome.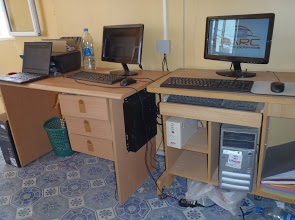 A new bank of computers in the SafeTStop, powered by solar cells, installed in 2011.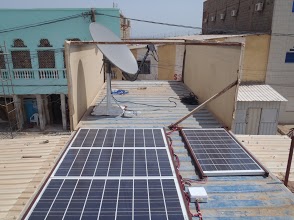 Solar panels and the VSAT dish on top of the stacked shipping containers (SafeTStop).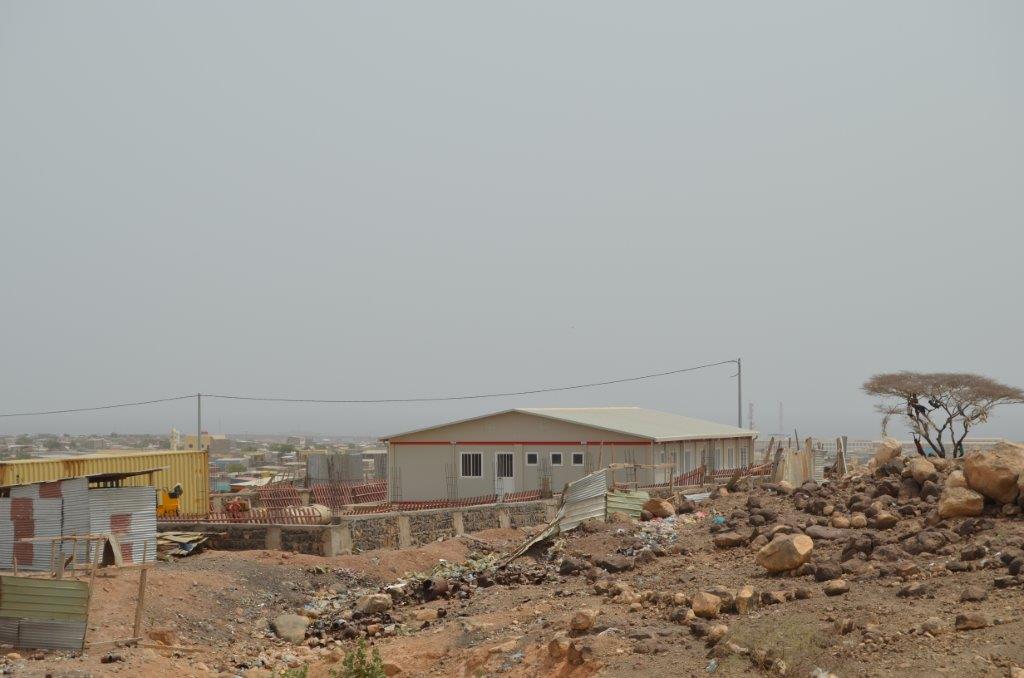 The new, 2000-square-foot clinic, assembled in early July 2013, has the potential to offer primary care to more than 30,000 locals, truckers and economic migrants per year.