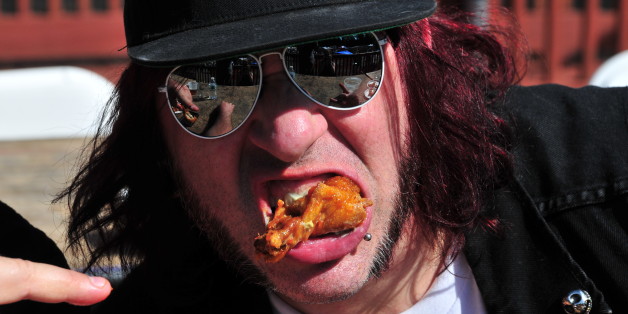 All of our Wing-Wonderland dreams came true at last week's New York Best Wings Festival as the land's best wing joints and wing lovers alike descended on Westbury, NY for an amazewing day of deliciousness.
The festival was the brain child of long time best friends Matt Kourie and Rob Wittman. Matt explains their path:
My best friend Rob Wittman and I were musicians in a rock band and after rehearsals and shows we would go for wings. It was a ritual. After a while we said we have to go out and find the best wing places in Long Island and we decided to put our findings in a wing review site, and BestWingsLI was born. After a lot of NetworkWing and expanding into the 5 boroughs, we wanted to take these best wing restaurants and [combine them with] our love of a good time, we did two festivals, Wings and BeerFest. The winners of those festivals needed a place to go and compete against each other and as our wing hunter community grew we knew it was time to erect an Official Championship and mega wing fest so wing fans of all ages from all over could come together. So we created the NY Best Wings Festival and Best Wings Championships.
With almost 20 restaurants participating in the festival, over 60 flavors of wings were enjoyed, ranging from the traditional Buffalo and bbq flavors to unique varieties like PB&J Sriracha and sun dried tomato. Wings were judged by a panel of professionals awarding winners for the best Buffalo, best unique, and best smoked bbq wings. With an attendance totaling over 7,000 wing-thusiasts, festival-goers competed in the "melt your face hot wing eating competition" and a college wing eating championship.
PHOTO GALLERY
The New York Best Wings Festival
Check out BestWingLI on Facebook and Twitter to stay informed on all their AmazeWing Adventures!
Awards for The Official Best Wings Championships At The 2015 NY Best Wings Festival:
Best Buffalo Wings:
1st place: LI Pour House (Port Jefferson)
2nd place: Brews Brothers Grille (Franklin Square)
3rd Place: Wander Inn Baldwin
Best Unique Flavor
1st place : Wah Wah Wings - Sun Dried Tomato with Avocado Ranch DrizzleHeartbreaking Dawns (New Jersey)
2nd place: Snowing Cheese on Crispy Wings Pelicana Chicken (Flushing Queens)
3rd place: Mango Fire Wing Zone (Bellmore)
Best Smoked BBQ Wings:
Swingbellys BBQ (Long Beach)
Judges:
Matt Kourie (BestWingsli.com)
Rob Wittman (BestWingsLI.com)
Dave "Rev" Ciancio (Director of Marketing for Schweid & Sons and Founder of the NYC Wing Off)
Adam Poch: Travel Channel's Bacon Paradise CBS "Big Brother"
Chef Plum: Winner of "Guy's Grocery Games" and CHOPPED
Derrick Prince: Season 2 FOX's Masterchef Sous Chef at NYC's Stanton Social
Matt Reynolds: Director and Star of The Great Chicken Wing Hunt
Brian Dempsey: Bringthewing.com
Ryan Hohmann: The Ultimate Wingman
Christine Gerani: Editor: Spot On LI Magazine
Chef Marc Bynum: Founder of MBynum Creations, Owner: Hush American Bistro
JP: WBAB 102.3
Robert Sinclair: AAA
Participating Wing Restaurants:
Wing Zone (Bellmore)
Wander Inn Baldwin
Croxley's Ale House and Eatery
Naked Chicken Co. (Massapequa)
Dark Horse Tavern (Rockville Centre)
Brickhouse Brewery (Patchogue)
Cannon's Blackthorn (Rockville Centre)
Swingbellys BBQ (Long Beach)
The Lion's Den (West Islip)
Brews Brothers Grille (Franklin Square)
LI Pour House (Port Jefferson)
Heartbreaking Dawns (New Jersey)
Parlay Gastropub (Rockville Centre)
Speakeasy (Long Beach)
Pelicana Chicken (Flushing Queens)
Brixx & Barley (Long Beach)
Tavern on Jane (NYC)
Matty Smokes Alot BBQ (Long Beach)
The festival was sponsored by Coney Island Brewing Co., Wing Zone, High River Sauces, Croxley's Ale House and Eatery, Swingbellys BBQ, Wander Inn, Apple & Eve.
Also on HuffPost:
PHOTO GALLERY
Chicken Wing Recipes