 Djessi Diarra knows that deep poverty is not only difficult, it's heartbreaking. She lost five of her eleven children to malaria, a story all too common in Mali.
For her surviving children, the rainy season is always hard, not just because of malaria, but because it is also the "hungry season" when food is most scarce. Opportunities in her village are limited, but Djessi is working hard to provide a better life for her family.
Things started to improve for Djessi four years ago when she joined a Saving for Change group offered through Freedom from Hunger's local NGO partner, Le Tonus.
Women like Djessi, who live in very poor, very rural areas, face an often overwhelming set of challenges. They are much less likely to be literate and rarely earn more than $1 per day.
Because their savings and credit needs tend to be small and irregular, formal-sector banks can't afford to provide them with financial services. Even microfinance institutions, dedicated to meeting the unique needs of the poor, don't serve them because it is too costly to transport field agents to such remote villages.
Freedom from Hunger developed Saving for Change in partnership with Oxfam America and the Strømme Foundation of Norway to bridge the access gap by enabling group members to act as their own bankers, approving small loans to each other from their pooled savings. Group members make weekly savings deposits of as little as 20 cents, which is then used as the loan capital for the group. The record-keeping is simple and the participants jointly monitor the transactions.
With her group, Djessi learned how to save more money, which she uses to buy food, school supplies for her children and medicine when needed. One year, she saved enough to put a metal roof on her house.
She also learned how to protect her children from malaria by recognizing and treating it when it does strike, so that she won't have to bear the pain of losing another child. The financial and health education is dialogue-based and does not require that women know how to read or write to participate. It fosters a sense of sisterhood among the women so that learning is shared and supported by the group members.
These self-managed Savings Groups not only encourage good saving practices and shared learning, but they also provide a modicum of security for their members. When Djessi fell ill and couldn't work, her group was there with a small loan to help her make it through. "The good life," she says, "is when you have food, clothes, children, a husband, a house and health."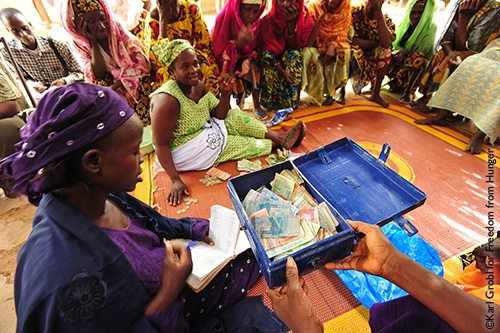 Photo Credit: Karl Grobl, Freedom from Hunger
Saving for Change is growing quickly and women themselves are the key to that growth. Djessi is so committed to the program that she has been trained as a volunteer to start new groups. As a result of her hard work, her village now has eleven Saving for Change groups.
Because of the dedication of volunteer "replicators" like Djessi, more than 630,000 members living in very poor, rural areas in thirteen countries are now participating in Saving for Change.
For women like Djessi, the opportunity to save and learn in a supportive community of women is a unique opportunity for social empowerment and financial inclusion. More importantly, though, participation in a Saving for Change group can mean the difference between poverty and financial security, life-threatening illness and health.
This blog is part of our #GivingTuesday series, produced by The Huffington Post and the teams at InterAction, 92nd Street Y, United Nations Foundation, and others. Following Black Friday and Cyber Monday, #GivingTuesday -- which takes place for the first time on Tuesday, November 27 -- is a movement intended to open the holiday season on a philanthropic note. Go to www.givingtuesday.org to learn more and get involved.