There's always a specific time, particularly for a young woman, where her stomach is in knots and she questions everything. Right now I am in it, and overcoming this feeling. I sit on my deck, feet propped on my small blue paint chipped table. Large maple trees surround me. The light flickers through each leaf, reflecting it's vibrant nature, as if it were a gel or gobo creating moving shadows on my body. It's about 90 degrees. I sit in my bikini partly in the shade taking in the gusts of slight wind that move my environment and caress my skin. The wind always reminds me that although I can't see it, I can see it affecting life. A blue belly lizard just shimmied by on the cement wall below my deck. Growing up in Carmel and along the Big Sur coast line we'd break off long pieces of grass and make a noose and place them around the lizards heads and walk them like they were our pets or we'd catch them and rub their blue bellies or accidentally chop their tails off (don't worry they grow back.) We'd always let them go back to their real homes in the end. I sit here writing on this heavenly day, needing to get out of my own way, needing to discover my soul more deeply.
Nature always brings me back to my soul and makes me feel grateful for my life, even when my stomach is a turning and I am doubting many things: men, my art, money, my body. We are so much more then what we accomplish, but oftentimes people seem to be blinded by only that. Meditation, also has been helping me tremendously in times of doubt or even in times of joy. I've always wanted to make the art of stillness a ritual, but practiced forms of active meditation instead, like: yoga, tai chi and dance. The book Thrive, written by Arianna Huffington, gave me the extra inspiration I needed to begin my meditative practice of stillness. I really enjoy what Padmasree Warrior, the chief technology officer of Cisco, calls meditation on page 49 of Thrive "A reboot for your brain and your soul."
In May, I graduated from The California Institute of the Arts acquiring a Bachelor of Fine Arts Degree in acting. I value my formal theatre training tremendously, as well as all of the talented friends I have made while at "art kingdom," however being back into the "real world" has been an interesting roller coaster ride. People often tell me "congratulations" for graduating from college, but then when I tell them I am an actor they immediately would say "Wow, what a hard profession to get into! Good luck with that!" I'd often respond, "Everything we do can be hard if we allow it to be." Nonetheless, this doubt was seeping into my thoughts and I found myself becoming a bit of a hermit. I don't want to be a hermit, my soul desires so much more; to see the world and to learn. It's hard to grow without social interaction. Our glowing media boxes of information can be helpful and even mind blowing, but I need human interaction and feeling and love.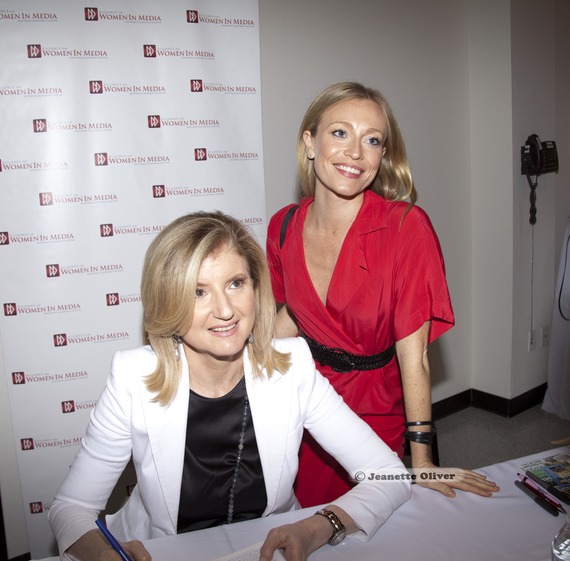 As an early birthday present my parents bought me a ticket to see Arianna Huffington speak at The Women In Media event, where she talked about her new book, Thrive. Being around so many talented and powerful women, inspired me to take more advantage of the opportunities life gives me everyday, even when I'm not feeling the best. Ms. Huffington also graciously told the audience to email her as well and gave us her card. A few weeks later, with nothing to lose, I got the courage to email Arianna Huffington. Confirming the value of putting myself out there, she responded and now I am writing this blog post! My life is thriving, because I choose to look at it that way. I desire to accomplish my goals: helping others, being balanced and healthy in my own life and pursuing my career and passion for acting; continuing to be a respected, working, actress in film, television, theatre and art installations. As it says in Thrive on page 131, "Feeding and nurturing our intuition, and living a life in which we can make use of its wisdom, is one key way to thrive, at work and in life."
I truly love my art. As an actor my body is my instrument and it needs to be ready for anything at any time. A few weeks ago, out of the blue, I received a call to be in the independent film, Michael. I took the red-eye from Los Angles that night to shoot the next day in New York. I slept on the plane and took naps and meditated and read Thrive, for the extra support. It was my first feature film and I was ready. Although my role in the film was small, Sexy Lady Eva, it was such an honor to be working with so many talented artists, including James Franco and Justin Kelly and the entire crew who all were such masters of their craft.
Now, being back in Los Angeles, with the essence of this exciting experience still reminiscent in me, I am in search of a new theatrical agent. I've been meeting new people, living more of an active lifestyle: walking with friends, surfing more, meditating when I wake up, listening to my body and practicing getting out of my own way. I can thank Thrive for my recent sleep goals! Being Inspired by Arianna Huffington and her friend Cindi Leive, this week I have set the goal of going to sleep at 10 pm every night and not viewing my electronic devices after 9 pm (wish me luck!) I love sleep, but also enjoy all of the fun activities in Los Angeles, so moderation is a key ingredient to my life; but with that said, more sleep-discipline will only help me for the better. "A study published in Science even calculated that for the sleep deprived, an extra hour of sleep can do more for their daily happiness than a $60,000 raise." (Thrive, 77)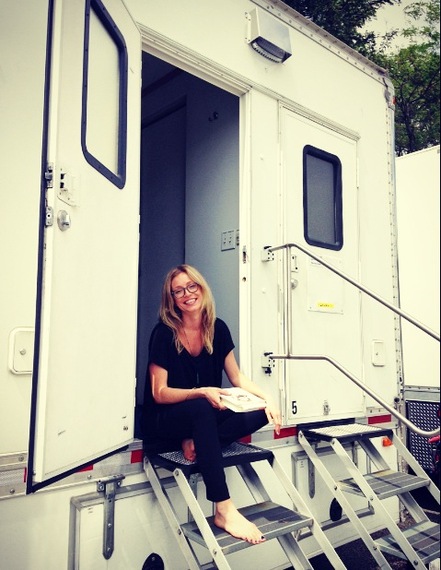 As an actor we are truth speaking vessels and anthropologists. I enjoy learning about other human beings and seeing how they work and what keeps them ticking or not. Meditation and sleep are a common factor for everyone's success in the pages of Thrive. I've been recommending this book to everyone because it's a great way to learn about how others have succeeded in business and how succeeding in ones own body is very relevant.
Life is exactly what you make it and often the in between moments or moments of uncertainty or space or meditation are the most important learning lessons. I really enjoyed graphic designer Alan Fletcher's quote on Page 99 of Thrive:
Space is substance. Cézanne painted and modeled space. Giacometti sculpted by 'taking the fat off space.' Mallarmé conceived poems with absences as well as words. Ralph Richardson asserted that acting lay in pauses... Isaac stern described music as 'that little bit between each note -- silences which give the form.'
Who knows where my path may lead me next, right now it is overcoming my turning stomach and enjoying the glowing nature around me, seeing the sun set slowly and creating more shade on my body. By investing time in myself, being available to help others, and awareness of my surroundings, I am thriving already. We can redefine success together by giving ourselves, each-other, and our Earth the support and compassion we deserve. I believe that everyone can thrive with: love, imagination, a proactive lifestyle, good intentions, mindfulness, the desire to learn and listen, feeling happy for others success and a good eight hours of sleep!
"What is success? It is being able to go to bed each night with your soul at peace." Paulo Coelho (Thrive)