National technology solutions provider CDW launched its integrated marketing campaign, "People Who Get IT" in January 2011 but the advertising didn't really start putting on the full-court press until NBA Hall of Famer Charles Barkley joined up in March of 2012. Barkley made his CDW debut in "The Ringer," as a hired gun enlisted to help the firm win a corporate basketball league championship and he returned in October 2012 for "Client Golf," where he won new business by losing to clients on the golf course.
CDW and Barkley's partnership continued with the launch of "Hail Mary," an ad which recently debuted on Monday Night Football and also features former NFL quarterback Doug Flutie.
This is a synopsis of the commercial (it's also posted below):
"Desperate to save money, Charles Barkley and the Gordon & Taylor team hope Doug Flutie will provide some magic. Luckily all they needed was a data center designed and built by CDW featuring Cisco UCS Servers with Intel® Xeon® Processors."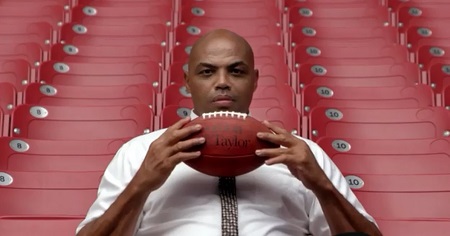 Dean Lamb, the director of integrated marketing at CDW took a few moments to talk about the company, the campaign and, of course, Sir Charles.
Where did the idea of incorporating athletes into the campaign from? Since this is a B2B campaign (primarily) why not use a company CEO or spokesperson?
Our customers are bombarded with ads every day, so we needed a way to make our audience stop, look and listen -- to get their attention in an unexpected way. Charles Barkley was just the guy to make that happen. Charles is very engaging and scores incredibly well with the audience. He has this great self-deprecating wit about him that brings a fun, light angle to the technology we feature in our spots. After each campaign, our research shows that he continues to perform very well with our customers. Also, CDW's partners love the humorous approach as well and were eager to be a part of the campaign.
What was working with such an outspoken person (Barkley) like?
Charles is great to work with in so many ways. He's engaging on set, he's a hard worker and fits right in with the other actors. During the "IT Ringer" shoot in February 2012, one of the actors was stumbling over a line with a lot of IT lingo. If you're not an IT person, some of the lines can be very difficult to articulate. Charles put his arm around him and said, "You've got this. You can do it, you're a pro." That moment showed everyone how supportive and down to earth he is.
Another time, we were filming at a Boys and Girls Club in the Los Angeles area. All the kids -- many of whom weren't even around when Charles was in the NBA -- were so excited he was there. Charles didn't leave until every autograph was signed, every picture was taken and they all had their chance to spend time with him. I think that really speaks to his character and is why he is so popular.
Who's the better actor, Barkley or Flutie?
All five of our actors, including Doug [Flutie], bring a unique character to the set. They all work well together to the point that they've become friends, joke around and give each other a hard time. The funny thing is that each character seems to mirror the actor's true personality, which brings authenticity to the campaign. The chemistry among them is very real, and it translates extremely well on screen.
Has demand for WiFi access and the ability to use services like Facebook, Twitter, etc. at stadiums influenced the way they will be built in the future?

Definitely. We've worked with numerous NFL teams and other professional sports teams in their stadiums and other facilities, and many of our other enterprise customers have similar wireless connectivity challenges. From a franchise perspective, the critical goal is to enhance the fan experience as teams are competing with large screen, high-definition TVs at home.
Seamless WiFi and social media are no longer bonus features, they're expected capabilities. Fans want to tweet about the game, post a picture to Facebook or Instagram, or check in with Foursquare. They want to check their fantasy stats, check scores of other games or even stream NFL RedZone. Franchises want their fans to be able to do all of these things without interruption to make the game and their visit more enjoyable and more memorable.
We've worked with one team to enable it to provide unique content, such as video and stats, exclusively to fans at the game. This is a new trend we are going to see more of, which will further increase the demand for WiFi access.
"Hail Mary" with Barkley and Flutie
What role, if any, has the rise of fantasy football played?
Fantasy football is a huge driver of demand for in-stadium WiFi connectivity. A large segment of fans in any given stadium are most likely in one or more fantasy league and want to keep tabs on their teams. Knowing what's going on in games across the NFL is part of the thrill of football season, and with a strong WiFi connection, fans can check their standings, and maybe more importantly, they can heckle their friends in real time.
Was there any added pressure because the campaign is airing on Monday Night Football?
Yes and no. We always want compelling marketing, regardless of where it plays. But Monday Night Football is an iconic brand, and we want to make sure that what we run lives up to that brand. We're very happy with the "Hail Mary" spot and the campaign overall.
Is there anything you would have done or handled differently if you could do it again?
Always - and we do make changes along the way. One of the things we look for is that "tweetable" moment - that little nugget that will make the spot more memorable. One of my favorites is from the first campaign we did with Charles, "IT Ringer." The line, "I'm not comfortable with that analogy" wasn't part of the original script, but it was perfect for Charles. He has an almost innate sense of comic timing. That line really launched a lot of social media activity. "Bye Doug!" in the current campaign is another great example of ad libbing during shooting that we've incorporated into the campaign to generate interest in it and ultimately, in CDW.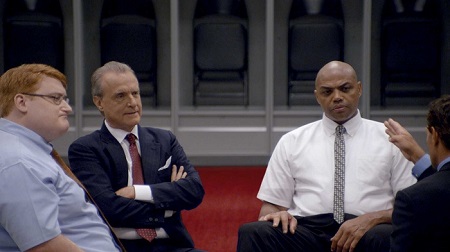 Why do you think Barkley keeps coming back to work with CDW? It's been more than two years now.
Charles doesn't do a lot of advertising. He wants to be associated with good brands, and brands that appeal to him personally. He found our scripts funny, too. We both understand that humor is really what breaks through to the audience. We also like to think he keeps coming back because we're able to keep "People Who Get IT" interesting with each new iteration of the campaign.
Any moments that were a concern?
We had some very nervous moments when we were shooting the "Client Golf" campaign. In client golf, the idea is to let the client win. Who better to lose at golf than Charles Barkley?
It was the first day on set and we'd been shooting film all day. Now, it was finally time for Charles to take his first swing. Of course, we were all expecting to see the famous "Barkley Hitch" - the swing that launched millions of YouTube views. So, Charles gets set and lets it rip - only with a beautiful swing. Charles had fixed his swing, which was certainly not part of the script. His agent said, "That's not going to work, is it?" We agreed that it would not. Charles was kind enough to add the hitch back to his swing for the good of the campaign and as a result, we have some very funny spots.
A classic Nike ad featuring Barkley
For more information about CDW, the campaign or the Round Mound of Rebound, check out their site.