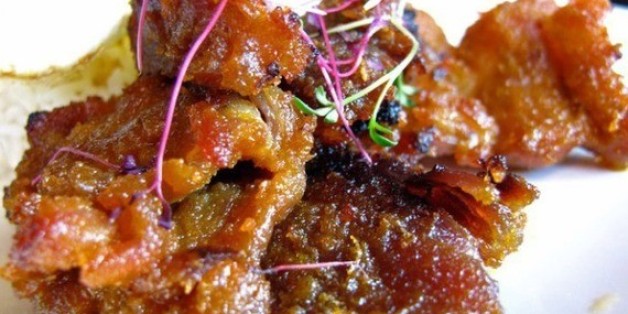 Maharlika Bringing Filipino Food to the Palates and Plates of New Yorkers
Maharlika introduced modern Filipino cuisine to wild applause during the winter of 2011, prompting
The New York Times
to write: "Could it be that Filipino food, the underdog of Asian cuisines, is having its moment at last?"
Filipino food has long been an under-represented cuisine in New York City. While Chinese, Japanese, Korean, Indian and other Asian culinary traditions are served in a vast number of down-home and up-scale joints across the city, the spices of Filipino cuisine--influenced by Spanish colonizers, native Pacific Islanders and emigrating Chinese--have only recently arrived on restaurant plates.
Maharlika, a Filipino eatery in the East Village, is one establishment spearheading the local Filipino culinary movement, owned by former advertising executive, Nicole Ponseca, along with fellow American Filipinos, Noel Cruz and Enzo Lim.
Though Ponseca's experience was not in the restaurant industry, she saw an opening for innovation in the early 2000s.
"I was working at Saatchi & Saatchi and my clients wanted to try Filipino food," Ponseca told Inc.com, "but there weren't any places I thought I could take them. At the time Filipino food was still in the shadows, stuck in the cupboards of Philippine families." The lack of Ponseca's familial cuisine on the streets of New York inspired her to begin working in restaurants, monitoring and learning from other businesses. Eventually, she and Miguel Trinidad, a Dominican cook with French training, backpacked the Philippines for three months, from North to South, eating and learning as they travelled, collecting recipes and inspiration for a restaurant they'd open state-side.
But after returning home they couldn't find an investor to support the concept. "They didn't know what Filipino food was," Ponseca said of potential investors, "and because no one else was doing it, they didn't believe in the concept." Instead, they launched a pop-up restaurant on a minuscule budget and after an overwhelming response, worked their way up to a brick-and-mortar location on 1st Avenue.
"Filipinos are the second largest Asian minority group in the United States, and in the top tier of highest educated and income," Ponseca explained to PRI. "And we speak English in the Philippines--it's a mainstream language for us. We fought in the U.S. military, we were allies of the United States and had a military base. Yet we know food from Thailand, Korea, and Vietnam more than we know Filipino food,"she said, emphasizing her drive to change the culinary expertise of New Yorkers.
At Maharlika, a number of foreign condiments await use on the table before diners: bright yellow and red bottles of patis, a fish sauce, suka, a coconut-sugarcane vinegar, banana ketchup, a blend of bananas, sugar and vinegar, and Maggi calamansi seasoning, a citrus based liquid. Bright sour, sweet, and salty flavors jump out of traditional dishes like crispy, sizzling pork sisig, oxtail kare kare with peanut butter, and fried chicken slathered with macapuno syrup. Head-on prawns decorate a number of dishes and fried chicken skin is offered as a pre-meal snack.
Today, the owners have opened another Filipino offshoot, Jeepney, and inspired a number of other restaurants to join them in celebrating Filipino fare for American palates.
"It seems New Yorkers are finally ready for Filipino food, which has long languished in the shadow of Thai, Indian, Chinese, and other Asian standbys," wrote GrubStreet in an article that highlighted the many establishments riding the coat-tails of Ponseca and her crew's boundary cracking endeavors. Maharlika, it seems, has broken through the barriers once observed by Filipinos in New York, introducing their homeland's flavors, techniques, and culinary spirit into the hearts and stomachs of New York diners.
Originally published on Drive The District.
Follow Eve on Twitter, Facebook, and read her blog, Generation Yum.