When it comes to applying makeup, every woman is unique in her needs. In this series, Eve Pearl shares her Before and After makeover images, highlighting the individual considerations of Women of Color.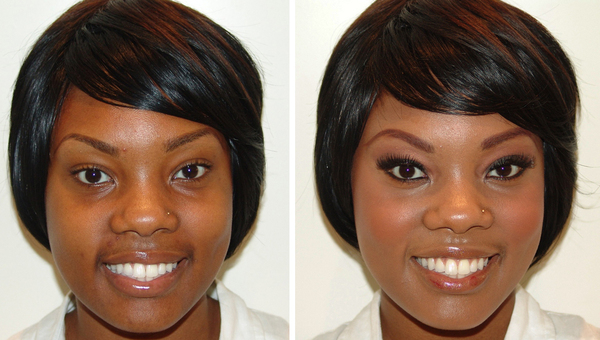 Photo courtesy of Eve Pearl
PHOTOS ARE NOT RETOUCHED
In this makeover, Eve sought to even out the model's skin tone and enhance the stunning shape of her eyes. Before applying any foundation or concealer, she applied the eye makeup, giving the model an elegant smokey eye, complete with false lashes. (Watch a video on how to apply false lashes here.)
After applying a dark dual-toned foundation using her innovative Reverse Contouring technique (learn more about the method here), she used a salmon-hued concealer to cover the hyperpigmentation around the model's mouth and under her eyes. She then set the makeup with a dual pressed powder to ensure a long-lasting application.
EVE PEARL® is Makeup with Skincare for Every Complexion. For more information, please visit our website at www.EvePearl.com. If you have any questions about what shade of foundation and concealer is right for you, feel free to email us at contact@evepearl.com.
Megan Mjaatvedt for EVE PEARL

FEATURED PRODUCTS:
1. High Definition Dual Foundation - Dark
2. Salmon Concealer- Dark
3. High Definition Dual Pressed Powder - Dark
4. Diva Eye Palette
5. Black Pearl Smudgeproof Liquid Eyeliner
6. Blackout Kohl Eye Pencil
7. Blush Trio - Sultry Cheeks
8. Eyelashes #107