What to do about torture, rape, political prison camps and other atrocities in North Korea? A UN investigative panel says the isolated country is a "totalitarian state without parallel in the contemporary world" and its abusers must be prosecuted by the International Criminal Court.
Three members of the inquiry commission, mandated by the Geneva-based Human Rights Council, presented their 400-page report -- along with witnesses- at a session of the UN Security Council.
It was the first time the body dealt with human rights abuses in North Korea rather than its nuclear ambitions. The informal meeting was closed to the media.
China, which keeps North Korea alive by closing its borders to defectors, did not attend the meeting. Neither did Russia, an indication the Security Council would not refer North Korea to the ICC in the near future, anyway. Both countries have veto power in the 15-nation Council.
Up to 100,000 people in camps
But Michael Kirby, the retired Australian jurist who headed the year-long inquiry, said nine of the 13 attending were favorable to an ICC referral and the others asked questions about how they could help.
"If ever there is a case about referral of a matter to the ICC, it's hard to think of a more appropriate case for referral," he said, citing 80,000 to 100,000 people in brutal political camps.
He also suggested sanctions on individuals most responsible for the crimes, which could include Kim Jong-un himself, the supreme leader. But this too requires Security Council approval which is unlikely.
Still, Kirby, in an hour and a half news conference, wanted an open vote on North Korea, saying that despite the prospect of a Russia-China veto, there should be not be a deal behind closed doors.
It had to be "done upfront and those who take that step must be held accountable." Asked repeatedly about Russia and China, he said, "One should not be too impatient."
Nothing worse today than North Korea
Kirby, accompanied by commissioners Marzuki Darusman of Indonesia and Sonja Biserko of Serbia, said he was well aware that the Council was dealing with conflicts in Syria, the Central African Republic, Ukraine and Crimea. (See photo below)
"In order of magnitude, in order of the suffering, in order of the duration, the situation in North Korea is the gravest of these cases"

"Enough is enough!"
Among those testifying was Shin Dong-hyuk who was born in a prison camp and was the subject of a book by Blaine Harden, Escape from Camp 14, about his defection. He recalled how he witnessed the execution of his mother and sister.
Beating preferred to starvation
When it came time for punishment, he said, "Starving is unimaginable pain, so I chose the beating," according to Council members.
Another witness was Teruaki Masumoto, whose 24-year-old sister was abducted from the Kagoshima Prefecture in Japan 36 years ago, Kyoto News correspondent Seana Magee reported.
"The DPRK (Democratic Peoples Republic of Korea) has inflicted suffering and sorrow on the victims of abduction and their families," he said. "These abductions should rightfully be considered crimes against humanity and terrorism."
Kirby said among the abductees from Japan were young school girls, brought to North Korea on the flimsy pretext to help understand Japanese idioms and language.
North Korea is under a slew of sanctions for its nuclear tests, which China approved in the Security Council. They target cash transfers and luxury items, travel and shipping firms, among other measures.
Kenneth Roth, executive director of Human Rights Watch, who attended the session, said in a statement.
"Given this extraordinarily severe repression, it would be unconscionable for the Council to continue limiting its work on North Korea to the nuclear issue. The ICC was created to stand with the victims of such atrocities."
Samantha Power, the U.S. ambassador, who chaired the event along with Australia and France, said:
"These first hand accounts -- horrific stories of torture, rape, forced abortions and forced infanticide, extermination and murder -- paint a chilling picture of the regime's systematic and remorseless repression of its citizens."
When the report first came out, North Korea and China said that defectors were not seeking political asylum but entered illegally for economic reasons and some were engaged in theft and robbery.
Now what?
North Korea is a not a member of the ICC so only the Security Council can refer the case to that court.
If the resolution is ever presented and fails because of Russian and Chinese vetoes, the case could go to the 193-member General Assembly, which could set up independent tribunals, although the difficulties would be profound and expensive.
But for Kirby, the appeal to the Security Council was to make sure the issue did not sink "into the black hole of inattention"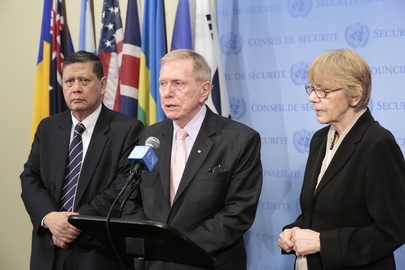 Commissioners Marzuki Darusman, Michael Kirby, Sonja Biserko (UN photo)