Once known as the Paris of West Africa with croissants flown in daily, the Ivory Coast has undergone a decade of turmoil. The latest deadlock threatens regional peace and could influence dozens of elections scheduled throughout the continent this year.
As the world's largest cocoa producer, the Ivory Coast (legal name: Côte d'Ivoire) plays a crucial role in the commodities market and is one of the largest countries in West Africa with a population of 20 million.
In a rare display of international unity, West African leaders, the United Nations, France, and the United States, among others, have told Laurent Gbagbo to step down as president because he lost an election, according to the Independent Electoral Commission, and hand power to his rival, Alassane Ouattara. He maintains he won the election after a close ally on the country's constitutional court agreed with him. Just last week, the United Nations accepted a new ambassador appointed by Ouattara. Youssoufou Bamba, a career diplomat, said he feared his country was on "the brink of genocide."
What now?
ECOWAS, the West African regional group, has threatened military action but Nigeria would be needed for this and has its own unrest and its own elections in 2011. ("Don't expect that if there's a major crisis in a country that we just jump in," its president, Goodluck Jonathan, said.) Power sharing, suggested by Gbagbo, was rejected by Ouattara and others, apprehensive that his control of the army would make a mockery of it a la President Robert Mugabe of Zimbabwe.
But ECOWAS leaders on Tuesday issued a communiqué saying Gbagbo agreed to lift a blockade around a hotel where his rival is staying, guarded by UN peacekeepers.
"Mr. Laurent Gbagbo agreed to negotiate a peaceful end to the crisis without any preconditions. He also pledged to immediately lift the blockade around Hotel Du Golf, the temporary headquarters of Mr. Alassane Ouattara," the communiqué said.
The statement appeared positive but it could lead to open-ended negotiations with no swift resolution and Gbagbo still in office. So far there was no easing of the blockage and instead Gbagbo's security forces killed at least one person and arrested as many as 130 in an attack on headquarters of a party allied with Ouattara.
The United States and the European Union have imposed travel and financial sanctions on Gbagbo and his circle, despite his reported hiring of a prominent lobbyist in Washington. The World Bank and the West African central bank have cut off his access to financing. This could leave Gbagbo unable to pay the military and other civil servants later in the year. But no such sanctions are imposed by the UN Security Council, with diplomats saying Russia would oppose them.
Ouattara, however, is still hoping for military help, saying all that was necessary was to "remove Gbagbo from the presidential palace."
Meanwhile....
At least 173 people have died in violence and scores of others have been tortured since the 28 November elections, the UN reported. Simon Munzu, a UN human rights official, says the list of abuses is long: killings, abduction, massive illegal arrests, physical injury, firing at civilians -- and a suspected mass grave in a building that UN personnel are prohibited from entering.
UN peacekeeping chief Alain Le Roy accused the state TV channel RTI of still pumping out lies and said it had helped instigate a machete attack on UN personnel last month. The United Nations has 9,500 peacekeepers and its agencies are getting ready for to ask for 1,000 to 2,000 more in its mission, known as UNOCI (UN Operation in Côte d'Ivoire.)
Some 21,000 Ivoirians have fled to impoverished neighboring Liberia where they were receiving food, shelter and clean water from the UN Refugee Agency, UNHCR, and the World Food Program, UN spokesman Martin Nesirky reported in New York on Wednesday.
The pity of it all...
The current crisis is dismally familiar. Gbagbo, a Christian, came to power in 2000, ironically because the population rebelled against a manipulated election that sought to deprive him of the office.
Ouattara, a Muslim and an economist, had served as prime minister under Félix Houphouët-Boigny, the legendary strongman who ruled for 33 years, since independence from France in 1960. He had attempted to run in 1995 but parliament adopted legislation on citizenship and nationality of parents to exclude him after which he joined the International Monetary Fund. (It was Gbagbo in 2007 who said Ouattara could run in presidential elections.)
Still the country was divided along ethnic and religious lines, with mercenaries, refugees and the homeless from neighboring countries involved in the conflict.
After a failed coup in September 2002, blamed on General Robert Guei, a civil war broke out, leaving the country divided into the rebel-held north and the government-controlled south. France, ECOWAS and then the United Nations sent peacekeepers into a buffer zone between the two sides. The main issues -- and ownership, the basis for nationality, and who could run for office -- were never settled. Several peace agreements were negotiated but genuine disarmament never took place.
The fear is a repeat performance of the civil war with similar divisions and basic problems unresolved.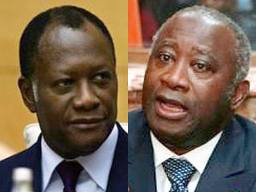 Alassane Ouattara, Laurent Gbagbo