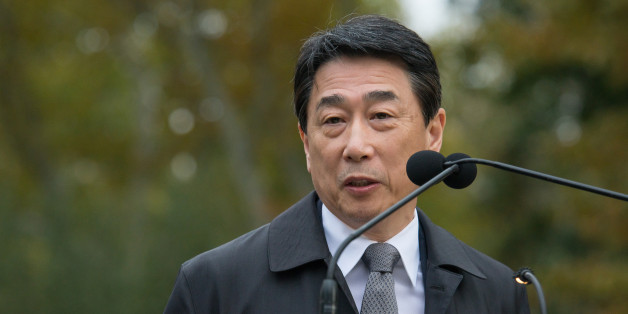 UNITED NATIONS -- With the toughest sanctions ever imposed on North Korea or any other country, the onus is mainly on China to implement the bans on ships, planes and trucks -- and even jet skis -- that could enhance Pyongyang's nuclear capability or its taste for luxuries.
The vote in the 15-member U.N. Security Council was unanimous, with a list of 53 countries co-sponsoring the 19-page resolution introduced by the U.S. Ambassador Samantha Power after seven weeks of negotiations with China.
"The chronic suffering of the people of North Korea is the direct result of the choices made by... a government that has consistently prioritized its nuclear weapons and ballistic missile programs over providing for the most basic needs of its own people," she said.
Instead of spending some $4 billion on its weapons programs, Pyongyang could have provided 40 years of humanitarian assistance to its impoverished citizens, South Korea's Ambassador Oh Joon told reporters.
China and Russia were not among the 50-odd countries on the sponsor's list although they voted for the resolution. (Council members Angola, Egypt and Venezuela also were not on the list.) Both emphasized the necessity of resuming talks on a political solution and both spoke against the U.S.-proposed Terminal High Altitude Area Defense System (THAAD). Beijing's Ambassador Liu Jieyi said THAAD would harm security interests of China and other countries.
But no one defended the Democratic Peoples Republic of Korea, the North's official name...
Yalu River
No doubt China is concerned about North Korea's Jan 6 nuclear test and a recent rocket launch on its borders or it would not have helped negotiate the unprecedented sanctions. Pyongyang exports $2.5 billion worth of goods to China, half of them minerals. Trade volume is about $6 billion, according to the Council on Foreign Relations.
But Beijing is careful to make sure the country doesn't collapse, send more refugees into China--or unify with South Korea. Otherwise "they'll see American forces on the Yalu River and they didn't like that movie in 1950," former UN Ambassador John Bolton once said.
However, it is not only China and Russia that can enforce the resolution. Every country in the world is obligated to follow the Security Council's mandate. North Korea has managed to import goods through vessels under foreign flags; now all cargo by sea, air and land is required to be inspected.
The sanctions are even more sweeping that those that were imposed on Iran, according to the final and earlier drafts, obtained by this correspondent. They restrict a wide range of exports, all armaments and blacklist banks, individuals and luxury goods. Exceptions are made for humanitarian supplies.
Evading Sanctions
An independent UN-organized Panel of Experts reported recently that North Korea had no intention of abandoning its nuclear and ballistic missile program, despite four major sanctions resolutions since 2006.
The Panel's investigations have shown that the Democratic People's Republic of (North) Korea has been effective in evading sanctions and continues to use the international financial system, airlines and container shipping routes to trade in prohibited items.
For the first time, the draft resolution would require rather than urge all nations to inspect cargo from and to North Korea by land, sea or air. And it bans flags of convenience that would hide illicit North Korean goods, including convention arms.
The resolution would ban the export of coal, iron and iron ore that is being used to fund North Korea's nuclear or ballistic missile programs -- and it would prohibit exports of gold and titanium. But it allows North Korea to sell and coal and iron ore as long as the monies do not support its illicit weapons ambitions.
Russian Coal
There is an exception for transshipments of Russian coal via the North Korean port of Rajin. In 2013 Russia reopened a railway link with North Korea, from the Russian eastern border town of Khasan to Rajin, to export coal and import goods from South Korea and other Asian countries.
There is also an exemption on the ban on aviation fuel to allow foreign civilian passenger airlines to travel to and from North Korea.
Moscow made last minute changes to the document. Russia, which is North Korea's second largest trading partner, softened several measures but the main provisions remained.
Ships, Watches and Lead Crystal
The document blacklists 16 North Korean individuals, based outside North Korea, including representatives of the Tanchon commercial Bank in Vietnam and Syria. Another annex lists 11 Korean entities and government agencies responsible for illicit weapons programs. And yet another annex names 31 suspect vessels belonging to Ocean Maritime Management Company Ltd.
And should the elite desire to spend the country's funds on luxury goods, like jet skis, the resolution bans expensive watches, aquatic recreational vehicles, snowmobiles valued at more than $2,000 and lead crystal.
The dense technical text will be explained to all UN members, who want to attend, at a session organized by Spain, chair of the North Korean sanctions committee.
North Korean has maintained it has a right to space technology. On Monday its news agency KCNA called the forthcoming sanctions "a wanton infringement on (North Korea's) sovereignty and a grave challenge to it," Reuters reported.
Just Say No!
Departing from his prepared text, Ambassador Oh Joon of South Korea closed the Security Council meeting with a direct appeal to Pyongyang "as a fellow Korean":
Please stop it now...Why do you need these weapons? In South Korea, we don't have a nuclear bomb...You say the United States is a threat to you...There is no threat. It is a figment of your imagination. If you continue in this way, the only people who will suffer from what you are doing are your own people. And they are also my people and our people as well... Give up the nukes. Join the rest of us in the world and we all can live together in safety and peace.