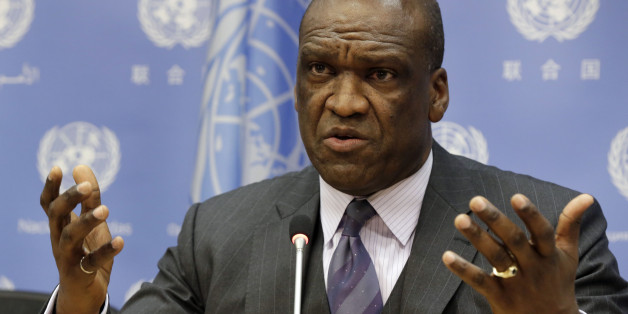 The accusation against the former UN General Assembly president, John Ashe, and five others on corruption schemes reveals the lax system for choosing a leader of a body that encompasses all 193 UN member states.
There is no screening; there is no research into the background of the candidate. The post, largely but not entirely ceremonial, is paid for by the country chosen to occupy the presidency, although some UN staff are seconded to the operation.
The position rotates by region and the region comes up with a nation that has lobbied and guaranteed funds to pay for the post. That is not usually the way it is done for other UN jobs.
Preet Bharara, the U.S. Attorney for the Southern District of New York leading the case, said: "If proven, today's charges will confirm that the cancer of corruption that plagues too many local and state officials inflects the United Nations as well. He said that Ashe "sold himself and the global institution he led."
Not My Job
When various UN officials were asked how to change the peculiar vetting process, which has poured disgrace on the world body, they first said only the 193 members of the General Assembly could do so.
But this may change. UN Secretary-General Ban Ki-moon has already asked the Office of Internal Oversight Services to investigate two foundations active in the United Nations, and linked to at least one of the suspects in the alleged bribery operation.
More to the point, he told reporters last week he had set up a "small task force," led by Argentine Susana Malcorra, his chief of staff, to conduct an investigation on how to make the post "transparent and accountable."
He said the current assembly president, Mogens Lykketoft of Denmark, supported measures to "improve the conduct" of the office. And he said, without elaborating, that he would ask the General Assembly itself to enact legislation.

The General Assembly president's office gets UN funds for some staff, office space, and other amenities. It also has a trust fund, open to contributions from countries and other entities, meant for presidents from poorer countries who could not pay for the office.
So What Happened?
Two years before he was elected president of the General Assembly, Ashe began to solicit monies from business people in China for his office and for himself, the criminal complain charged, in expectation that he could help his donors once he was in office. The complaint alleged his goal was to "solicit more than $3 million for his presidency."
Ashe, the former U.N. ambassador from Antigua and Barbuda who served as General Assembly president from September 2013 to September 2014, was charged with conspiracy and bribery-related charges in the criminal and tax evasion of $1.2 million.
Another suspect is Francis Lorenzo, a deputy UN ambassador from the Dominican Republic. Both live in the United States.
The alleged bribery, appeared aimed at getting the UN to invest money in a yet-to-be-built conference center in the Macau region of China, where Ashe and others had already organized events. Another goal was to invest in hotels in Antigua and Barbuda, resulting in a bribe of some $270,000 to the then Antigua prime minister, identified by local papers as Baldwin Spencer.
The main money man, according to the complaint, was Chinese billionaire Ng Lap Seng, who was arrested along with his chief assistant, Jeff C. Yin, a U.S. citizen whose bail was revoked after investigators contended he lied to them after his arrest. Ng is known to have a fortune of some $1.8 billion.
All suspects have entered not guilty pleas.
Ashe was offered $1 million bail and would be forced to wear an ankle bracelet to track his movements. Ng Lap Seng has been offered $50 million bail, the deed to his apartment and a surrender of his travel documents.
"Deeply Depressed"
Ban, who had just emerged from a highly successful 10-day General Assembly that began with a visit from Pope Francis, was "shocked and deeply dismayed" by the allegations. Asked by this reporter how he felt about the controversy, he said he was "deeply depressed," adding that he still was baffled how something "like this could happen."
Prosecutors said two other arrested individuals were involved with Ng. They were identified as Sheri Yan and Heidi Park, both naturalized U.S. citizens who reside in China and helped facilitate the scheme.
Ng and his assistant had previously been held by federal authorities on charges they lied about plans for $4.5 million in cash brought into the U.S. over several years aboard private jets.
Prosecutors say some of the bribe money funded first-class airfare for Ashe, his wife and two children to New Orleans, where they stayed in an $850-a-night hotel room.
High Living
Other money, they said, was used to construct a $30,000 basketball court at his home in Dobbs Ferry, New York. Ashe was accused of opening two bank accounts to receive the funds and then underreported his income by more than $1.2 million, officials said.
Prosecutors said two other arrested individuals were involved with Ng. They were identified as Sheri Yan and Heidi Park, both naturalized U.S. citizens who reside in China and helped facilitate the scheme.
Ban had asked the UN Office of Internal Oversight Services to audit all UN interactions with the Global Sustainability Foundation, not named in the complaint but Yan and Park held positions there.
Spokesman Stephane Dujarric said the secretary-general requested that the audit include "the interaction between the United Nations and the Global Sustainability Foundation and the Sun Kian Ip Group, and the use of any funds received from these two entities."
Also involved is the office for South-South Cooperation, which had functioned at the United Nations and was created by the General Assembly and administered by the UN Development Program. It is headed by Francis Lorenzo of the Dominican Republic, one of the suspects.
"United in greed, the defendants allegedly formed a corrupt alliance of business and government, converting the UN into a platform for profit," said Preet Baharara.