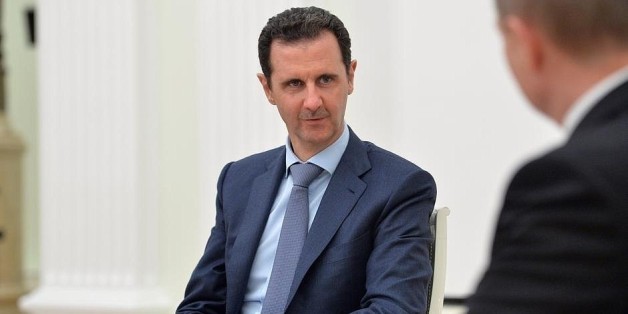 The end game is still miles away in Syria, but can the country ever be united again, regardless of what key negotiators do?
Syrian President Bashar al-Assad will not be able to control more than a sliver of the country, but uniting the various factions in some kind of rainbow coalition may be a pipe dream, despite efforts of those meeting in Vienna for a political solution.
A breakup of Syria is not what its neighbors have in mind. Taken aback at the question, Jordan's UN ambassador, Dina Kawar, said: "It is very important that it remain as a whole. Very important."
Possible Splits
After more than four years of civil war, Assad has a corridor along the Mediterranean while rival rebel groups control the interiors and Kurds are in the northeast. And then there is the Islamic State or ISIS or ISIL or Daesh, trying to expand westwards from Iraq.
And the local affiliate of Al Qaeda, the Nusra Front, and other insurgent groups -- mostly Islamist, some relatively secular -- are staking out territory in the northwest and the south.
The United States has bombed ISIS territory hundreds of times. Russia said it did so on its third day of bombing after hitting Syria's enemies and killing civilians and striking some hospitals in Aleppo, Physicians for Human Rights, reported. Now that ISIS is accused of placing a bomb on a Russian airliner over the Sinai, Moscow is bombing the so-called Caliphate in earnest. And France, after the horrific shootings in Paris, is also bombing ISIS regularly.
Ancient land
An ancient land going back thousands of year, the territory of Greater Syria in the final period of Ottoman rule included modern Syria, Lebanon, Israel, Jordan, Palestinian Authority, Gaza Strip and parts of Turkey and Iraq.
After Turkey's defeat in World War I, Syria's borders were drawn by European colonial powers. In July 1922, France established a loose federation between three of the states: Damascus, Aleppo, and the Alawite under the name of the Syrian Federation (Fédération syrienne). In 1924, the states of Aleppo and Damascus were united into today's Syria.
Western and Sunni nations oppose Assad's rule although they are willing to see him stay in office until a proper transition phase is agreed on. Russia wants to preserve its access to Mediterranean ports and prevent Sunnis from executing Assad, who also gets military and financial support from Iran.
Sunni rebels are backed by Gulf nations in the country's nearly five-year old country's devastating civil war, which has claimed some 250,000 lives since 2011. Saudi Arabia, busy bombing Houthis in Yemen, supports fundamentalist Sunni rebels with funds and has not joined the bombing raids. US Secretary of State John Kerry said that Assad was buying oil from ISIS and not attacking it.
Vienna meeting
Last Saturday, 17 nations adopted a timeline aimed at drafting a constitution and electing a new government by 2017. The United Nations is to set up a meeting between the Damascus government and opposition factions by January 1. A ceasefire is to be in place within six months, which the United Nations is to monitor.
Named as a terrorist group, in addition to ISIS, is the Al Nusra Front, affiliated with al-Qaeda. Jordan is managing a terror list.
The Vienna group, on paper anyway, moved quickly, in light of the horrific attacks in Paris that ISIS took credit for. Some 129 people died with another 350 injured and hospitalized. The bombed Russian airliner in the Sinai took 224 lives. And in Lebanon, 43 people died in bombing by ISIS, a day before the November 13 Paris attacks.
Meanwhile, life is not improving for the Syrian people. Some 2.6 million Syrian children have been deprived of their right to education, New Zealand Ambassador Gerard van Bohemen told the UN Security Council.
"New Zealand is encouraged to see momentum building towards finding a political solution. It is shameful that it has taken nearly five years; well over a quarter of a million people dead, and 4.2 million people -- almost the equivalent of New Zealand's population -- fleeing Syria, to get to where we are."
Germany expects one million refugees (while U.S. governors, mainly Republicans, put on their nativist hats and fretted over a handful, among the 10,000 vetted migrants that may take a year to arrive)
The Arab world has been polarized for years amid ratcheting tensions between Iran and the Gulf powers, fueling the Sunni-Shiite divide and inflaming existing conflicts.
Division
But no one at the Vienna talks even thinks about splitting the country. Still some experts think it may happen.
Robert S. Ford of the Middle East Institute and a former US ambassador to Algeria and to Syria sees a possible division.
"The Assad government is weakening, but it isn't going to disappear, and there is sharp competition between the armed factions, with none strong enough to vanquish the others. It has long been thus.
"The end result is very likely going to be an emerging partition of the country through which different factions and alliances divide control of Syria," he wrote.