On the third day of four emergency UN Security Council sessions, Russia produced a letter by the ousted Ukraine leader that threatened war.
During one heated nearly three-hour meeting, Russia's UN Ambassador Vitaly Churkin read an explosive missive from Ukraine's former president. Viktor Yanukovich asked "the armed forces of the Russian Federation to establish legitimacy, peace, law and order, stability and defending the people of Ukraine."
The message from the ambassador presaged President Vladimir Putin's press conference on Tuesday. The president ruled out war with the Ukraine but reserved the right to use force "as a last resort."
The question now is not whether Russia will leave the Crimea it invaded but whether it will move into eastern Ukraine on the pretext of guarding ethnic Russians.
Many Russian watchers at the UN do not believe Putin wants to invade the Ukraine, a former Soviet republic, but wants to make sure the country returns to the Russian orbit.
On the other hand, Moscow has organized a referendum in the Crimea, asking whether voters want to join Russia or stay in the Ukraine as an autonomous region. Unclear is if it is a step towards taking back the Crimea or boosting its negotiating stance with Ukraine.
Still, Putin and Churkin referred to the Yanukovich letter, as a plea for help.
Not so fast
Not so fast said Britain's ambassador, Mark Lyall Grant in response to Churkin, and by extension, Putin, saying the current Ukrainian government was legitimate and had been endorsed by the Ukrainian parliament:
We are talking about a former leader who abandoned his office, his capital and his country. Whose corrupt governance brought his country to the brink of economic ruin. Who suppressed protests against his government leading to over eighty deaths and whose own party has abandoned him. The idea that his pronouncements now convey any legitimacy whatsoever is farfetched and of a keeping with the rest of Russia's bogus justification for its actions.
Then U.S. Ambassador Samantha Power weighed in with a rebuke:
It is a fact that Russian military forces have taken over Ukrainian border posts. It is a fact that Russia has taken over the ferry terminal in Kerch. It is a fact that Russian ships are moving in and around Sevastopol. It is a fact that Russian forces are blocking mobile telephone services in some areas. It is a fact that Russia has surrounded or taken over practically all Ukrainian military facilities in Crimea. It is a fact that today Russian jets entered Ukrainian airspace. It is also a fact that independent journalists continue to report that there is no evidence of violence against Russian or pro-Russian communities.
And on Thursday, Churkin recited the history of Ukrainian collaboration with the Nazis. But he did not mention that the ultra-nationalist Svoboda party, with its history of anti-Semitism, received three ministries in the new Ukrainian interim government, a worrying development to the European Union.
Why the UN?
The 15-member Council is a good place to hear voices on the conflict from around the world. But with Moscow having veto power there is little it can do except encourage United Nations and other international officials to visit Ukraine and mediate or monitor. It has held two open and two closed door emergency sessions in the last week.
Asked why the continuous focus on Ukraine, Ambassador Sylvie Lucas, this month's Council president, said it would have been strange if the body, concerned with peace and security, had ignored the issue.
Power, in reply to the same question, said:
I think there is utility in coming together in order to highlight, particularly in these public meetings, the extent of Russia's isolation as it takes the moves that it has taken.
No country on the Council -- not even China-- supported Russia's argument that Ukraine was in danger of being taken over by extremists and squashing the rights of ethnic Russians. Almost all called for mediation in one noisy session that lasted two and half hours.
UN envoys keep trying
UN Secretary-General Ban Ki-moon has spoken to everyone, including Putin, to no avail. He sent Jan Eliasson, the deputy secretary-general and an experienced diplomat, to Kiev where he met with all sides.
Eliasson said by video link said that Ivan Simonovic, the UN assistant secretary-general for human rights, was in the Ukraine and would "visit the East, West and South of the country, including Crimea, to evaluate the current human rights situation."
Simonovic, a Croat is on a fact-finding tour and is certainly going to probe the 77 deaths of unarmed protestors that set off the ouster of the pro-Russian government. Churkin said the U.S. press had ignored a leaked telephone conversation between Catherine Ashton, the EU foreign affairs chief, and Estonian Foreign Minister Urmas Paet. The Estonian said he had been told that protest movement provocateurs, not supporters of the Yanukovich, were responsible for the killings. (see YouTube)
Earlier Eliasson sent Robert Serry, a Dutch diplomat, to Crimea where he was surrounded by militia and forced to leave. He is now in Kiev but he and Eliasson will leave shortly. Russia denies Serry was accosted by Russian soldiers or militias but few believe that.
The same happened to the Organization for Security and Cooperation in Europe where 40 OSCE military observers were prevented from entering Crimea by armed groups.
So much for monitoring the crisis.
Ukraine's UN Ambassador Yuri Sergeyev said Russia had deployed some 16,000 troops to the largely Russian-speaking of Crimea since February 24. He said this was in addition to the troops guarding Moscow's Black Sea fleet, in a long-standing arrangement with the Ukraine.
Why Crimea?
Crimea was part of Russia proper until 1954 when Nikita Khrushchev, in his role as Communist Party chairman, ceded the region to the Ukraine, his original base of operations. This was seen as a "goodwill gesture" following Stalin's horrendous purges there.
But then Ukraine was in the Soviet Union. Part of Putin's problem is the Soviet Union's annexation of eastern Poland into the Ukraine in 1939; it is now the most pro-Western part of the country. (After World War II, the Soviet Union "gave" Poland the eastern lands of Germany.)
But whether Putin is worried about isolation, political or economic, remains to be seen. What is certain is that the thought of the European Union or NATO moving into the Russian sphere of influence, known as the "near abroad," is an anathema to him as Eastern European or Baltic nations have done.
Will anything help?
In Washington, President Obama had an hour-long talk with President Putin that was as unsuccessful as President George W. Bush efforts to stop Moscow's invasion of Georgia or President Johnson's failure to stop the Soviet Union's invasion of Czechoslovakia or President Eisenhower's inability to save the revolution in Hungary.
Said Richard Haas, president of the Council on Foreign Relations:
It would seem that there is something of a Putin doctrine, which is to intervene where Russian speakers believe they are in a vulnerable position. He did it in Georgia, and he's done it again in Crimea. It's not the full reconstitution of the old Soviet Union, but it represents more than acceptance of a small Russia.
Money is being offered by Washington and the EU to counter the $15 billion offered by Russia to bolster Ukraine's desperate economic situation, made worse by years of corruption. Various sanctions are being imposed by Obama and the European Union but the EU, which depends on Russia for natural gas, may not impose stringent bans. (Shipping U.S. natural gas to Europe quickly is a pipe dream without a pipeline, experts say.)
The Pentagon is also sending aircraft, including fighter jets, to Lithuania and is stepping up military exercises with Poland. While there is not much Washington can do to protect Ukraine, it is serving notice not to touch the neighboring countries.
Nevertheless, the pressure on Russia is having an impact on its stock market and currency, affecting the oligarchs that support Putin politically and financially. This may force him to compromise -- in the long run, but not immediately.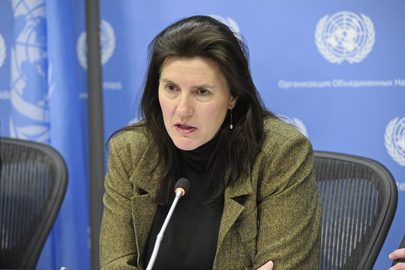 Ambassador Sylvie Lucas of Luxembourg, Council president