Inspired by the death of Libyan leader Muammar Gaddafi, demonstrators in Yemen shouted "You're next!" at President Ali Abdullah Saleh. At the same time, the U.N. Security Council also told Saleh it was time to go. But it backed a plan granting him immunity that inspired more protests.

In the capital Sanaa on Saturday, the Yemeni government said it was ready to "deal positively" with the resolution and did nothing. At least 10 people were killed in clashes between government forces and opposition fighters. On Sunday three more died while millions lacked food.
"Rising food prices and political instability have left millions of people in Yemen hungry and vulnerable. Malnutrition is stalking the lives of women and children," said Josette Sheeran, executive director of the World Food Program.
In its first resolution on impoverished Yemen late Friday, the Security Council condemned human rights violations, demanded an end to violence and asked U.N. Secretary-General Ban Ki-moon to report in 30 days. (see text)
It also called for Saleh to sign a plan drawn in May by the Saudi Arabian-led Gulf Cooperation Council (GCC) that outlines a transition scenario if the president and his inner circle step aside. As an inducement it offers them immunity, a provision Yemeni opposition leaders have rejected for months.
Nobel laureate speaks
Appearing at U.N. headquarters was Tawakul Karman, a Yemeni activist who was awarded the Nobel Peace Prize. She welcomed the resolution but objected to amnesty for Saleh.
"We are asking for a trial" she told reporters. "We are asking to send him to the international tribunal as a war criminal."
Both the British and German ambassadors told reporters the resolution clearly said abusers should be held responsible. But no one explained how this would be achieved if Saleh and his circle of relatives were protected from prosecution in the GCC plan.

Said British Ambassador Mark Lyall Grant, drafter of the resolution:
"What we have talked about in this resolution is a political settlement based on the GCC agreement. We have made very clear in the resolution that all those responsible for violence, for human rights abuses should be held accountable. There should be no impunity for human rights abuses or the violence that has been committed. "
And Germany's ambassador, Dr. Peter Wittig, called the GCC initiative "the only game in town so far as far as regional efforts to bring peace to the Yemeni situation is concerned." But he said "We upheld the principle of accountability for grave violations of human rights."

The resolution, which opposition leaders had wanted for months, was far milder than one proposed for Syria that was vetoed by Russia and China. One reason is that the country was falling apart before the "Arab Spring" spread through Tunisia, Egypt, Libya and elsewhere.
Saleh, in power for 33 years, in early June escaped an assassination attempt, flew to Saudi Arabia for medical treatment and returned three months later. His eldest son, Ahmed, and four nephews took power and threatened war should there be a political transition. Among those calling for Saleh's ouster are democracy campaigners, some defecting generals and foes from the south, never at home in a united Yemen.
Drone strikes
The United States has concentrated its air and drone strikes in the southern areas that are home to Abyan and Shabwa fighters, known as AQAP, Al-Qaeda in the Arabian Peninsula.
Gregory Johnson, a Near East scholar at Princeton,
believes
the air attacks are not helping the situation:
"What is needed now for Yemen is a strategic reset that has three goals: initiating a decisive political transition at the top, attacking the roots of AQAP's support in Yemen, and mobilizing the Gulf Cooperation Council (GCC) to energize Yemen's failing economy."
He says that for the past three decades Saleh has ruled by playing different opposition groups against one another, alienating large parts of the population in the north and in the south and further undermining a perpetually weak economy.
North and South Yemen united in 1990. But in mid-1994, a civil war broke out and the north captured the southern capital of Aden. Another uprising took place in the south in 2007 and demands for equal treatment were ignored by the Sanaa government.
One thing is certain, according to the International Crisis Group and other experts. Ten months of upheaval have brought about no genuine reforms, dividing the country more deeply than ever and leaving the economy in tatters. Civil war is a real danger.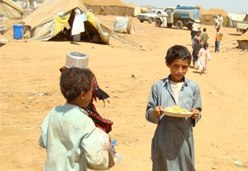 Children carrying food for their families in Mazraq One Camp, Yemen (World Food Program)