After years of efforts to curb the $70 billion conventional arms trade, a global treaty was blocked by Iran, North Korea and Syria. But the measure is expected to go to the U.N. General Assembly where it may be resurrected.
"This is a disappointing result," said Australian Ambassador Peter Woolcott, president of the Arms Trade Treaty conference, at the end of an arduous two-week session late on Thursday. "The treaty will not emerge from this process but a treaty is coming."
The draft treaty, among other provisions, requires countries exporting conventional arms to bar weapons to nations with severe human rights abuses or terrorism or harmful to women and children. (see text)
Woolcott is presenting a report to the General Assembly on Tuesday and Britain, Kenya, Mexico, Australia and other countries have asked U.N. Secretary-General Ban Ki-moon to ask for a vote as soon as possible in the 193-nation body. Uncertain is if a majority or a more difficult two-thirds vote is required for approval.
Still, the head of the U.S. delegation, Assistant Secretary of State Tom Countryman, told a telephone news conference he expected an "overwhelming majority" to vote in favor of the text that seeks to regulate small arms, tanks and combat aircraft by requiring states to set up systems to monitor exports.
"A good strong treaty has been blocked," said Joanne Adamson, head of the British delegation that sent 16 experts to the conference.
"But most people in most of the world want regulation and those other voices that need to be heard. So we have sent a text for decision by the United Nations General Assembly," she said. "Today is success deferred, and deferred by not very long."
So what happened?
On Wednesday, Woolcott, presented what he said was the final draft, which had to be approved by "consensus." That means every country has a veto right. Had the text been approved, the treaty -- the first of its kind -- would come into force 90 days after a minimum of 50 nations had signed and then ratified the document.
Arms control groups, human rights advocates and some governments have pushed for a binding treaty for at least 12 years. In the U.N. discussions, African nations were in the forefront to curb the flow of weapons used in conflicts and perpetuating atrocities.
Anna Macdonald, Oxfam's arms control expert, said in an email: "The world has been held hostage by three states."
"Countries such as Iran, Syria and (North Korea) should not be allowed to dictate to the rest of the world how the sale of weapons should be regulated. "We have a clear message for human rights abusers and gunrunners -- your time is nearly up."
What the objectors said
Iran and North Korea are under U.N. sanctions for their nuclear programs. The United States and other Western nations have prohibitions against Syria. France called their blockage "deplorable."
Iran's U.N. Ambassador Mohammad Khazaee told the conference that he could not accept the treaty in its current form. He outlined four major objections, among them a failure to ban weapons sales to those committing "acts of aggression," an apparent reference to rebel groups. Another was the right to obtain weapons in self-defense.
The draft says all arms transfers should be subjected to rigorous assessment of risks and human rights abuses, although it does not specifically talk about rebels or armed groups.
Khazaee said one country, a reference to the United States, preserved "the right of individuals to own and use guns" but ignored "the inalienable right to self-determination of peoples under foreign occupation," an obvious reference to Israel.
"It is a matter of deep regret that genuine efforts of many countries for a robust, balanced and non-discriminatory treaty were ignored," he said.
Syria's U.N. Ambassador Bashar Ja'afari also said the treaty did not ban weapons transfers to rebel groups, adding: "Unfortunately our national concerns were not taken into consideration." Syria receives arms from Russia and Iran and the opposition gets weapons from Saudi Arabia, Qatar and others.
Not blocking the treaty does not mean every state will sign on to the document.
Russia, Indonesia, Bolivia, India and Pakistan were among those with strong reservations to the draft treaty but did not block it. A Russian delegate said Moscow "will be studying the draft extremely carefully" before deciding whether to approve it.
India, Pakistan and others complained that the treaty favored exporters and created disadvantages for arms importers. India is the world's largest arms importer.
"India cannot accept that the treaty be used as an instrument in the hands of exporting states to take unilateral force majeure measures against importing states parties without consequences," said Ambassador Sujata Mehta.
What will the United States do?
The Obama administration, in favor of the treaty, balked at a similar conference last July, presumably to avoid giving Republicans red meat before the November elections. At this conference U.S. officials supported the treaty but any signature by President Obama would come after study by a plethora of agencies.
The United States and Russia are by far the largest arms producers, followed by a Germany, a distance third, and then France, China and Britain. (see chart)
The National Rifle Association and gun manufacturers insist the treaty would undermine the right to own guns, although it specifically excludes the domestic use of weapons in any country. They also object to a requirement for a national list of weapons that are exported.
In response the American Bar Association issued a "white paper" that disputed that claim, saying in part "As currently drafted, the treaty would not require new domestic regulations of firearms."
The United States already has export controls, tighter than those in the proposed treaty. The president may end up signing the document but ratification by the U.S. Senate is a long shot.
Will the treaty stop another Syria?
In the short-term, it would not as countries will take years to ratify the document.
But, if adopted, a real arms curb might ameliorate the flow of weapons that result in atrocities, whether in the Middle East or in Africa or elsewhere. At minimum, the arms and ammunition would be more expensive.
Armed violence kills more than half a million people each year, including 66,000 women and girls. In addition, between 2000 and 2010, almost 800 humanitarian workers were killed in armed attacks and another 689 injured, according to the UN Office for Disarmament Affairs.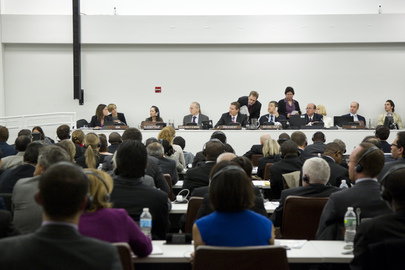 Arms conference, UN Photo