United Nations -- With barely 55 days left until a referendum on independence for southern Sudan, the U.N. Security Council is putting pressure on both sides of the country's north-south divide to ensure the vote takes place on time and civil war is averted.
A meeting chaired by British Foreign Minister William Hague, who called the January 9 vote "a defining moment for Sudan and its people," ended with a lengthy statement that broke little new ground but nevertheless revealed a worried 15-nation Council about what could happen during and after the ill-prepared referendum.
Secretary of State Hillary Clinton, one several ministers attending the special session on Tuesday (others flew in from Austria, Bosnia, Nigeria Uganda, Brazil and Japan) outlined the problems bluntly. She said crucial issues had not been settled: oil revenue distribution, border demarcation, security arrangements, citizenship rights, the protection of southerners in the north and northerners living in the south.
The referendum was called for in the 2005 Comprehensive Peace Agreement (CPA) that ended decades of civil war between the largely Muslim north and the Christian and animist south. Two million people died and more than 4 million southerners were forced to leave their homes, many captured as slaves. Some are living in the north and how and where they vote is also undecided.
The CPA also called for a referendum in the oil-rich central area of Abyei where residents are supposed to decide whether to retain a special administrative status in the north or join the south. Most of the crude is in the south but the oil is exported through the north and armies on both sides have taken an aggressive military posture.
Khartoum, despite protests, has kept in place the 1999 National Security Forces Act that allows officers to arrest and detain people without charge for up to nine months. The Security Council last month visited Darfur and those who spoke to them were later detained. The action was condemned but there was no explanation or resolution, from the Sudan government or U.N. peacekeepers.
Clinton said voting arrangements for Abyei were nearly non-existent and brought up Darfur, where the clash largely between nomadic Arabs and farming Africans has been going on for more than six years, displacing millions and killing tens of thousands.
"Violence is intensifying, human rights violations continue, arms flow despite the
embargo, journalists and activists are arrested -- some merely for speaking to members of this Security Council -- UN peacekeepers are kidnapped. This is all unacceptable," she said.
And she said it was important that women were included in the peace process. "In country after country...we have seen that the underlying issues that cause conflicts are more likely to recur and less likely to be resolved if women are not involved at the peacetable." (If there are women actively participating, including in the Darfur talks, they are invisible).
African Union envoy Thabo Mbeki, who spoke to the Council by video link said Sudan's President Omar al-Bashir and Southern Sudan's President Salva Kiir would meet next week to try to resolve differences on the stalled Abyei referendum
In the last few months there has been a flurry of diplomatic activity in Sudan with Britain helping to help demarcate the border and the United States and its envoys holding out a relief from sanctions Washington has imposed. Clinton offered to help with debt relief and development aid and a normalization of relations -- if the referenda are trouble-free and there is a genuine effort for peace in Darfur.
Similar incentives were offered if Khartoum signed the 2005 peace agreement but with the escalation of conflict in Darfur, they never materialized. Other pressures have been absent and human rights groups as well as some administration officials blame US envoy for Sudan, Scott Gration, for ignoring too many violations in his discussions in Khartoum.
In addition, the Security Council has been divided, particularly over an arms embargo. This applies only to Darfur and is almost impossible to observe since weapons, supplied mainly by Russia and China, are allowed to flow into the rest of Sudan. (The Council's statement called for an end to illegal weapons transfers.) Still, China, which buys Sudanese oil, is anxious to see a stable Sudan although it is not clear how it may have used its considerable influence with Khartoum to achieve this.
U.N. Secretary-General Ban Ki-moon announced in the meeting that he was sending more peacekeepers to Sudan to augment the 10,000 there in order to increase referendum and post-referendum security." Diplomats said a battalion was being considered. Ban warned that "it will not be enough to prevent the return to war should widespread hostilities erupt."
Sudan's Foreign Minister Ali Ahmed Karti and Pagan Amum, the secretary general of the south's ruling Sudan People's Liberation Movement, told the Security Council that the north and the south will accept the results of the vote.
Amum said that all signs pointed "to the fact that the people of southern Sudan are likely to vote for independence in January. He said the turnout for the voter registration that began only on Monday "was impressive and peaceful," a sign that the referendum would be held on time. Karti said his government was in the unusual position of allowing a vote that could break up the country.
The last-minute, often chaotic, arrangements have worried Sudan's neighbors who fear warfare. In September at a high-level U.N. meeting on Sudan that President Obama attended, Ethiopian President Meles Zenawi warned:
"If we succeed in Sudan then it will be a major success for the continent as a whole. If we fail it will be a catastrophe for the whole continent. Nothing compares with it."


Secretary Clinton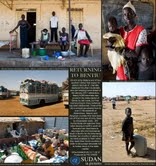 Sudanese from the north returning to the south