UNITED NATIONS -- Pope Francis on Friday opens two weeks of hundreds of speeches by world leaders, an overload of side events and extravaganzas that only countries with a large contingent of envoys can hope to attend and enjoy.
But in addition to what he may say, the crisis of Syria, the deluge of refugees from the Middle East and Africa and the brutality of the Islamic State are certain to run through the events.
Pope Francis, the first pontiff to address to United Nations General Assembly, speaks in Spanish to diplomats that have few problems believing in the science of climate change, unlike the earth-is-flat crowd in the United States. The Pope begins his day meeting UN staff and travels through the building in a motorized cart.
The environment is a central issue for a busy UN Secretary-General Ban Ki-moon, who has about 230 encounters next week alone.
Take the subway
Speaking in one forum or another are 144 heads of state and government and 46 ministers. However at least 8,915 delegates have been accredited, said UN spokesman Stephane Dujarric. And as of last week 3,000 press intend to converge on the world body. This means much of Manhattan will turn into a huge parking lot. So if New Yorkers don't live near a subway, walking shoes are recommended.
As soon as the Pope finishes speaking, the United Nations will show a NASA film of what astronauts see on earth. Singers Shakira and Angelique Kijo perform and Malala Yousafzai, the young Pakistani Nobel laureate will read poetry. Ex-England footballer David Beckham has already delivered a passionate speech on the voices of children, their needs and demands.
This is a lead in to the three days of speeches (Friday to Sunday) on a new development agenda for the next 15 years that applies to rich and poor countries alike, hopes to eradicate poverty, achieve gender equality, improve living standards and take action to combat climate change. There are 17 goals and (gulp)169 associated targets.
Known by the unwieldy name of SDGs or Sustainable Development Goals, many world leaders will speak at the event. For example German Chancellor Angela Merkel will address this group rather than the following main General Assembly forum.
Enter Obama
President Obama addresses this forum on Sunday before giving his General Assembly speech on Monday morning after President Dilma Rousseff of Brazil and followed by China's President Xi Jinping, Russian President Vladimir Putin, Iranian President Hassan Rouhani, and French President Francois Holland. On the same day in the afternoon Chilean President Michelle Bachelet and Cuban leader Raul Castro speak.
But Obama is not finished. He will host a session on UN. peacekeeping on Monday in hopes of getting more troop contributions, especially from Europe (even though US peacekeeping soldiers are scarce). He also leads a counter-terrorism meeting with over 100 countries on extremism before leaving on Tuesday. And Russian Foreign Minister Sergei Lavrov chairs a Security Council debate on September 30 on countering terrorism in the Middle East and North Africa.
Syria Event?
Whether Obama and Putin will meet is not clear, especially over Russia's recent military build-up to keep Syrian President Bashar al-Assad in power. The death toll is 250,000 and climbing.
Said Secretary-General Ban Ki-moon at a recent press conference:
"In Syria, the combatants are defying all norms of humanity. But responsibility for ending this horror rests on the parties, and on the neighbors and external forces that are fuelling the fighting."
Hundreds of side events on every topic in the world are held over the next two weeks, often with celebrities and a constantly changing illumination of UN headquarters (see one of them below), a video in taxi cabs and all over JFK airport.
To coincide with the UN goals, Pearl Jam, Beyonce, Ed Sheeran and Coldplay headline a Global Citizen Festival on Saturday in Central Park to fight inequality, protect the planet and end extreme poverty by 2030. Secretary-General Ban is expected to attend. The concert will be aired on MSNBC and streamed on You Tube.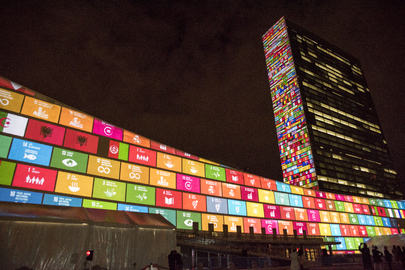 (UN photo by Cia Pak)